Canadian monthly dividend-paying company Vermilion Energy (NYSE:VET), has taken a shellacking along with most other stocks in the energy sector. The stock has dropped from a high of $71 back in June to below $40 recently - a level not seen in 4 years. As a result, some investors might wonder if the dividend is safe. Is it? Let's take a look.
Historical Perspective of My Trade In VET
My concern about a lack of domestic light-sweet refining capacity and on-going EPS disappointments caused me to question my investment in Bakken oil producer Whiting Petroleum (NYSE:WLL). I began the search for a more diversified energy producer that paid a decent dividend, had high profitability per boe of production, and had a good long term record, Globally diversified O&G producer Vermilion Energy seemed an excellent choice. So, I sold WLL and purchased VET.
While a lack of light-sweet refining capacity did not turn out to be the bogeyman for lower prices for Bakken (it was instead Saudi Arabia), my investment in VET hasn't worked out nearly as well as planned. What went wrong?
Production Profile
As shown in the graphic below, Vermilion Energy is a very diversified energy company - globally, and with respect to its oil & gas mix. This is true with respect to both current production and reserves.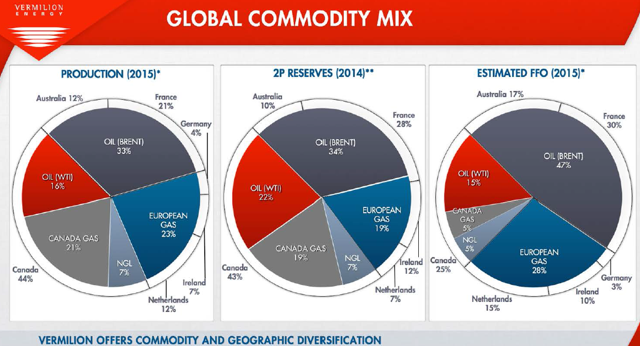 Source: VET December Presentation
Note also that WTI related sales are expected to generate only 15% of 2015 funds from operations ("FFO") whereas Brent and European gas will be responsible for 47% and 28%, respectively, of total estimated 2015 FFO. This was the diversified energy production mix I was looking for as I exited my Bakken investment. So what happened?
Obviously the biggest event in the oil market was Saudi Arabia's unwillingness to defend $100/bbl in the face of growing US production. As we all know, this has resulted in a big drop in oil prices. However, in VET's Q3 earnings report (see graphic below) we find that crude oil production equates to only 58% of YTD total production on a boe basis. One would think VET's natural gas production - especially higher priced European gas - would have helped offset the drop in oil prices.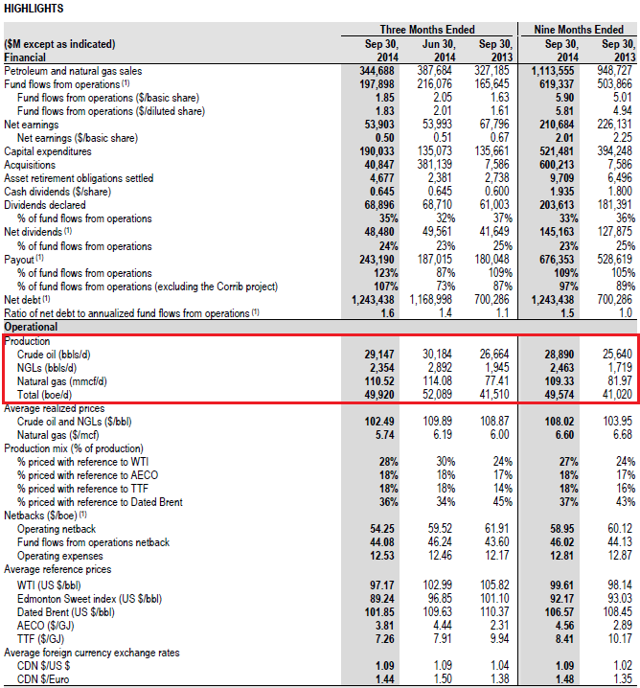 Falling Gas Prices
But there's the rub - natural gas prices have been falling too. As can be seen from the chart below, Canadian AECO gas prices have dropped due to a rather mild start to winter and increased Canadian gas production.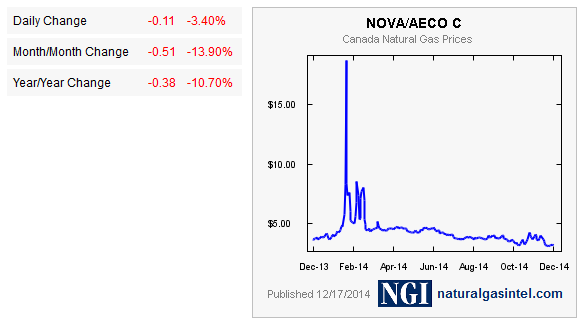 And the drop in prices was despite the fact that November Canadian nat gas storage levels are still more than 100 Bcf below average for this time of year.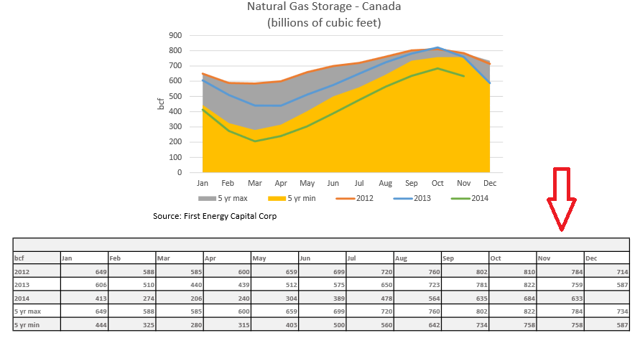 While VET's Canadian gas will account for ~20% of estimated 2015 production, it equates to only 5% of estimated FFO.
Vermilion also has a very strong presence in the European gas market. VET is one of the largest natural gas producers in the Netherlands. Production growth in the Netherlands was up 32% and 17% for the three and nine months ended September 30, 2014. Yet natural gas prices in Europe have also been weak due to a very mild start to the winter heating season. This was likely compounded have by traders' expectations that natural gas prices in Europe would be strong this winter due to concerns that Russian gas supplies to Europe through the Ukraine were likely to be curtailed. Neither development have worked out. As a result weak European natural gas prices are evident in the import price chart shown below:

Source: YCharts
As the chart shows, European natural gas import prices are down ~20% YTD. However, EU traders have recently been drawing down natural gas inventory levels in response to the much warmer winter weather this year and delays in Russian gas deliveries - see this Bloomberg article. While that would normally be a very bullish development for the EU nat gas market, the reason for the drawdown is because Russian natural gas prices are set to drop next year due to the contract price being linked to the price oil.
In summary, Vermilion's excellent geographic and commodity diversity has not protected shareholders because weak commodity prices have been seen across the board and across the Atlantic: Brent, WTI, Canadian gas, and European gas prices are all down significantly year-over-year. The situation may stay that way for some time to come.
In addition, Vermilion has no midstream or downstream operations that would benefit from lower priced feedstock.
Hedging
Yet Vermilion's management has an excellent long-term track record and they have been through times like this before. It is no surprise, then, to see that VET has a robust hedging program in place as part of the company's risk mitigation strategy. The company typically hedges ~50% of net royalty volumes through swaps and collars. Their program typically hedges 12-18 months of forward production in order to manage risks associated with commodity, currency, and cost exposures. The hedging program increases the stability of FFO, capital programs, and perhaps more importantly to shareholders - the dividend.
As shown below, VET has hedged ~22% of estimated production for Q1 2015 with both WTI and Brent floors above $75/bbl: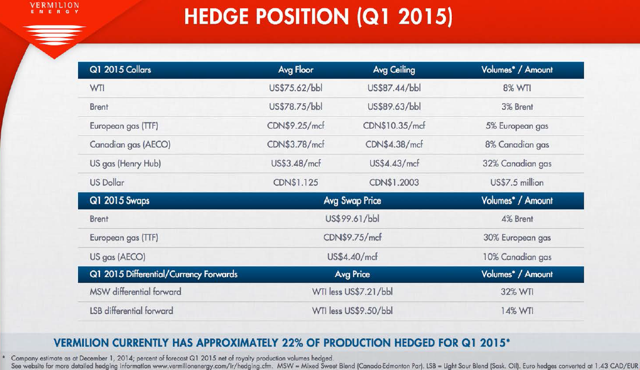 Nearer term, a more detailed view of VET's Q4 crude oil hedging program can be seen in the hedging summary found in the Q3 EPS report: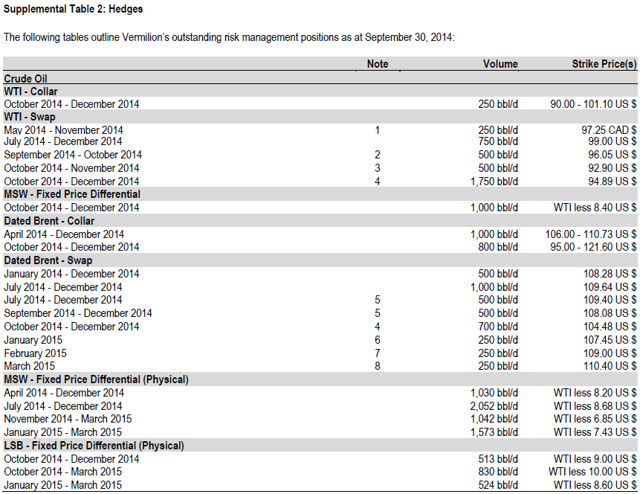 Note the very robust hedging program in place through year-end 2014 at strike prices over $90 for WTI and $104-$110 for Brent swaps. Similarly, VET has a substantial natural gas hedging program as well:

VET is obviously no Continental Resources (NYSE:CLR) - the company has a nice hedging program in place.
2015 Capital Program
Meantime, VET is acting proactively and prudently with its 2015 guidance to cut cap-ex by 22%. The press release said:
... we have reduced our 2015 capital investment plans to ensure the continued strength of our balance sheet and the sustainability of our dividend should weak oil prices prevail over a protracted period. Should commodity prices weaken significantly, we have the flexibility to make further reductions in our capital program.
Yet, despite the reduction in its 2015 capital budget VET continues to estimate production growth of ~15% yoy and is maintaining its previous outlook for average 2015 production volumes of 55-57,000 boe/d.
The Corrib Project
The 2105 production guidance includes first gas from the Corrib gas field in Ireland. VET has an 18.5% interest in the Corrib field and the project is on schedule. $60 million of the 2015 capital program will be directed to Corrib to finish tunnel grouting, finalization of permits and gas plant start-up costs. VET anticipates first gas from Corrib in mid-2015, with peak production estimated at ~58 Mmcf/d (~9,700 boe/d), net to Vermilion. Corrib is expected to contribute ~3,800 boe/d to production during 2015.
VET has previously said the Corrib project will result in a nearly $3/share swing in free cash flow. The company will go from spending roughly $80 million on the project to an estimated $220 million in annual free cash flow.
Other Considerations
According to VET's December corporate profile, it is still the largest oil producer in France. VET's Australian crude oil production is under contract at a >US$7 premium to the dated Brent index. The company has net debt of $1.2 billion and a debt to FFO ratio of 1.5x. VET has amply liquidity with $775 million of its revolving credit facility capacity currently unutilized.
In addition, Bloomberg is reporting more discussion in the US Congress about lifting the crude oil export ban. Considering VET's exposure to WTI pricing, this is a very positive development.
The Dividend
The current monthly dividend is $0.215 CDN per share and the next payment will be made on January 15th to all shareholders of record on December 31, 2014. Based on trading on VET's home market (the TSX), the dividend is currently yielding 5.6%.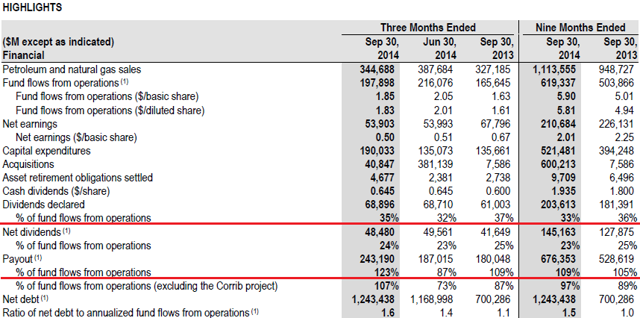 As can be seen from the chart above (taken from the Q3 EPS report), the casual observer may be alarmed that the dividend payout ratio is above 100% of FFO. On this issue, the company said:
Assuming commodity prices remain near current levels for the remainder of 2014, we continue to anticipate
that we can fully fund our net dividends and development capital expenditures (excluding capital investment at Corrib) with fund flows from operations during 2014.
While commodity prices have weakened since that end of Q3 statement, it is important to understand the nature of the Corrib project. This has been a long-term project that the company has been devoting significant cap-ex (~$80 million/year) for years now. The project is now near completion and will be a game changer for VET in terms of production and revenue. At peak production, estimated to be ~9,700 boe/d net to Vermilion, Corrib represents a whopping 19% increase as compared to Q3 average production of 49,920 boe/d. And, as mentioned previously, the company expects a near $3/share swing in free-cash flow once the project comes online.
The Corrib field is expected to have a lifetime of 15-20 years.
Risks
Of course the risk is that oil and gas prices continue to fall out of bed. While the company has adequate hedging for Q4 2014 and Q1 2015, Q2 of 2015 is not so covered. That said, Corrib is scheduled to come online in mid-2015, certainly by Q3. So it would appear the company may have about one quarter's worth of stress (Q2 2015) prior to meaningful revenues from Corrib. Considering the company's strong balance sheet and ample access to liquidity (i.e. over $750 million remaining on its revolving credit facility), VET will have no problems covering the dividend. In fact, I would expect another dividend increase in 2015 after Corrib comes online. If crude oil prices recover by Q4 of 2015 (as I expect), the dividend increase could be significant.
Meantime, colder weather in both the US and Europe would be a very welcome development as natural gas prices could use a boost. After all, the winter solstice is not due until December 21st.
As for Corrib, it is essential that project come online as expected. Shell (NYSE:RDS.A) is the operator of Corrib and has a 45% stake. StatOil (NYSE:STO) has a 36.5% interest. For a mid-sized company like Vermilion Energy, it is important that the partners in this project are two of the largest and most well respected natural gas operators in the world. Both company's have excellent long-term track records with respect to large natural gas projects.
Summary & Conclusion
Vermilion Energy has been racked by lower commodity prices despite the company's global diversity and oil/nat gas mix. It was not only the fall in oil prices that have affected VET's stock price - natural gas prices in both Canada and Europe have drifted lower due to mild weather and gas contracts linked to the price of oil. That said, the company's hedging program and the expected increase of production in 2015 due primarily to the Corrib gas project coming online will mitigate the damage through Q1 2105. In addition, the company is clearly committed to the dividend. The company's balance sheet is solid and it has excellent access to capital. The dividend is solid. The sell-off in VET's stock means it is now very attractive, and is a leveraged bet on higher future oil prices in 2H of 2015. But the stock may begin trading higher as the in-service date of Corrib comes closer by the day. At $40 per share (NYSE) VET is VERY ATTRACTIVE with a solid dividend yielding 5.6%.
Disclosure: The author is long VET, STO.
The author wrote this article themselves, and it expresses their own opinions. The author is not receiving compensation for it (other than from Seeking Alpha). The author has no business relationship with any company whose stock is mentioned in this article.
Additional disclosure: I am an engineer, not a CFA. The information and data presented in this article were obtained from company documents and/or sources believed to be reliable, but have not been independently verified. Therefore, the author cannot guarantee their accuracy. Please do your own research and contact a qualified investment advisor. I am not responsible for investment decisions you make. Thanks for reading and good luck!