Riverbed Technology, Inc. (NASDAQ:RVBD) provides application performance infrastructure solutions in the United States and internationally. It enables organizations to embrace location-independent computing through the Riverbed Application Performance Platform, a set of integrated solutions that enable companies to host applications and data in the locations, which serve the business while ensuring the flawless delivery of those applications.
The firm has agreed to be purchased for $3.6B or $21 per share by Thoma Bravo and the Ontario Teachers Pension Plan. However, there is concern if this price was not the best for shareholder value, given the offer was only an 8.5% premium to RVBD's stock on November 13, and the purchase price was even below some analyst price targets.
The purpose of this article is to observe the potential returns of the financial buyers on the deal to see if sustainable returns could be achieved at a higher price level and to also arrive at where RVBD's value could be based on its peer's multiples
Potential Buyout Returns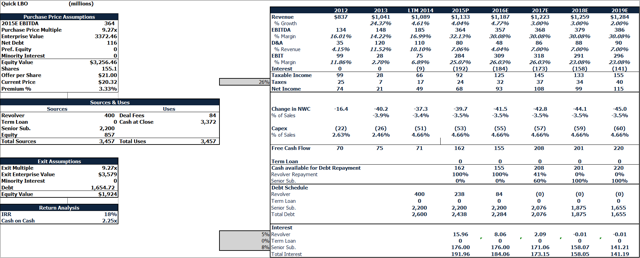 Source: S&P Capital IQ
Based on the involved firms' entry price and semi-aggressive financing assumptions, the financial buyers can expect 18% returns over a five-year investment horizon, which are semi-low. While there is pressure from shareholders stating that they received too low of a premium, a $21 purchase price is a 24% premium over its dip in October of 2014. At any level higher than $21, buyout returns will continue to dwindle, which shows that the purchase price was reasonable and not too low, at least to the financial buyers.
Valuation Compared to Peers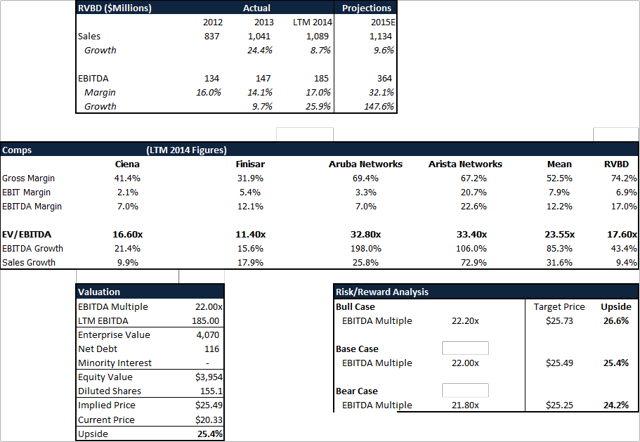 Source: S&P Capital IQ
Based on RVBD's fundamentals, its stock price went much higher, given that its peers with lower growth and margins traded in-line with RVBD. The company should trade at closer to 20-22x EBITDA, and I believe that the deal is in fact detrimental to shareholders. The company could still see multiple expansion, driven by growth in its Opnet acquisition, among other factors. Further, I believe that the legal investigation into the deal's undervaluation may lead to price appreciation.
I hope that this analysis is useful for RVBD investors who were concerned that they were underpaid on the buyout. The multiple the company was purchased at was lower than its closer peers, and the premium to RVBD shareholders was quite low. The buyout did not fairly compensate shareholders involved. The price paid by the financial buyers was as high as they could go, but relative to RVBD's peers, it was still at a discounted price.
The financial buyers, at this depressed price, may benefit from multiple arbitrage: buying a company for 17.6x, when its closer peers trade between 20-25x. The LBO gave RVBD investors the short end of the stick, and I hope that this analysis helps unveil that the company was purchased for cheap. Why did the BOD approve this deal is the real question, and I am sure the potential legal action will find out why, and hopefully will lead to more price appreciation for RVBD shareholders.
Disclosure: The author has no positions in any stocks mentioned, and no plans to initiate any positions within the next 72 hours.
The author wrote this article themselves, and it expresses their own opinions. The author is not receiving compensation for it (other than from Seeking Alpha). The author has no business relationship with any company whose stock is mentioned in this article.