I wanted to tell all of my readers about a trade that a pen pal of mine taught me. This pen pal and I met on the General Moly (NYSEMKT:GMO) Message board. The trade he taught me I call the 'Float like a Butterfly and Sting like a Bee" trade. He brought to my attention that since the beginning of June GMO has been range bound.
I first learned about General Moly from an analyst, and in hindsight, I bought in too soon. Rather than bemoan that I had come too early to the party, I embraced the fact that I had come at all. On May 17th GMO was caught in the panic sell off of the mining stocks, and I doubled my position at $3.90 which essentially cut my Dollar Cost Average [DCA] in half. Seven days later, I sold 20% of the position I had just bought at $3.90 for $4.50 and realized a 79% gain. My friend and I talked about it and he told me "see I told you so."
Take a look at the chart below.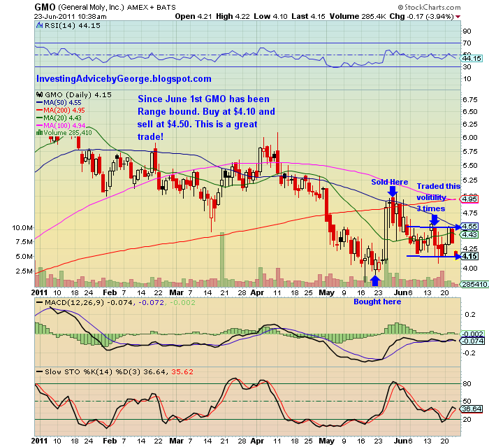 You will notice that since the beginning of June, GMO has been range-bound trading like clockwork between $4.10 and $4.50 (+/-). The trick with this trade is to buy the stock at $4.10 or below in blocks of 10,000 shares and sell them at $4.40 or above. I have successfully traded this strategy 3 times since the beginning of June, and have realized a profit of at least $3000.00 each time. .
Here's what's important. All of the investors of GMO are waiting for the water rights permit to be approved. From the numerous conversations I have had with the Head of Investor Relations, Seth Forman, I feel confident that it is not a question of if the water rights permit will be approved, but a question of when they will be approved. I do wish to emphasize that in terms of full disclosure of our conversations, Seth never said that the water permits would be approved. He said over and over again that the water permits will be approved "if and when they are approved." CEO Bruce Hansen is an ethical man, and he has put together a team of professionals that embody his expectations of never disseminating information that might be misconstrued. I also wish to make it crystal clear that from the beginning of this project the management team of General Moly has followed the rules and regulations of the Bureau of Land Management "Chapter and Verse."
Having said that, I can add. Eureka Nevada is starving for jobs. Nevada is a very mining friendly state and is starving for tax revenue. This leads me to conclude that it is not a question of if but when the water rights permits will be approved. After they cross that threshold, the only thing left will be the full permitting of the Mt. Hope project.
The good news is now that I have recognized that GMO is range bound until the issue of water rights permits is concluded, I will continue to play this trade. As I write, it is Thursday June 23rd, and while the market sold off en masse, I bought a block of 10,000 shares back at $4.10. This is the same block of 10,000 shares I sold for $4.54.
The issue of the water rights permit may be concluded in the 3rd quarter, so I advise everyone to take a look at this chart, watch the board, and if it feels good to you, take the plunge. This will be my fourth ride, and I have every confidence that I will be selling this block at $4.40 or above soon. "Float like a Butterfly and Sting like a Bee."

Disclosure: I am long GMO.