Moody's Investors Service announced yesterday that transaction prices on commercial properties fell 3.7% during April 2011, according to the Moody's/REAL Commercial Property Price Index (CPPI).
That's the fifth straight month of decline, and the index shows that property values are now an astonishing 49% below the peak that they reached in October 2007. In fact, the index has now reached a point that is down 2.1% from where it started in December 2000 -- that is, property values are lower now than they were more than 10 years ago.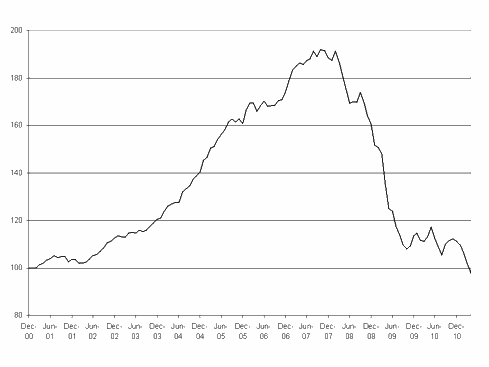 (Click to enlarge)
Don't head for the exits, though -- at least not on the basis of the CPPI. One reason is that movements in the CPPI tend to be dominated by smaller, lower-quality commercial properties, not the higher-quality assets that tend to dominate the portfolios of publicly traded REITs. In fact, Moody's reported that "the price recovery that began a year ago among so-called 'trophy properties' in the largest markets continued unabated."
More importantly, the downward movement in the CPPI has been driven by the huge share of property sales from distressed sellers -- which, ironically, spells continued good news for publicly traded REITs. As Moody's noted, "distressed sales have comprised at least 20% of the repeat-sales transaction volume for 17 consecutive months." That means that at least one-fifth of the repeat-transacting properties have been distressed sales since late 2009 -- a time during which REITs, as a group, have been virtually unopposed in terms of favorable access to investment capital, and as a result have been the most active acquirers of assets.
In fact, the quote from Tad Philipp, director of CRE Research for Moody's, could refer perhaps even more appropriately to real estate investment managers (including REITs) than, as he intended, to metro-area real estate markets:
In April, we continued to see a case of where the strong are getting stronger and the weak are getting weaker.
As I've written before, we will continue to see bad news about distressed property transactions even though the recovery in commercial real estate fundamentals truly seems to be underway. Several recent articles and research reports highlight the growing confidence in underlying commercial property markets.
An article published yesterday by Mark Heschmeyer of CoStar Group summarized bullish views of the U.S. commercial property market from four different sources. One of them was Credit Suisse, which published a report on June 17 entitled "Commercial Real Estate: Has the Tide Turned?," a question to which they clearly answer "Yes":
Signs of a sustained revival in commercial real estate have emerged. As the market regains strength, we believe investors would benefit from opportunities in select commercial property, a sector that historically has led recoveries from previous downturns. This recovery, however, is unlikely to be even throughout the world. In fact, we believe that the U.S. commercial real estate market will likely provide the most compelling opportunities in the first phase of the recovery as a result of: stabilizing debt markets and the re-emergence of CMBS issuance; property demand improvements as shown in vacancy and absorption trends; favorable commercial property valuations; macro-economic tailwinds; and significant level of capital ready to be deployed for U.S. real estate.
Another was Maximus Advisors, which also expressed optimism about commercial property markets, as "the economy is shifting into self-sustaining recovery" while "there is no new development yet getting underway":
The office market recovery has begun;
The apartment market will continue to improve over the next four years;
Retail real estate stands to benefit from consumer spending stabilization; and
The industrial segment is bottoming but demand appears to be picking up.
Randyl Drummer of CoStar Group focused on the quarterly PwC Real Estate Investor Survey published by PricewaterhouseCoopers. As PwC reports, "Many investors are aggressively pursuing deals as they continue to see signs that the industry's overall fundamentals are stabilizing and even improving in certain sectors and regions."
The opportunity for REIT investors is perhaps most clearly stated in a third article by Zach Fox of SNL, who reported on a conference hosted yesterday by Prudential Financial:
Rick Romano, portfolio manager at Prudential Real Estate Investors, said there are several reasons to be bullish on REITs. For one, unlike the previous cycle, the most recent downturn has been demand-driven as opposed to an oversupply problem, and fundamentals appear to be on the rebound.

Romano told SNL that REITs might soon find themselves with the unique opportunity to secure both internal and external growth, as they can push rents and pursue acquisitions, respectively.

Further, for investors, REITs have lower-than-normal dividend payout ratios. That means investors could expect to see significant dividend increases even if fundamentals flat-line, Romano said. In face, he said REITs could increase dividends by as much as 30% over the next few years, based on current ratios, even without much fundamental growth.
Romano's second point in particular is an observation that I've made repeatedly: REIT earnings growth over the next few years is likely to be driven by both strengthening real estate operating fundamentals and acquistions of high-quality properties at favorable prices from distressed sellers.
Does this mean there's no chance that the economy will soften again, letting the wind out of the sails of REITs? Of course not. But, for those investors who have been sitting on the sidelines waiting for signs that the recovery is real: the signs are now flashing.
Disclaimer: The opinions expressed in this post are my own and do not necessarily reflect those of the National Association of Real Estate Investment Trusts (NAREIT). Neither I nor NAREIT are acting as an investment advisor, investment fiduciary, broker, dealer or other market participant, nor is any offer or solicitation to buy or sell any security investment being made. This information is solely educational in nature and not intended to serve as the primary basis for any investment decision.
Disclosure: I am long Vanguard REIT Index Fund and ING Global Real Estate Fund.