This morning I was screening the most popular stocks on Motley Fool with my Barchart screener and was very surprised to see how poorly Chesapeake Energy (NYSE:CHK) was performing. In the last three months the stock has hit 14 new lows and is down over 15.77% from its recent high. Just might be a bargain here?
Click to enlarge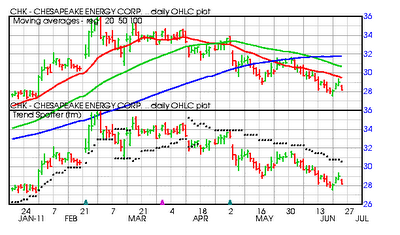 Chesapeake Energy is an independent oil and gas company engaged in the development, exploration, acquisition and production of onshore natural gas and oil reserves. Chesapeake owns interests in producing oil and gas wells concentrated in three primary operating areas: the Mid-Continent region of Oklahoma, western Arkansas, southwestern Kansas and the Texas Panhandle; the Gulf Coast region consisting primarily of the Austin Chalk Trend in Texas and Louisiana and the Tuscaloosa Trend in Louisiana; and the Helmet area of northeastern British Columbia.
Factors to consider
Barchart technical indicators
72% Barchart technical sell indicator
Trend Spotter sell signal
Below its 20, 50 and 100 day moving averages
14 new lows and down 15.77% in the last three months
Relative Strength Index 38.41% and falling
Trades near 28.39 with a 50 day moving average of 30.68
Wall Street brokerage analysts have this as a core energy holding with nine strong buy, nine buy, 13 hold and only three under perform reports released.
Sales are projected to increase by 11.50% this year and another 24.50% next year.
Earnings are expected to be down .7% this year but reverse and be up 7.80% next year and continue to increase annually by 11.00% for at least the next five years.
General investor sentiment
This is one of the most widely followed stocks on Motley Fool with over 9,241 readers expressing an opinion and that opinion is that 97% of them think the stock will outperform the market.
CAPS readers vote 7,160 to 95 that the stock will beat the market.
The more experienced All Stars agree with a 1,848 to 38 vote for the same result.
Summary: Now might be the time to put in place a strategy to buy Chesapeake Energy at a bargain price. The long term prospects of the stock appear to be a safe bet. Most of the production is in North America, so the worse it gets in the Middle East the better it is for the company. Even at today's prices long term investors should see an annual return in the 10% range over the next five years. Here's how I would play it: If you got it hold it, if you don't, then place a buy stop at the 20 day moving average and keep sliding the buy stop down as the stock goes down. That's the way to buy long range bargains.
Disclosure: I have no positions in any stocks mentioned, and no plans to initiate any positions within the next 72 hours.