Chevron Corp. (NYSE:CVX) is an energy giant that barely needs an introduction. A global energy powerhouse, Chevron was founded as Standard Oil of California in 1879, and became Chevron Corporation in 1984. Chevron is a component of the Dow Jones Industrial Average since 2008; but was also part of the index from 1930 to 1999. The current downturn in the oil and energy prices have put a downward pressure on the stock prices, but Chevron has stood through such storms, wars, and recessions in the past. This article takes a close look at the fair price of Chevron.
A Closer Look
Chevron is a global integrated oil, natural gas, and alternative energy company. The alternative energy includes geothermal, solar, wind, biofuel, fuel cells, and hydrogen. Essentially, the company pursues all energy sources for the needs of the global population.
Being an integrated oil company, investors are more cautious remaining extremely bullish or bearish about Chevron compared to other smaller pure-oil players. Nonetheless, the stock is down 24% from its 52-week high of $132.73. It is important to keep in mind that most of Chevron's earnings come from the Upstream segment. As per the company's 2013 Annual Report, the Upstream segment makes up 90% of its earnings.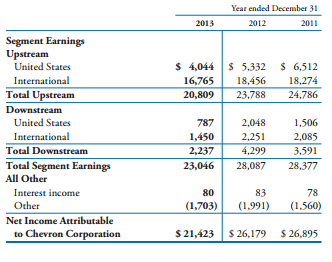 (Source: Chevron 2013 Annual Report)
The company is geographically well-diversified. Only 21% of its net earnings come from the US, while the rest comes from International operations.
Dividend Stock Analysis
Financials
Expected: A growing revenue, earnings per share and free cash flow year-over-year looking at a 10-year trend.

(Source: Created by author. Data from Morningstar)
Actual: Looking at the last ten years, the company has done remarkably well considering the world went through one of the worst financial crises in history. However, being an integrated upstream and downstream company allowed Chevron to recover quickly from the dropping revenues.
Dividends and Payout Ratios
Expected: A growing dividend outpacing inflation rates, with a dividend rate not too high (which might signal an upcoming cut). Low EPS payout ratio also indicates that the dividends can be raised comfortably in the future.

(Source: Created by author. Data from Morningstar)
Actual: Chevron pays an annual dividend of $4.28, and at current stock price levels, yields 4.2%. This is much higher than the average 5-year dividend yield of 3.29% and 10-year average of 3.11% (more on this later) - showing us that the current yield levels are well above average. Chevron is a Dividend Champion, having raised its dividends for 27 years consecutively. The 1/3/5/10-year dividend growth rates (DGR) stand at 11.1/11.2/9.0/10.6% respectively. With a payout ratio of 38%, there's still plenty of room for dividend raises in the future.
Outstanding Shares
Expected: Either constant or decreasing number of outstanding shares. An increase in share count might signal that the company is diluting its ownership and running into financial trouble.

(Source: Created by author. Data from Morningstar)
Actual: The number of shares have declined since 2006, except in 2010, where it marginally increased.
Book Value and Book Value Growth
Expected: Growing book value per share. Sometimes, stock repurchases are authorized by the board to reward management at the expense of book value.

(Source: Created by author. Data from Morningstar)
Actual: The book value has maintained an uptrend, and the growth still remains positive. Over the years, we can see that the book value grew at a slower pace during the financial crisis, and the current year has a similar rate of growth.
Return on Equity
Expected: A good healthy return on equity.
Actual: Chevron has an ROE of 13.76.
Valuation
To determine the valuation, I use the Graham Number, Average Price-to-Earnings, Average Yield, Average Price-to-Sales, Dividend Discount (Gordon Growth model), and Discounted Cash Flow. For details on the methodology, click here.
The Graham Number for Chevron with a book value per share of $82.60 and TTM EPS of $10.86 is $142.07. Based on its last closing price, the stock is currently 27.94% undervalued.
CVX's 5-year average P/E is 9.55, and the 10-year average P/E is 9.39. Based on the analyst earnings estimate of $8.19 (lower than this year's earnings), we get a fair value of $78.21 (based on the 5-year average) and $76.90 (based on the 10-year average).
CVX's average yield over the past five years was 3.29% and over the past ten years was 3.11%. Based on the current annual payout of $4.28, that gives us a fair value of $130.09 and $137.62 over the 5- and 10-year period, respectively.
The average 5-year P/S is 1.01, and the average 10-year P/S is 0.9. Revenue estimates for next year stand at $96.62 per share, giving a fair value of $97.39 and $86.96 based on the 5- and 10-year averages, respectively.
The Gordon Growth Model is a quick way to calculate the fair value of a company using the current dividend, the expected dividend growth rate, and our required rate of return or discount rate. Using an expected rate of return of 10% and a dividend growth rate of 5% (lowest dividend growth rate in the past ten years), we get a fair value of $90.00.
The consensus from analysts is that earnings will rise at 6.15% per year over the next five years, after the current contraction cycle ends in 2015. If we take a more conservative number (two-thirds of the estimate) at 4.1%, and assume that CVX is growing its earnings by 5% thereafter over the long term, running the three-stage DCF analysis with a 10% discount rate (expected rate of return), we get a fair price of $219.26.
Conclusion
Chevron is an integrated oil company, with a majority of its earnings coming from the Upstream segment. The current oil crisis provides with interesting stock prices, as the price has dropped well below fair value. Even with dropping earnings over the course of the year, analysts expect long-term (next five years) earnings to grow at 6.15%. If we give equal weight to all the valuation metrics described in this article, the fair value is $117.61. The stock is currently trading at a 15% discount to fair value. For a dividend champion that has a record of raising dividends for 27 years, a 4.2% entry yield is lucrative, with bargain entry prices.
Full Disclosure: Long CVX. My full list of holdings is available here.
Disclosure: The author is long CVX.
The author wrote this article themselves, and it expresses their own opinions. The author is not receiving compensation for it (other than from Seeking Alpha). The author has no business relationship with any company whose stock is mentioned in this article.