Following my article on why investors should buy big banks for upside next quarter, I fully expected a number of comments regarding my sanity, or worse. It wouldn't be the first time, and I assume not the last, I took a position against the crowd. But before you drop down to the comments section to explain how wrong I am, consider a few points, which may just change your mind.
We all recognize banks have been bad investments in Q2. The regional bank ETF (NYSEARCA:RKH) has fallen 10% this quarter. And, the small cap banking ETF (NYSEARCA:KRE) has also lagged major indexes, dropping 5.4%. However, what shouldn't be lost on investors is the relative outperformance this quarter of the smallest institutions - those most hated given their relative inability to securitize, and thus schlep off bad loans to unsuspecting borrowers during easy lending's heyday. So far in June, the KRE has returned -2% versus a -3.5% drop in the S&P 500 and a -5% drop in the Russell 2000. And, some small-cap banks, such as National Penn Bancshares (NASDAQ:NPBC), have even traded up this month. Over at Texas Capital Bancshares (NASDAQ:TCBI), share prices have increased 18% this year and have barely budged in this latest sell-off. Somebody, somewhere, has been less inclined to punt the little guys from portfolios, and investors should take note.
Perhaps the relative excess from small-cap banks is tied in part to the hatred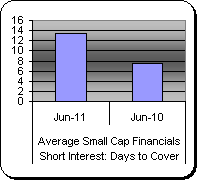 they endure. Short interest has remained extremely high in 2011. In fact, the average days to cover for E.B. Capital Markets, LLC's small-cap financials universe had risen from 7.53 days in June 2010 to 13.46 days in the most recent short interest report. At these levels, shorts have a lot on the line. After all, short sellers are sitting on 22 days to cover in Wintrust Financial (NASDAQ:WTFC), despite predictions its earnings will grow 49% next year to $2.25 per share. Short seller's doomsday predictions aside, any positive shift in the economy - or sentiment toward the industry - will create a mighty powerful short squeeze.
And, small-cap banks might be throwing short sellers a curve ball. Increasingly, they're refinancing their 5% TARP loans to 1% Small Business Lending Fund loans. A shell game perhaps, but with $22 billion in outstanding TARP loans at 627 small banks the refinancing will save the industry hundreds of millions in interest payments annually. Already, over 300 banks have applied to do just that. And, in some cases banks are tapping the program for money above and beyond repaying TARP. After all, funding costs of 1% make margins on auto and home loans look more attractive.
The mom and pop businesses small banks rely on are still struggling, but struggling less as they've adjusted to the new normal. As expected, big companies came back first, and it could be the small shops are next. Commercial and industrial bank customers are doing a better job managing their cash flows and paying their debts. The ratio of commercial and industrial non-performing loans fell to 1.87% last quarter, down from 3% in Q1, 2010. At First Financial (NASDAQ:FFIN), non performing loans fell to 1.44% from 1.50% year-over-year last quarter. While results are indeed choppier for small banks, ratios for non-performing loans have still fallen, begging the question will default rates continue to improve?
The ratio for commercial net loan charge offs at banks with between $300 million and $1 billion in assets has dropped to 0.98% from 1.17% year-over-year. And for those banks with less than $100 million in assets, the return on average equity has climbed to 5.76% from 3.43% year-over-year. This is still below where we'd like to see it, but at least it's marching in the right direction.
Households are doing a better job managing their debt as well. Banks are doing a better job qualifying customers. And loan volume is starting to grow. At Texas Bancshares' 15 branches, total loans grew year-over-year. And, over at Cathay General Bancorp (NASDAQ:CATY), growth in both commercial and residential home loan portfolios offset a drop in construction loans last quarter. At SVB Financial Group (NASDAQ:SIVB), loans have grown in three consecutive quarters. This loan growth trend is likely to spread as banks ease credit standards again.
Analysts, who notoriously chase earnings beats and misses, are paying attention too. Across more than 20 widely traded small cap banks, earnings will grow 44% on average next year. And nearly half of the group has beaten street forecasts in at least three of the past four quarters. Earnings over at National Penn are expected to increase this year and next year by 77% and 28%, respectively. At Cathay General, earnings per share is expected to rise 34% in 2012. And at Fulton Financial (NASDAQ:FULT), analysts are estimating earnings per share of $0.92 in 2012, up 26%. If banks post better-than-expected earnings through the next earnings cycle, you can expect additional upgrades and positive revisions, which will help support stock prices.
Finally, consider announcements from healthier big banks like JP Morgan (NYSE:JPM), which plans to add as many as 2,000 branches through recessionary war-torn regions including Florida and California. Or Capital One Financial (NYSE:COF), which just purchased ING's online banking unit. Perhaps PNC Financial (NYSE:PNC) caught your eye with its $3.45 billion purchase of Royal Bank of Canada's (NYSE:RY) RBC Bank, USA. Money remains cheap and that's giving mid-sized players more flexibility to roll-up smaller competitors, providing investors with additional M&A related upside. While mega deals aren't likely given market share restrictions, the market may be ripe for asset grabs among smaller players.
As we move our way through the summer, investors willing to take small banks like National Penn, Texas Capital, Wintrust, First Financial, Cathay, SVB and Fulton may find banks are no longer simply a high risk investment, they may have instead become a high reward opportunity.
Disclosure: I am long JPM, KEY, USB, WFC, ZION, BAC, NTRS.