By Maria Halmo
While unable to attend the AltaGas (OTCPK:ATGFF) Analyst Day in person, I still appreciate that it was held in November, before it gets truly cold in Canada.
AltaGas has three main business segments: midstream infrastructure (Gas), electricity generation (Power), and natural gas distribution (Utilities). Over the past 20 years, the businesses have done exceptionally well, resulting in a total return to investors of more than 1,000%-one of those ten baggers.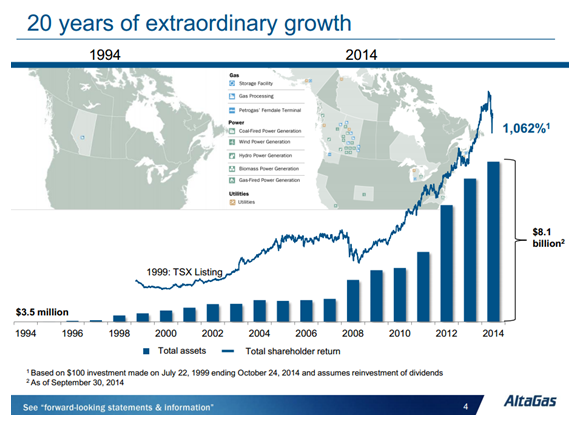 Over the next five years, ALA management expects to double the size of the company: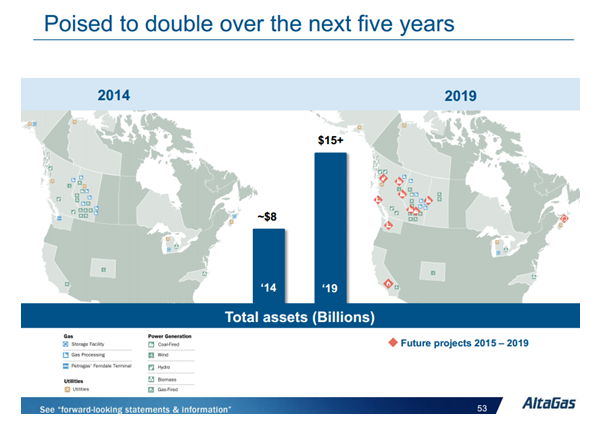 What will drive that growth? The energy renaissance. ALA sees benefits from the North American shale revolution across all three business segments: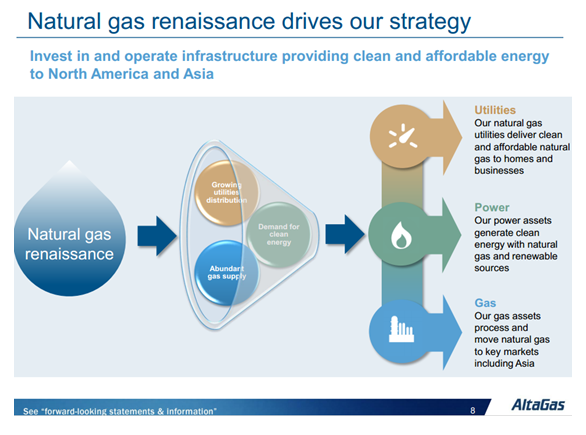 ALA and North American energy infrastructure companies aren't the only beneficiaries of the energy renaissance, of course. From a demand perspective, Asian importers will enjoy reduced prices due to lower production costs and shorter transit times from the West Coast.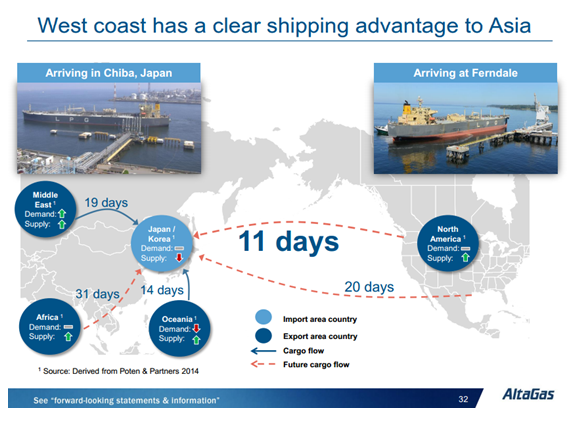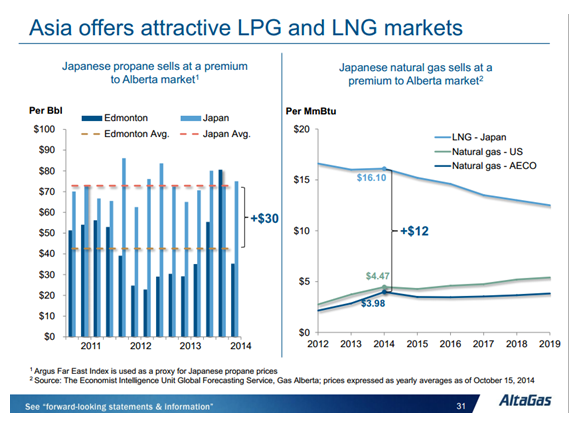 Coming back to ALA's headquarters, here's a great reminder of just how big the opportunity is in Canada [1].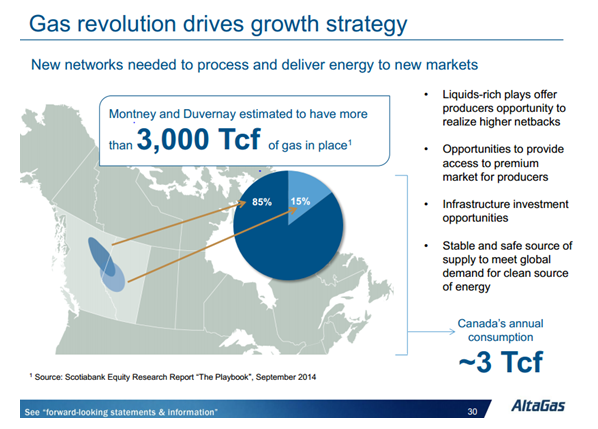 From 2015 through 2019, ALA is spending $2 billion on its Utilities segment, $1.5 billion on its Power segment, and $4 billion on its Gas segment. On the Gas side, part of that capex budget will go toward building 1 Bcf per day of new processing capacity in the Montney Shale. ALA's LPG export facility is ramping up to 30,000 barrels per day over the next few years, and targeting an additional 30,000 barrels per day.
Here's to warmer weather, and attending next year's analyst day to see how all the projects are coming along.
Footnotes:
[1] Because the North American energy renaissance isn't just a phenomena in the United States. The Duvernay and Montney stack up well against the most prolific plays south of the border.
Disclosure: © Alerian 2014. All rights reserved. This material is reproduced with the prior consent of Alerian. It is provided as general information only and should not be taken as investment advice. Employees of Alerian are prohibited from owning individual MLPs. For more information on Alerian and to see our full disclaimer, visit http://www.alerian.com/disclaimers.
Maria Halmo is the Director of Research at Alerian, which equips investors to make informed decisions about Master Limited Partnerships (MLPs) and energy infrastructure. Ms. Halmo leads the firm's research efforts, which include examining MLP regulatory filings, monitoring legislative activity, and investigating industry developments. She also oversees Alerian's public communications strategy through investor and media outreach. Ms. Halmo is a former Associate at SteelPath Capital Management LLC, a Dallas-based MLP investment manager, where she conducted valuation analyses of petroleum transportation partnerships and researched macro-level energy issues. Ms. Halmo graduated with a Bachelor of Arts in Astrophysics from Barnard College at Columbia University. She is also a contributing author to Midstream Business, a monthly publication addressing the need for business market intelligence on North American energy infrastructure.
Editor's Note: This article discusses one or more securities that do not trade on a major U.S. exchange. Please be aware of the risks associated with these stocks.