This is a follow up article to my call in November 2014 to 'Buy Auspex Ahead of Phase 3 Data' in December.
On December 16, 2014, Auspex Pharmaceuticals, Inc. (NASDAQ:ASPX) announced positive top-line efficacy and safety results from its Phase 3 registration program evaluating SD-809 for the treatment of chorea associated with Huntington's disease [HD]. The two Phase 3 trials, First-HD and Arc-HD, studied SD-809, a deuterium-containing analog of tetrabenazine, head-to-head vs. placebo for the treatment of chorea with HD and in transitioning patients on stable doses of tetrabenazine to SD-809, respectively. Results from both trials look outstanding.
We initiated coverage of Auspex Pharma in November 2014 with a $36 price target. As a result of the positive data, we have adjusted both sales and probability of approval inputs in our financial valuation model. We are raising our price target to $60 per share. Below we provide a brief background on SD-809, review the Phase 3 data, and then conclude with how this impacts our forecasts for sales of the drug and the valuation of Auspex Pharmaceuticals.
Brief Background On Tetrabenazine & SD-809
Auspex is developing SD-809, a deuterium substituted version of the established neurological drug tetrabenazine as a treatment for Huntington's disease and other movement disorders. We believe tetrabenazine has a number of important shortcomings that are potentially addressed by Auspex' SD-809.
Huntington's disease [HD], tardive dyskinesia [TD], and Tourette syndrome [TS] are all disorders of excessive, uncontrollable movement associated with excess dopaminergic activity in the brain. Tetrabenazine provides symptomatic relief of movement disorders by inhibiting VMAT2, a transporter that packages dopamine and other neurotransmitters into vesicles for release into the synapse. This reduces synaptic dopamine levels, thus relieving overstimulation of dopamine receptors and reducing symptoms of HD, TD, and TS. Tetrabenazine was approved in the United States for the treatment of chorea (uncontrollable movements) associated with Huntington's disease in 2008 and is sold as Xenazine® by Lundbeck.
Xenazine® has been designated an Orphan Drug in the U.S. given the narrow label for treatment of chorea only associated with HD and the small U.S. HD population of approximately 20,000 to 30,000 individuals (source: HDSA.org). The Xenazine® label does not include other movement disorders associated with HD such as dystonia or bradykinesia. U.S. sales in 2013 were $253 million, an increase of 20% over 2012. Orphan Drug exclusivity in the United States expires in August 2015, and there are no unexpired patents. In most Ex-U.S. markets, it is available as a generic, or sold at modest prices due to drug price controls. Outside the U.S., the drug is approved in many foreign markets for HD, TD, or for the broadly defined indication of organic movement disorders.
The annual cost of Xenazine® treatment in the U.S. can be estimated as $75,000 based on an average daily dose of ~40 mg (note the stable dose for the 36 patients enrolled in Arc-HD was 41 mg). Using $75,000 as the annual cost and Lundbeck's 2013 sales figures of $253 million, we estimate just shy of 4,000 patients in the U.S (about 15% of the U.S. HD population) are currently being treated with the drug - a surprisingly small number. We believe Xenazine® penetration is low due to the significant side effects and poor tolerability of the drug.
For example, in spite of its demonstrated efficacy in the treatment of movement disorders, tetrabenazine has numerous shortcomings. It has a relatively short half-life, must be administered three or more times daily, and has a poor side effect profile, which includes somnolence, insomnia, parkinsonism, severe depression, fatigue, anxiety, and irritability. The FDA label for tetrabenazine carries a "Black Box" warning for depression and suicide risk. Suicide risk is already greatly elevated in patients with Huntington's disease and schizophrenia, and this is exacerbated by treatment with tetrabenazine. Its pharmacologically active intermediates are metabolically inactivated by CYP2D6, a liver enzyme with activity that varies widely between individuals. Thus, the efficacy and side effects induced by any given dose varies widely across individuals, and dose-titration and pharmacogenomics testing are required to ensure safe use.
Below is a graph from the U.S. FDA showing the side effect profile of Xenazine®.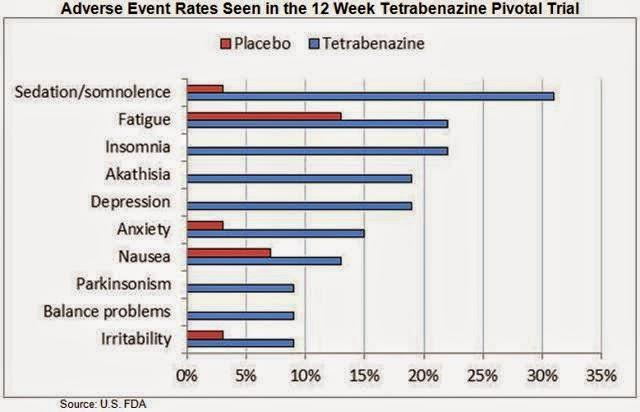 ()
Auspex's platform technology uses deuterium, a stable, non-radioactive, non-toxic, and naturally occurring isotope of hydrogen to design improved variations of existing drugs. Deuterium has a natural abundance of about 1%, and is present in about one in every 50 water molecules on Earth. It has the same size and shape as a hydrogen atom, and differs only in forming very slightly stronger chemical bonds. The removal of a hydrogen atom attached to a carbon atom is the first and rate-limiting step in the metabolism of many drugs. If the hydrogen that is removed in the first step of the metabolic process is replaced by deuterium, the metabolic process is slowed by a factor of up to 8-fold because the C-D bond, which is stronger than a C-H bond, is harder to break (source: Auspex Pharma). Below is a cartoon showing the differences between tetrabenazine and SD-809.

()
Auspex Phase 3 Data - Outstanding Results!
Auspex examined SD-809 in a 90 subject Phase 3 clinical trial called First-HD comparing the drug to placebo (1:1 randomization) for the treatment of chorea symptoms of Huntington's disease, a condition for which the FDA has granted SD-809 Orphan Drug designation. The primary efficacy endpoint for the study was the change from baseline to maintenance therapy in the Total Maximal Chorea [TMC] score of the Unified Huntington's Disease Rating Scale [UHDRS]. SD-809 met the pre-specified primary efficacy endpoint. Patients taking SD-809 achieved a meaningful improvement of 2.5 points on the TMC score from baseline to maintenance therapy compared to placebo (p < 0.0001). Additional results from First-HD are as follows (source: Auspex Pharma):

()
The results look very similar on an efficacy standpoint to the Lundbeck Phase 3 trial with Xenazine®, which showed around a 3 point decline in TMC at week 12 compared to placebo (source: FDA). However, Auspex noted on their conference call that endpoints in Total Motor Score, which includes other movement disorders such as dystonia and bradykinesia, also met statistical significance. We note these added benefits are not listed on the Xenazine® label. At this point, we are unsure on just how much this increases the market opportunity for SD-809 beyond the current Xenazine® population. Additionally, there were four pre-specified key secondary endpoints that were tested on a hierarchical basis: treatment success based on patient global impression of change (PGIC) and clinical global impression of change (CGIC), quality of life and balance. Other pre-specified motor endpoints were also analyzed.

()
A total of 90 patients (45 in each group) were enrolled for evaluation over 13 weeks: patients were titrated weekly to an optimal dose up to week eight; were on maintenance therapy for four weeks, and; were taken off study medication in the final week of the study. Dose of SD-809 at week 12 was approximately 40 mg. A total of 87 patients completed the study; one patient in the SD-809 group and two in the placebo group discontinued.
As important as the efficacy data for SD-809 are the safety and tolerability data. In fact, we believe the data below are what will separate SD-809 from Xenazine® / generic tetrabenazine once approved. In general, SD-809 was well tolerated; there was no difference in the rate of dose reduction between SD-809 and placebo (6.7% in each group). Results from First-HD show a favorable safety and tolerability profile of SD-809; following are the number of patients reporting adverse events by system organ class: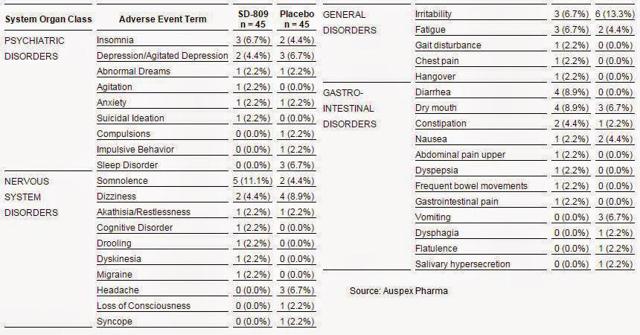 ()
We believe these safety and tolerability results are outstanding. Below we highlight some of the key differentiators seen between SD-809 in Auspex Phase 3 trial vs. Xenazine® (tetrabenazine) in the Lundbeck Phase 3 trial. Note the meaningful reduction in things like somnolence, sedation, fatigue, insomnia, anxiety, depression, and akathisia.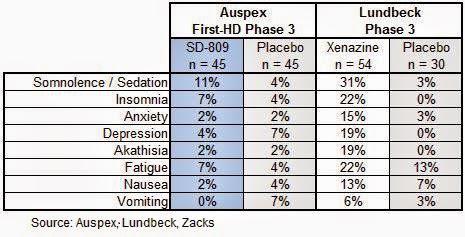 ()
In parallel to the First-HD study, Auspex completed the four-week "switch" study called Arc-HD in which maintenance of chorea control was assessed after switching patients overnight from tetrabenazine to SD-809 (at approximately half the dose of tetrabenazine). All available data through eight weeks following the switch were included in the analysis. Dose adjustments were permitted after week one. The mean total chorea score decreased by approximately one point from baseline on the TMC score (week one = -0.8 ± 0.4 / week four = -0.8 ± 0.5). In addition, there were 21 patients for whom data were available at week eight; these data demonstrated an improvement of 1.9 (± 0.8) points on the TMC score. Data for the remaining 15 patients will be available at a future date. The Arc-HD study has an ongoing long-term safety component as well. Results from Arc-HD, presented below in graphical form, are outstanding.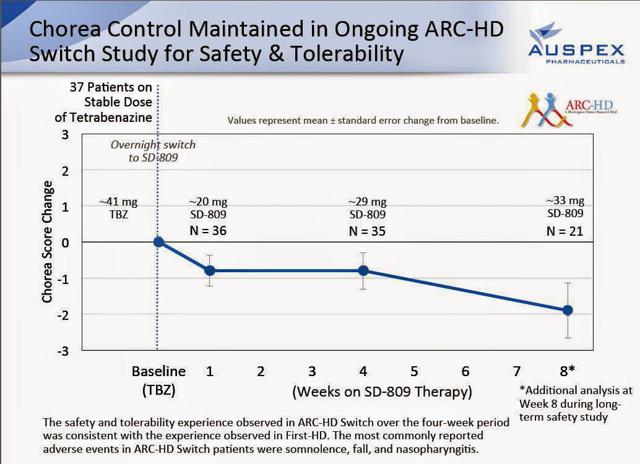 ()
The results from First-HD and Arc-HD show SD-809 to be a superior drug to Xenazine®. We believe the efficacy is comparable in reducing chorea associated with HD and that SD-809 offers additional benefits of reducing other motor function disorders associated with the disease such as dystonia and bradykinesia. Safety and tolerability data show a marked reduction in key adverse events that currently limit Xenazine® uptake like sedation and depression, and results from Arc-HD prove that patients can be switched from Xenazine® to SD-809 with no loss of chorea control. Week eight data from Arc-HD suggests additive control with SD-809 over Xenazine®, likely due to the ability to increase the dose to higher levels thanks to the added tolerability.
Implications For Auspex
These are obviously fantastic results (note the stock is up 101% as of writing this report). We had previously believed that Auspex would be able to capture 15% of the HD market once SD-809 was approved. This assumed taking 50% of the Xenazine® market share (7.5% of the market) and bringing in another 7.5% new patients. However, based on the results of First-HD and Arc-HD, we now believe that Auspex will take nearly all the market away from Lundbeck's Xenazine®, as well as bring in a new 25% of the population. As a result, we are increasing our sales assumptions from SD-809 in HD from our previous estimate of $250 million (similar to the current Xenazine® market) to $550 million.
We also see increased likelihood of success in the ongoing Phase 3 Arm-TD and Aim-TD clinical trials studying SD-809 in Tardive Dyskinesia [TD]; and the potential to expand SD-809 use in Tourette syndrome, currently in a Phase 1b study. The graphs below show the efficacy response rates to tetrabenazine in HD, TD, and tics (representative of Tourette syndrome) as found in a retrospective analysis of patients with movement disorders followed over an average of 2.3 years (Kenney et al, 2007). A total of 98 patients had HD, 149 had TD, and 93 had tics (including TS). Approximately 80% of patients with each type of movement disorder achieved a moderate-to- marked reduction in symptoms when evaluated on a 5 point rating scale.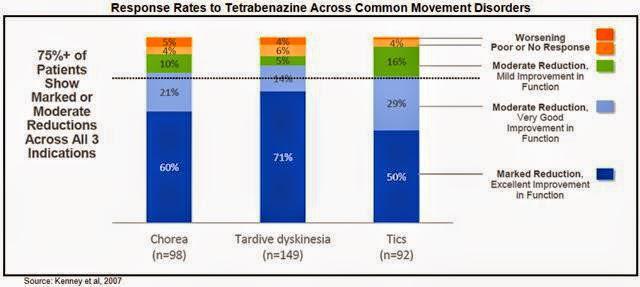 Data from the Phase 3 Arm-TD and Aim-TD studies are expected to report around the middle of 2015 and in 2016. Phase 1b data in Tourette syndrome are also expected around the middle of 2015. Auspex management anticipates filing the U.S. FDA for SD-809 in HD by the middle of 2015. We remind investors that Auspex will seek approval for SD-809 via the 505(2) pathway.
Valuation & Recommendation
As noted above, we are dramatically increased our sales assumptions for SD-809. We previously believed the drug would do sales in HD around $250 million. We now believe eclipsing $500 million is achievable. We have also increased our sales assumptions in both TD and Tourette syndrome. At peak, we believe SD-809 could be a $2 billion drug, albeit we place a slightly higher discount rate on the sales in TD and Tourette syndrome based simply on stage of development.
We assume a limited impact from generic tetrabenazine, believing that the SD-809 data is superior enough to the clinical profile of tetrabenazine that the majority of patients will switch to the new drug. Our only concern at this standpoint is pending competition from Neurocrine Bio's (NASDAQ:NBIX) Phase 3 drug, valbenazine. Neurocrine is pursuing indications in TD and Tourette with valbenazine, a purified active metabolite prodrug of the (+)-alpha isomer of tetrabenazine. Nevertheless, we believe the market is large enough, particularly in TD with an estimated 500,000 patients in the U.S., where both Auspex and Neurocrine can see meaningful success with their respective drugs.
We have conducted a discounted cash flow analysis inputting our sales assumptions for SD-809 along with the following additional assumptions: 12% CoGS, R&D and G&A expenses that bottom out at 7% and 10% of gross revenues, respectively, 32% effective tax rate beginning in 2017, 22% discount rate. Based on our assumptions, we calculate a fair value for Auspex Pharmaceuticals of approximately $1.9 billion, or $60 per share. We continue to rate the shares 'Buy'.
Disclosure: The author has no positions in any stocks mentioned, and no plans to initiate any positions within the next 72 hours. The author wrote this article themselves, and it expresses their own opinions. The author is not receiving compensation for it. The author has no business relationship with any company whose stock is mentioned in this article.