Virgin America (NASDAQ:VA) - Buy Recommendation - $35.75 Price Target
Virgin America launched its IPO on November 14, 2014, and its quiet period is set to end on December 24.
The quiet period, or cooling off period, is a preset length of time, during which the underwriters of the IPO refrain from issuing recommendations, analyses and reports on the company.
Virgin America is a low-cost airline based in California that serves the continental United States and Mexico primarily from Los Angeles and San Francisco to other major airports across those countries.
With the cooling off period ending on December 24, the IPO underwriters will be free to issue recommendations and analyses of the airline on December 26. As a result, shares in VA may see a temporary increase in price.
A California-Based Airline, Focused On Low Cost Service
Launched in 2007, Virgin America's mission is to offer low-fare, high-quality service for "long-haul point-to-point service between major metropolitan cities on the Eastern and West Coast seaboards." The airline's primary hub is San Francisco International Airport, although VA has additional hubs at Dallas Love Field and Los Angeles International Airport.
While Virgin America was the invention of British magnate Sir Richard Branson, according to U.S. laws, no foreign interest may own more than 25% of a U.S. airline, which must be under the control by U.S. citizens. Virgin Group owns 25% of the airline and holds the license to the Virgin brand.
VA had losses of over $100 million in 2011 and 2012; however, it posted a $10.1 million profit in 2013. For the nine months ended September 30, 2014, the firm notched a strong $56.2 million in net income.
Strong Management, Strong Competitors
CEO and President David Cush has served in his position since 2007. His previous experience includes positions at American Airlines, Passenger Sales, Aeroline Argentin and Aerolineas Argentinas.
CFO Peter Hunt has served in his position since 2011. He has held executive positions at Pinnacle Airlines, Continental Airlines and BDO Seidman Llp.
Virgin America's primary competition on domestic routes comes from United Airlines (NYSE:UAL), Southwest Airlines (NYSE:LUV), JetBlue Airways (NASDAQ:JBLU), Delta Air Lines (NYSE:DAL), American Airlines (NASDAQ:AAL) and Alaska Air Group (NYSE:ALK). The airline has become known for features such as dial-up food service, cabin mood lighting and in-flight entertainment choices. While this differentiated VA initially, other competitors have adopted similar features in an effort to attract younger passengers. In addition, some aircraft manufacturers have begun building such features into new planes.
Solid Early Market Performance
Shares in Virgin America got off to a good start, opening 17% higher than the IPO price at $27. The IPO price was $23, toward the high end of the expected price range of $21 to $24. The stock rose to $38.21 on December 1. VA currently trades at $33.98, as of Wednesday's close.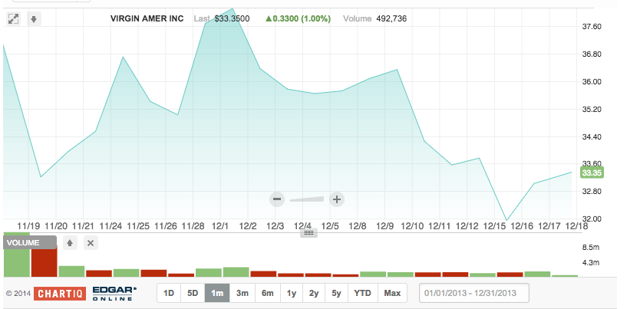 Source: Nasdaq.com
Reports From Influential Underwriters Could Bump Virgin America Shares

The underwriters for Virgin America may seek to benefit from the stock's recent performance through the release of positive analyses beginning with the conclusion of the cooling off period. These underwriters include Barclays Capital Markets, Deutsche Bank Securities, BofA Merrill Lynch, Cowen & Company, Goldman Sachs, Imperial Capital, Loyal3 Securities and Raymond James & Associates.
Several recent studies indicate that the share price may produce above market returns for the five days before through the two days after the end of the cooling off period. Our own research supports the trend. We've noted above market returns of over 2% in the (-5,+2) time frame surrounding the event (Day 0).
Conclusion: Buy Early
For investors looking to add an airline stock to their portfolio, the time period surrounding the conclusion of the quiet period may offer an opportunity to buy into Virgin America.
Additional studies show a positive correlation between the reputation and quantity of a firm's underwriters and price increases at the expiration of the quiet period. For VA, its powerful team could likely give the firm an additional boost.
In a gradually recovering economy, and with impressive revenues at the time of its hot IPO, we believe this firm is poised to fly even higher.

Disclosure: The author is long VA.
The author wrote this article themselves, and it expresses their own opinions. The author is not receiving compensation for it (other than from Seeking Alpha). The author has no business relationship with any company whose stock is mentioned in this article.