Last week, in anticipation of the Paris Air Show--a huge event for the aviation industry--we outlined our forecasts for market share in the narrowbody aircraft segment, which showed Airbus' A320 gaining a clear lead during the next few decades.
So far during the show, Airbus has received a plethora of orders for its A320neo (new engine option), a re-engining of its popular A320, which competes with Boeing's (NYSE:BA) 737NG [and within a few years, entrants from around the globe: Comac's C919 from China, Bombardier's (OTCQX:BDRBF) CSeries, and the Irkut/UAC MS-21 from Russia]. Orders for the A320neo are coming from around the globe, with Airbus garnering wins from India's Indigo, Chile's LAN Airlines (LFL), and domestic carrier Republic (RJET). We're currently watching for any major shifts within the discount airline landscape--read why Ryanair (NASDAQ:RYAAY) and Southwest (NYSE:LUV) may also defect from their all-Boeing 737 fleets in coming years.
And we're now hearing that Airbus could have as many as 1,000 orders for this re-engined plane by the end of the French expo Sunday, making it the fastest-selling version in aircraft history--even faster than Boeing's 787 Dreamliner. In the first three days of the show, according to the Wall Street Journal, Airbus has booked over 500 orders for the plane, taking its tally to over 750 (a number reached in about six months, a breakneck pace). By comparison, Boeing has yet to even decide what it will do next in the narrowbody market--either re-engine its 737NG by 2016 or build a brand new plane by 2019-2020. We view a completely new build as the best option for the domestic jet maker.
As we outlined in "The Future of the Narrowbody Market," we indicated to our subscribers that we believed the A320neo was the best plane for the 150-200 seat segment, and we're now getting confirmation of our analysis by airlines and lessors that are loading up on orders during the show. We continue to forecast a boom in aerospace deliveries during the next few years, largely caused by an uptick in production rates of the 737 and legacy A320 driven by global competitive threats and the need for Boeing and Airbus to protect their established narrowbody backlogs.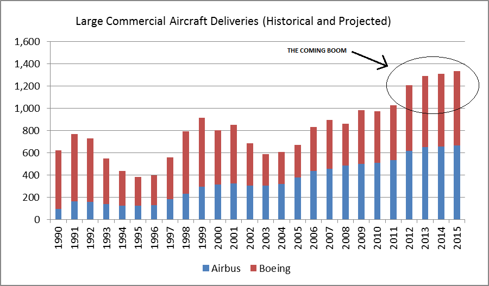 As outlined in our Best Ideas list, we think the best way to invest in the coming boom in aircraft deliveries is within the supply chain, with our top aerospace pick being Precision Castparts (NYSE:PCP) - whose ubiquitous position on all of the major jet-engine manufacturers' programs will allow it to capitalize on the surge in production, regardless of market share shifts between Boeing or Airbus or even disruptions caused by Bombardier's CSeries or China's C919.
As for Boeing, we think the firm could see further upside from these levels due in part to the market's short-sidedness (though Boeing's equity faces incredible risk toward the middle of this decade), and we are growing more constructive on Airbus' shares given its strong showing in Paris.
Disclosure: I have no positions in any stocks mentioned, and no plans to initiate any positions within the next 72 hours.