The recent commodities sell off and market slump we have seen over the past few weeks has created a buying opportunity in a great long-term play. Coal use in the United States is not going anywhere in the forseeable future. The volatility of oil prices and high cost of solar power have strengthened the position coal has in helping provide world energy demands in the future. Peabody Energy (NYSE:BTU) looks poised to gain from increased coal demand.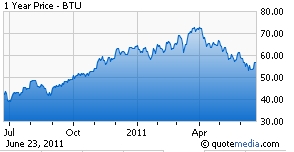 First, some basics. Peabody is the world's largest private-sector coal company with a market capitalization of $15.4 billion. The company provides 2% of the worldwide electricity and 10% of U.S. electricity. The company operates in four segments: Australian mining, western U.S. mining,eastern U.S. mining, and trading/brokerage. The stock has a 52 week high of $72.95 and a 52 week low of $38.08.
Let's now delve into why Peabody looks like an attractive long-term investment.
Coal Demand Remains Strong
Coal is part of the American pastime and it will remain a valuable part of America's energy future. The U.S. Energy Information Association reports that 21% of U.S. energy consumption in 2010 was from coal. Coal reserves in the United States are estimated at 200 years and nearly 93% of coal usage is used to fuel electricity power. The costs of turning coal into electricity also remain cheaper than natural gas and coal prices have historically remained stable.
There remain environmental concerns about burning coal, the emissions that are produced and landscape destruction. Yet, the United States has spent over $90 billion investing in clean coal technologies. Technologies that now exist make it possible to take out 98% of sulfur dioxide generated and 90% of mercury emitted when coal is burned. Using coal to produce energy over time has become cleaner and more environmentally friendly.
Internationally, coal demand will continue to increase with much of the demand coming from Asia. China continues to grow and India's thermal coal imports are up 33% in the past year. Demand from other Pacific rimmed nations is expected to grow 75% in the next five years. Additionally, more than 770 gigawatts, roughly 2.5 billion tons of coal, of power plants are planned or under construction with much of that growth coming from Asia.
While demand is rising in Asia, supply remains tight. Weather, in particular harsh rains, have diminished supplies in four continents over the past year. Analysts also expect Asia-Australia demand will continue to grow over the next 5 years and will make up 80% of the world's seaborne supply demand. The fact remains that coal production must catch up to meet future coal demand.
Why Peabody Will Benefit
Peabody is the world's largest private coal company and their international exposure has positioned themselves to benefit from increased Asian demand. The company has 28 operations in the United States and Australia and their operations in Australia allow them to sell tons of coal directly to emerging economies. In 2011, the company is targeting a 15% increase in Australian exports.
In the short-term, Peabody's Australian coal segments have reached settlements to provide 3 million tons of metallurgical coal and 4-5 millions tons of thermal coal. These settlements will protect 2011 earnings and 2012 volumes of both types are already leveraged.
As the global economy picks up and Asian demand increases, Peabody will be positioned to gain from the increased demand. In the United States, investments in clean coal technologies will help ensure that coal use continues to play a major part in America's energy use.
Valuation
The company has a P/E of 17.9 and a TTM P/E of 18.9. They have $1.4 billion in cash and short-term investments; capital spending for the year is expected to be $900 million and geared towards growth projects. Currently the company also offers a .6% yield which is nothing to brag about.
Looking at the latest quarterly earnings report, operating profit was up 22% and net income increased 32%. Australian revenues were up 30% and total sales volume of coal was up 5%. EBITDA was also up 17% to $417 million. One gray note appears to be the company's net profit margins stand at 12%, less than industry peers.
Nothing in particular jumps out when looking at their valuation and balance sheet. The company has some significant debt and little FCF, yet the quarterly earnings report indicates that they are continuing to grow and benefit from increased coal demand. If the company does partake in significant growth/acquisition financed through significant debt, then they appear to have a pretty solid grounding heading into the future.
Outlook
Coal still remains one of the cheapest forms of energy and coal supplies remain plentiful. Coal demand will continue to increase due to growing energy demands in Asia and the volatility of high oil prices. Peabody remains a strong pick to benefit from increased coal demand because of their exposure to emerging markets. Coal demand also looks to remain strong in the United States.
I am not the only one who is bullish on Peabody and coal. This past week, Goldman Sachs upgraded the coal sector to Attractive. Goldman Sachs noted that higher oil prices and modest growth in global GDP will help the sector in the near-term.
To conclude, I remain bullish on Peabody and coal and see it as a great long-term investment.
Disclosure: I have no positions in any stocks mentioned, and no plans to initiate any positions within the next 72 hours.