As 2014 comes to a close, I'm starting to look forward to the new year. As someone who covers the consumer goods space a lot, the beverage industry is one place where I devote a fair share of my time. Today, I'm going to detail why I think PepsiCo (NYSE:PEP) is my preferred investment for 2015 when it comes to the big three.
The impact of lower gas prices:
As you have probably heard by now, the price of oil is plunging and so are gas prices. US consumers are going to have a lot more money in their pockets as we get into the new year. In the chart below, you can see how far gas prices have fallen, and they are expected to continue lower in the short-term.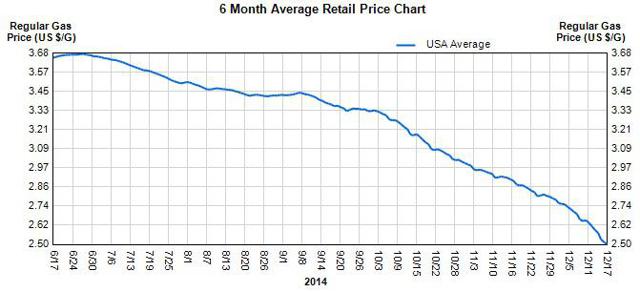 (Source: GasBuddy.com)
Lower energy prices will put billions of dollars into consumers' pockets, and so consumer spending is expected to pick up. When thinking about monthly budgeting, energy prices are a big deal for families, but so are groceries. With consumers saving on one of their largest expenses, it does mean that food and drink spending can increase in 2015.
In my opinion, extra spending in terms of food and drink should favor Pepsi the most. Not only could beverage spending tick up, but you also have the Frito-Lay snacks business. It's not just about picking up an extra bag of chips or two for your Super Bowl party. Consumers may also go to more sporting events, movies, etc., and they have to eat and drink there. Pepsi gives you access to two key pieces of that market, something you really don't see with Coca-Cola (NYSE:KO) or Dr Pepper Snapple (NYSE:DPS). Pepsi is also sponsoring the Super Bowl halftime show, so that marketing effort could give the name another boost in 2015.
Comparisons for 2015 look good:
A major reason why I like PepsiCo for 2015 is that the growth forecast looks pretty solid. When it comes to analyst estimates, the company is slotted for 2.3% revenue growth and about 6.5% earnings per share growth. While those numbers don't look spectacular up front, they are quite impressive when compared to the competition. In the chart below, I've compared the big three in terms of growth estimates for 2015.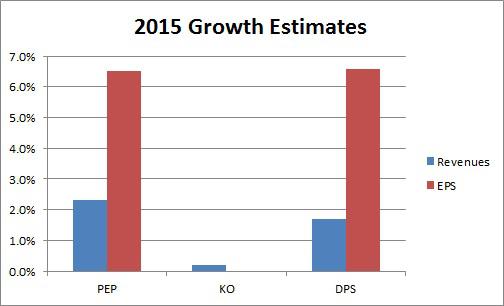 PepsiCo is slotted for just about the same earnings per share growth as Dr Pepper Snapple, but PepsiCo is projected to have more revenue growth. Coca-Cola trails in both categories, and by a substantial amount, especially with earnings per share projected to be flat. Growth is not the only thing, however, that investors focus on. Valuation is an important part of the investment decision as well, and in the table below, I've compared these names based on Wednesday's close and the 2015 estimates.

On a price to sales basis, PepsiCo is the cheapest of the three, and by a fairly significant margin. On a price to earnings basis, PepsiCo trades at a little less than the average of the other two names. Considering how PepsiCo has the best overall growth profile of the three names, I think the valuation is fairly decent.
Analysts favor the name:
I hope that I've shown today why I like PepsiCo for 2015. However, I don't want you to just take my word for it. I also want you to see what the professionals think when it comes to this space. In the table below, I've compared these names when it comes to analyst opinions, and the results may not be that surprising. In terms of the rating number, a 1.0 is a strong buy, a 3.0 is a hold, and a 5.0 would be a sell. The potential upside is from Wednesday's close to the median price target.

PepsiCo is the overwhelming favorite when it comes to the professionals. The average rating for PepsiCo is a bit above that of Coca-Cola, and much better than Dr Pepper Snapple. Also, analysts see PepsiCo having the most upside at nearly 9%, with Coca-Cola under 6%. Dr Pepper Snapple is actually trading above its median price target currently. PepsiCo's 52-week high is $100.70, so analysts believe it will break that mark at some point.
Final thoughts:
Looking at 2015, I think PepsiCo is the best name to be in when it comes to the beverage space. Consumers will have a lot more money to spend, and I think that favors the name that has beverage and snack exposure. PepsiCo is projected to have the most revenue growth and nearly the best earnings growth, while trading at a very reasonable valuation. Analysts love the name as well, and I think a good year from the company could put this stock into triple digits.
Disclosure: The author has no positions in any stocks mentioned, and no plans to initiate any positions within the next 72 hours.
The author wrote this article themselves, and it expresses their own opinions. The author is not receiving compensation for it (other than from Seeking Alpha). The author has no business relationship with any company whose stock is mentioned in this article.
Additional disclosure: Investors are always reminded that before making any investment, you should do your own proper due diligence on any name directly or indirectly mentioned in this article. Investors should also consider seeking advice from a broker or financial adviser before making any investment decisions. Any material in this article should be considered general information, and not relied on as a formal investment recommendation.