Linn Energy (LINE) (LNCO) has been firmly in the crosshairs of the recent decline in oil prices. The stock has been gutted, down nearly 60% since September. However, this decline is very likely an overreaction by the market. In addition, Linn Energy is engaging in efforts to protect itself from a prolonged period of low oil prices.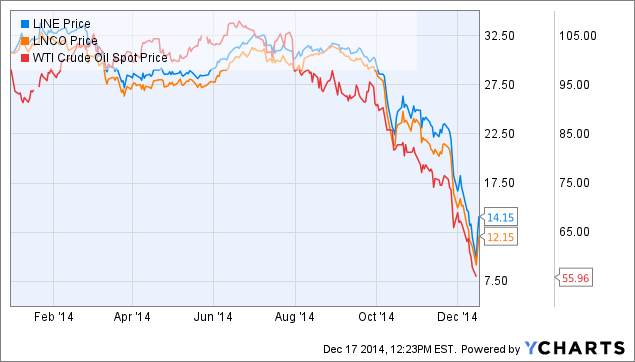 Granite Wash sale closes
On Monday (December 15, 2014), Linn Energy announced that its previously announced $1.95B sale of its entire position in the Granite Wash and Cleveland plays had closed. In addition, the company had previously closed its $350M sale of various Wolfberry positions in the Permian Basin on November 14, 2014. The final price for both sales will be subject to pre- and post-closing purchase price adjustments. Furthermore, Linn Energy expects the transaction to be tax efficient via 1031 like-kind exchanges.
In an earlier article, I had pondered if these deals would even close given the turmoil seen in the energy markets. One of the parties walking away would have been a near disaster. Needless to say, completing these deals is a major coup for the company and its efforts to lower its capital intensity.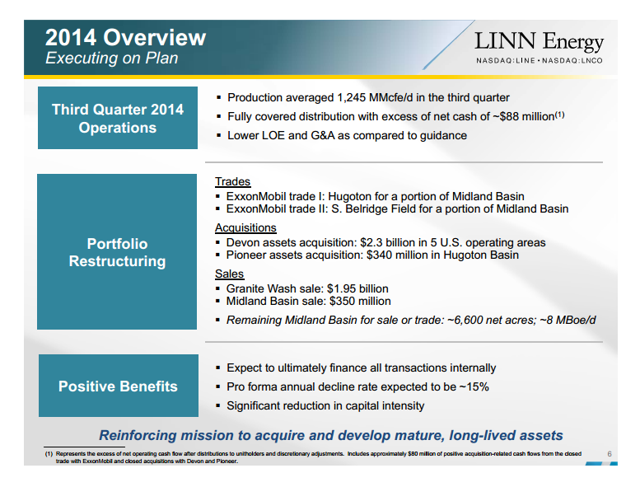 Lower debt is a big positive catalyst
Linn Energy has noted that net proceeds from these transactions will be used towards repaying the full $1.3B term loan related to the $2.3B Devon Energy transaction closed on August 29, 2014.
The $1.3B term loan was more like a "bridge loan", short-term in nature, and had always been planned to be liquidated once the Granite Wash sale closed. It is tad surprising then, in reaction to this news, that Linn Energy's stock soared over 20% on Tuesday (December 16). However, lost in the details is another, arguably more important, information.
Linn Energy noted that its creditors, upon closing the Granite Wash sale, had completed their semi-annual redetermination of the credit facilities and had increased the borrowing base to $4.5B, while also reaffirming Berry Petroleum's (a wholly-owned subsidiary of Linn Energy) $1.4B borrowing base. In addition, Linn Energy's credit facility was restored to $4.0B, while Berry's remained unchanged at $1.2B. The maturity date for both facilities is April 2019. Furthermore, Linn Energy noted that its pro forma liquidity was at $2.4B as of September 30, 2014.
While it is easy to read too much into this, I think this news is a big positive. I believe this move is a credit positive one and aimed to secure continued access to the credit markets. The borrowing base is calculated using reserves, so the increase in revolver points towards continued profitability even at current oil prices. What this basically means is that Linn Energy's lenders have given the company their backing, at least for now.
2015 capital budget is on hold
According to a Bloomberg article, Linn Energy plans to put capex spending on hold given the rather volatile oil markets.
"The volatility in commodity prices is making it more difficult to put together a budget," Jeansonne said by phone. "We're trying to get some clarity on oil prices to help formulate our 2015 plan."
The article was short on details. However, Linn Energy seems to be acting cautiously. The company, like all other upstream MLPs, has seen its share price collapse. Any spending for more production seems foolhardy given where oil is at. However, Linn Energy would still need to provide at least some estimates for its maintenance capex, a crucial metric for determining DCF.
Distribution/dividend may need to be cut
Lastly, let me address the elephant in the room - Linn Energy distribution.
As I noted in a recent piece, the market is clearly pricing in a cut. However, the size of such a cut, or if a cut will even happen, is anyone's guess.
Linn Energy does have robust hedges, as shown below: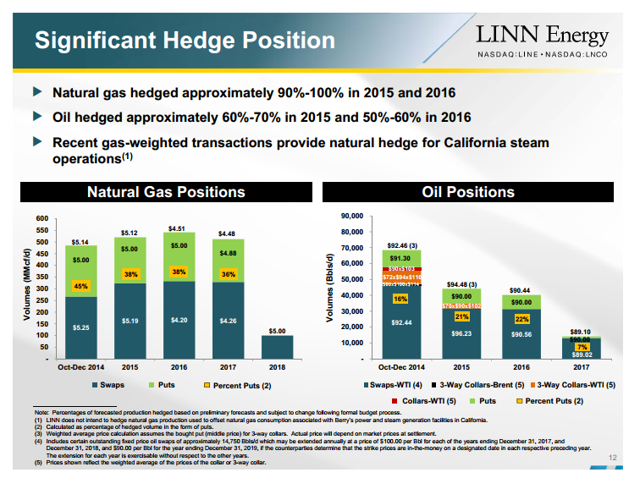 However, for 2015, these hedges are only expected to cover 60 to 70% of anticipated oil production. In other words, 30 to 40% of Linn Energy's oil production will be impacted.
To put this into numbers, assuming WTI at $65 per BBL, I estimate Linn Energy revenues to fall by as much as $250M to $300M. With WTI at $55 per BBL, this increases to $330M to $400M.
As for DCF, this metric could be hit extremely hard. I had earlier estimated that Linn Energy would need to lower its distribution 30% if it were to attain a 1.00x coverage ratio with WTI oil at $65 per BBL. At $55 per BBL, this number would grow to 40%. In other words, I believe Linn Energy would need to lower its distribution by 40% to around $1.75 per unit in order for DCF to cover it.
As an aside, my estimates assume flat costs compared to 2013. Linn Energy could achieve some cost savings, especially in the LOE and G&A areas. However, given its mature asset base, these costs are already fairly low and cannot be cut that much.
Conclusion
Assuming Linn Energy lowers its distribution by 40%, the yield would still be 12% or so. This is not a bad yield considering it takes into account a very low oil price scenario. In addition, based on its pro-forma reserves, Linn Energy is trading at 50 to 70% of its NAV per unit.
If I were Linn Energy, drastic, proactive measures are warranted. I would probably cut maintenance capex in order for production growth to be flat. In addition, I would use any excess cash flows to either pay down high yield debt or buy back stock in either LNCO/LINE.
Disclaimer: The opinions in this article are for informational purposes only and should not be construed as a recommendation to buy or sell the stocks mentioned. Please do your own due diligence before making any investment decision.
Disclosure: The author has no positions in any stocks mentioned, and no plans to initiate any positions within the next 72 hours.
The author wrote this article themselves, and it expresses their own opinions. The author is not receiving compensation for it (other than from Seeking Alpha). The author has no business relationship with any company whose stock is mentioned in this article.