As oil prices fell last week, Oilpro.com founder David Kent commented: "You can be sure the market will overshoot the curve. This is how Warren Buffett makes the big bucks. Be greedy when others are fearful."
There is a great deal of truth in this statement. When headlines are overwhelmingly bearish as they are now, prudent investors will force themselves (as hard as it may be) to consider the contrarian perspective. Just when it seems things will never get better, they often do. This begs the question: what exactly does the term "better" mean in the O&G space right now?
Operating conditions in the oilfields are going to deteriorate further. In fact, we believe the deterioration has only just begun. Some tough times lie ahead, and 2015 is shaping up to be the year of the bear - E&P cost cutting, rig count erosion, falling oil service profits, and possibly even some bankruptcies are to be expected.
But stock market prices are based on a perception of reality 6 months into the future, and oil service and E&P stocks have crashed over the past few months. "Better" might just mean things turn out "less bad" than stock market participants currently expect. So the key question to ask yourself when buying stocks in a downturn like this should be: is the market already adequately discounting the coming downturn?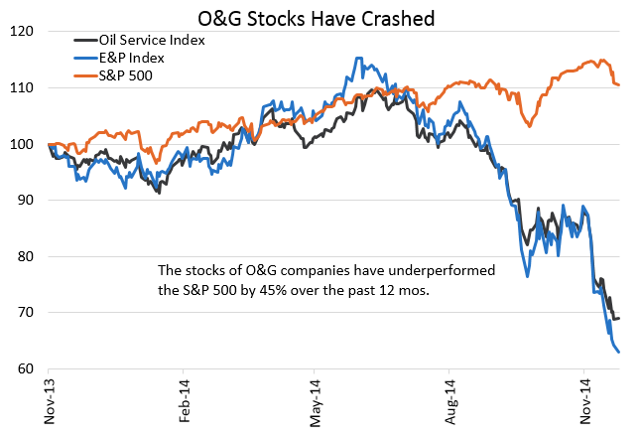 SPX, OSX, and EPX indicies indexed to 100 on 11/22/13. data credit: bloomberg
Investors Should Start Thinking About Buying O&G Stocks
The purpose of this post is not to predict the extent of the fundamental downturn, nor is the purpose to predict the shape of the ensuing recovery. Our purpose today is to simply recognize that oil sector stocks have priced in a great deal of bad news already. With stocks, it's never where fundamentals are headed that matters most - it's what's already priced in. Even if conditions get worse, at some point the stocks are good buys again; at some point they will stop falling; and at some point they will go back up.
Pinpointing the bottom is extremely difficult. Stocks that have already fallen by half their value can always be cut in half again. It may be too early to be a hero and try and catch the falling knife. But it is time to start thinking about the risk/reward of adding some length in oil service and E&P positions.
Buyers with long-time horizons are always rewarded for buying before oilfield downturns have run their course. So while we aren't saying to necessarily pull the trigger right now, we are saying load the gun. Having a list of quality names to buy and some target prices in mind can lead to outsized investment returns in the future.
Here are 7 reasons why we are starting to see some good buys among oil and gas sector stocks.
1. You Get Natural Gas Optionality For Free
Although the Big 3 oil plays in the US (Eagle Ford, Permian, and Bakken) are known for oil, gas production in these plays has been surging, propping up Lower 48 natural gas supply. In fact, these three plays now account for 20% of total US natural gas production. Natural gas production growth in these 3 oil plays alone accounts for almost half the growth the entire US has been able to generate since 2007.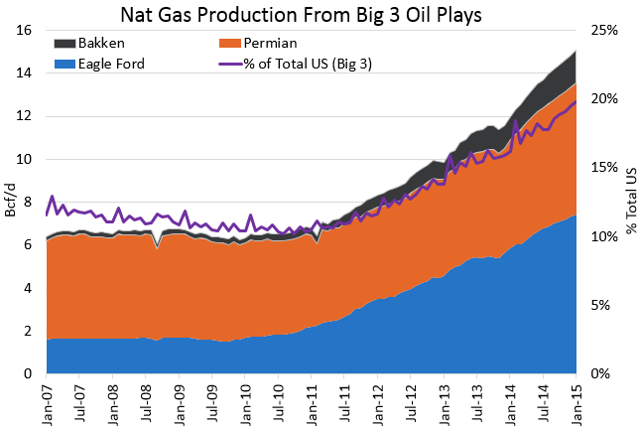 Data credit: eia, bloomberg, oilpro.com
When the US gas drilling rig count was cut in half in 2008, the industry was on the edge of its seat waiting for the production response. That response never came in part because the "associated gas" produced by the explosion in oil drilling offset the production slowdown from fewer wells drilled in core gas shale plays.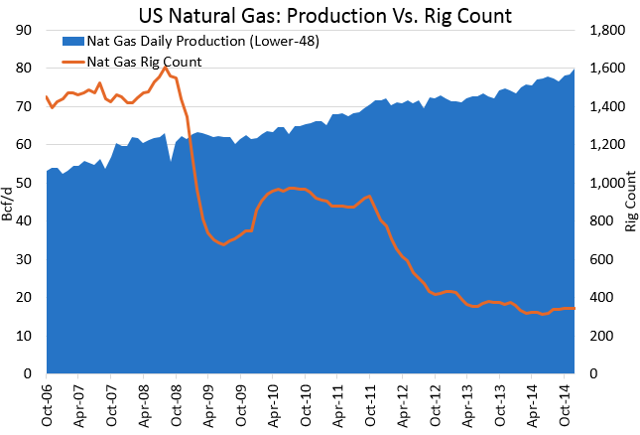 Data credit: eia, baker hughes, oilpro.com
Now the oil rig count looks poised to fall significantly next year. Moreover, as operators high-grade their E&P programs, drilling will gravitate to the liquids-rich cores of unconventional oil plays. This means the long-awaited gas supply response may finally be on the verge of happening - and investors are so focused on the collapse in oil that they aren't thinking about this potential benefit. The US E&P and oil service/drilling industry has shifted its focus to oil, and investors give companies very little credit for natural gas exposure since gas prices have been depressed for several years. If gas production finally peaks and falls in the US, the story for E&Ps with gas exposure (and service and drilling contractors) will improve in a way that very few expect right now, which could push the stocks higher.
2. The 80:20 Rule
The 80:20 rule of investing (different than the Pareto Principle) says don't wait for the final 20% of big price moves to take action. Timing inflection points is extremely difficult, and very few professional investors can consistently pinpoint the end of big moves. Instead, smart pros know to start buying or selling when they believe about 80% of a big swing is complete.
The oil price collapse is the reason why the stocks of oil and gas companies have crashed. When the price of oil stops falling, the stocks will experience a relief rally - an oil price floor will restore some confidence. So is 80% of the sell-off in crude oil done? With a few exceptions, the most bearish forecasters now generally believe $40-$45 WTI is about as low as we will get. That's about $10 higher than the bottom in 2008, when the financial world was crumbling. If this reasonable view proves correct, then at least 80% of the sell-off is in the books, as WTI has fallen from $107 to $55.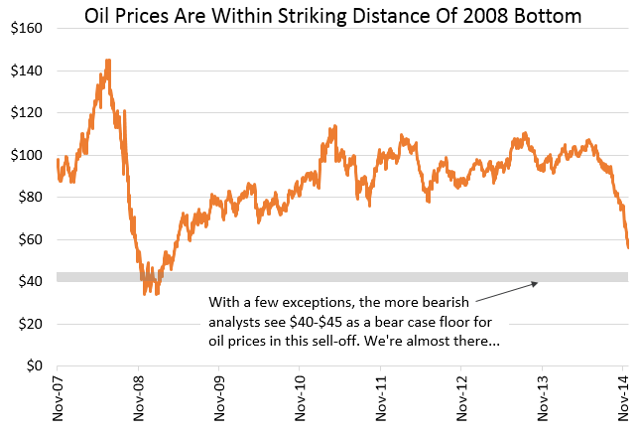 WTI spot price shown, data credit: bloomberg, oilpro.com
Oil prices can't fall forever. They may not bounce back as fast as they did last time, but if WTI bottoms at $45 and then drifts back up to the $50s, O&G stocks will also move higher. For long-term investors, there reaches a point where it isn't worth waiting for the absolute bottom. If you are in it for the long-haul, then waiting for the last 10-20% of a fire-sale before buying is a fool's game. Those that wait for a firm bottom could end up buying these stocks along with everyone else (ie above current levels). Building a larger position by averaging down with small buys as stocks fall from here could pay off nicely for investors with a 3-5 year time horizon.
3. Pervasively Negative Sentiment Reflected In Valuations
In the 10 years we've spent covering the oil and gas sector, only one other downturn was marked by sentiment this pervasively negative. That was the 2008/2009 crash, and at that time the concerns were more broadly based. Now it seems some investors are throwing up their hands and giving up on this specific sector entirely. Some believe the super-cycle credited with the industry's build-out since 2000 is over. We are not of this view. A supply response will revive the E&P and oil service sectors. The question of when remains unanswered, but we are not giving up on this industry - those that have in the past have always paid dearly, and history repeats.
Many owners of oilfield stocks have capitulated, and the resulting lower valuations can limit downside risk even in a negative tape. The following two charts (courtesy of Morgan Stanley) show that valuations of the big service companies are now nearing their historical lows. While the sales estimates are almost certainly far too optimistic, this shows us that the stock market is pricing in a draconian scenario for the sector right now.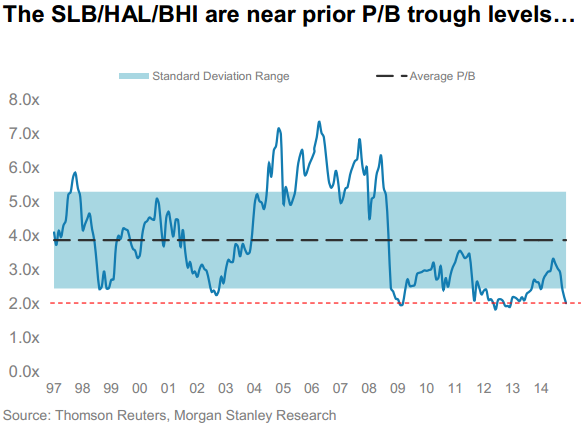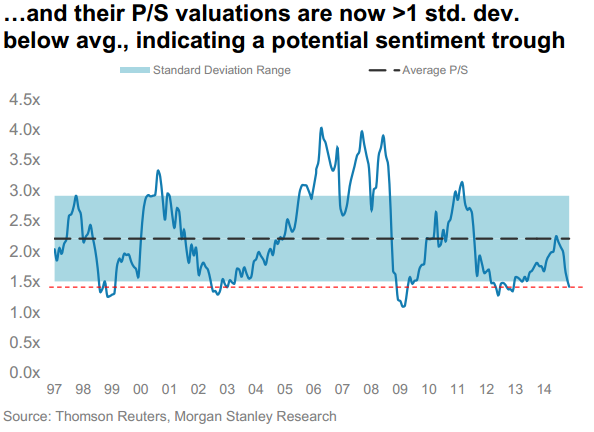 4. The Smart Money Is Starting To Nibble
Big investors with deep pockets and a contrarian point of view are starting to come into the space. This is a sign that values are at levels low enough to entice some smart pros to take a risk and start adding here (remember the 80:20 rule). Two examples that made headlines last week are Oasis (NYSE:OAS) and Diamond Offshore (NYSE:DO).
According to December 9 filings, Balyasny Asset Management recently purchased 5.2% of OAS' shares outstanding, a sign that hedge funds are looking to take advantage of the downturn to add oil and gas exposure. The filing shows Balyasny bought 5.3mm shares of OAS, making it the 5th largest shareholder of the company. OAS shares have rallied 24% since the position was disclosed. Balyasny also owns positions in Baker Hughes (BHI) and Canadian Natural Resources (NYSEMKT:CNR).
Meanwhile, Loews added 700,000 shares of DO, roughly equal to 0.5% of the company's shares outstanding. With the purchase, Loews increased its stake to 51%, and that 51% won't be sold anytime soon. Shares of DO are up 25% this month making it one of the best performing stocks in O&G during December.
Insider and big hedge fund buying doesn't always work to support stocks, however. Seadrill's (NYSE:SDRL) biggest shareholder John Fredriksen's recent purchase of 4mm shares (about 0.8% of Seadrill's shares outstanding) took his stake to 24% but did little to support shares as yield-based investors continue to sell the stock after the recent dividend cut.
5. The M&A Pop
We've covered the uptick in M&A speculation quite a bit recently. M&A chatter picks up in oilfield downturns, and it matters because the talk alone can drive stock prices higher. We already have multiple examples during this downcycle. Below are three examples of recent M&A pops (we left the Shell for BP and Paragon for Prospector deals out simply due to space constraints).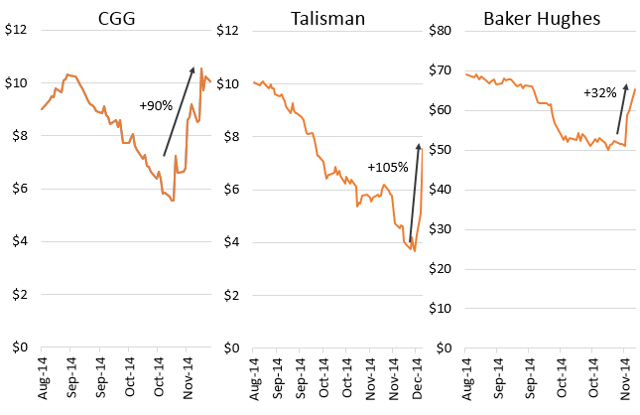 Data credit: bloomberg, oilpro.com
The speculation of M&A can spark a relief rally that can make for good returns on take-out targets bought in a downturn. Other potential deals we've heard discussed around industry water coolers include Marathon (NYSE:MRO) for OAS and DO for Vantage Drilling (NYSEMKT:VTG). And 5 of the 6 offshore drillers we identified as M&A targets a year ago are still in play.
6. The Mother of All Short Covering Rallies
As discussed above, the stocks of O&G companies are wound extremely tight right now. Short sellers are pressing their positions, and many big funds have gone underweight the sector. Short interest is at its highs for the year in many O&G stocks. This can turn on a dime. If the Saudis say they've had enough and change their defensive posture. If a terrorist act takes out key MENA O&G infrastructure, or if geopolitical tensions escalate, the price of crude could move significantly higher in a heartbeat.
If crude oil surges on a supply outage, we could see the mother of all short covering rallies in O&G. A short covering rally occurs when a sudden uptick in stocks causes short sellers (who have borrowed and sold shares) to buy them back. It creates lopsided buying pressure that feeds on itself. It could send the stocks 10-20% higher in hours. Those aggressively short the sector have made great returns but are now playing with fire at these levels.
Shown below are 10 heavily shorted O&G stocks. It should come as little surprise that the small, oil-levered E&Ps are the most heavily shorted names in the space -- they are most exposed to the oil sell-off and most at risk of going to zero. Halliburton has the highest short interest of the Big 4 oil service companies because of the pending Baker Hughes deal (not because of the downturn, but it could experience a covering rally just the same). The offshore drillers are also heavily shorted as investors have used these stocks as a source of cash against long onshore positions all year long (offshore drilling faced headwinds even before the oil price fall).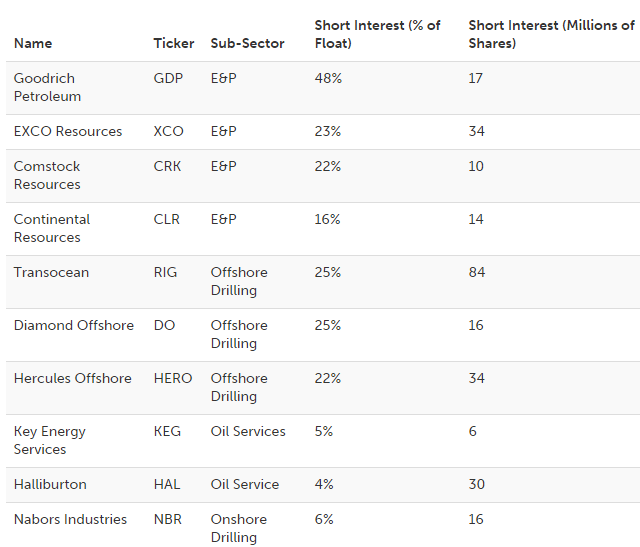 data credit: bloomberg, oilpro.com
7. Oil Production Could Slow Faster Than Expected
During 2015, global oil production generally and US oil production in particular will captivate the attention of industry observers. Countless analyses will be conducted on what the supply response to lower oil prices will look like, and we will be covering this outlook in more detail in future posts.
There are several key reasons why the production response could be steeper than many might currently expect. Chief among these are:
E&P spending has averaged about $600bn per year since 2010, yet the only net increases in global oil production are coming from US tight oil plays. Drilling in US tight oil plays is about to slow significantly, and these wells have higher decline rates than conventional wells.
The international and offshore drilling markets are already slowing down, and there have been few discoveries in the past two years in these areas.
All of the production growth of the last five years has been enabled by high oil prices. Costs associated with this new production are high. So when E&Ps cut back this time, the production response should be sharper than in prior downcycles.
Peak oil concerns which have been shelved by shale success could be renewed.
Those looking at the natural gas shale production response to lower drilling (or lack thereof) and extrapolating to oil may not be accounting for the associated gas the oil plays produced. Oil will not have similar support from the gas plays this time.
Supply of crude is the primary reason for the sell-off. If the production response, particularly in the US, manifests in the charts sooner than expected, O&G sector stocks will rally.
So What To Buy?
At this point in the cycle, it is critical to stick with high quality names that can survive the downturn. Because we acknowledge further downside risk, we would gravitate to the stocks of companies with strong balance sheets and experienced, deep management teams at this point. Stay away from stocks with high dividends, big earnings growth forecasts, and/or lots of debt. Small aggressive E&Ps heavily weighted to oil and small cap land drillers and service names are likely to remain out of favor in the near-term.
Stay Away From The "Junk" - It's Far Too Early For That Trade.
At some point, when it seems more clear that the cycle has actually bottomed, investors will start thinking about the shape of the recovery. When this happens, the "junk" (companies with high debt, older assets, and high operating leverage) will drastically outperform - gaining 40-60% in a matter of weeks. It is too early to put on this trade. Betting on this now could result in significant losses.
Take A Look Quality And Nat Gas Leverage In E&P And Stick To Quality In Oil Services.
Instead, stick to quality. Right now, we like Schlumberger (NYSE:SLB) and Halliburton (NYSE:HAL) in oil services. We like Range Resources (NYSE:RRC) in E&P for its quality natural gas exposure (as discussed above, nat gas could surprise to the upside next year). Also in E&P, we like Chevron (NYSE:CVX) and EOG Resources (NYSE:EOG) as stocks to own for the long run. CVX has outperformed its peers in the downturn and should continue to do so. EOG is the premier US unconventional E&P, and its prospects are among the best in the oil-weighted US independent group.
Offshore Drillers Becoming More Interesting.
We are becoming more constructive on some of the higher quality offshore drillers like Noble Corp. (NYSE:NE), Atwood Oceanics (NYSE:ATW), and Rowan Companies (NYSE:RDC), especially because the fundamental headwinds are well understood, estimates have already begun to be revised lower, and these names have been sold for longer. Diamond Offshore is interesting for its high short interest and the support from its primary shareholder. A wave of rig stacking and scrapping in 2015 by companies with older assets could put a floor under offshore drilling stocks and alleviate oversupply concerns in the rig market. Just today, Ensco announced they are cold stacking a jackup and an UDW drillship.
Other Ideas.
Other high quality stocks to take a look at include Core Labs (NYSE:CLB) in specialty services and Cameron (NYSE:CAM) and Tenaris (NYSE:TS) in equipment.
Disclosure: The author has no positions in any stocks mentioned, and no plans to initiate any positions within the next 72 hours.
The author wrote this article themselves, and it expresses their own opinions. The author is not receiving compensation for it. The author has no business relationship with any company whose stock is mentioned in this article.
Editor's Note: This article covers one or more stocks trading at less than $1 per share and/or with less than a $100 million market cap. Please be aware of the risks associated with these stocks.