By Stuart McPhee
Australia 200 for Thursday, December 18, 2014
Over the last week or so the Australia 200 Index has fallen steadily lower down towards support around 5150 and two month lows before rallying a little over the last couple of days. The medium term down trend is still in tact and the index needs to move convincingly through the key 5200 level to turn this around. Over the last few weeks the Australia 200 index has struggled with resistance at 5400 which has forced it lower time and time again. The index will be keeping a close eye on the previous reversal point around 5100 when the index moved up strongly in October. The resistance level at 5400 remains key as the index has since fallen away back below 5200, before reversing and running into the resistance again. A few weeks ago the index was content to consolidate just below the 5400 level. The 5400 level has been a major player all year and the index must get back above this level to encourage more buying and bullish sentiment.
It enjoyed a solid resurgence throughout October after getting much needed support from the 5200 level, which has resulted in it moving back above the 5400 and 5500 levels, around a two month high. Throughout most of September the Australia 200 Index declined strongly from its multi-year high after running into resistance around 5650 back to enter its previously established trading range between 5400 and 5500, before falling further below 5200 and to an eight month low around 5120 a few weeks ago. Several weeks ago it received solid support from the 5100 level which saw it rally well to close out a couple of weeks ago. Back in early September the 5400 level was called upon to offer support as the index desperately tried to stay in touch with its range, however it fell through there before rallying strongly back up to 5400. Up until recently, the 5400 level had done well and propped up price to keep it within the range. In its recent fall at the beginning of August it moved down to a three week low around 5375, however it received solid support at the 5400 level which has allowed to consolidate and rally higher.
The solid move higher throughout July saw it move strongly up through both the 5500 and 5550 levels to reach a then six year high around 5620. In recent weeks it has discovered a new key level to deal with after running into a short term resistance level at 5550, which earlier last week provided some solid support. It reversed strongly several weeks ago bringing it back down to almost touch the 5400 level before rallying back higher again. At the beginning of June the Australian 200 Index fell and broke back down through the key 5500 level towards a four week low around 5400 before consolidating and resting on support there for an extended period. Back at the end of May, it moved back and forth between the two key levels of 5500 and 5550 before the recent fall. Over the last couple of months the Australia 200 Index has formed an amazing attraction to the key 5500 level as it spent a considerable amount of time trading around it. A couple of weeks ago, the index fell away heavily back down to support around 5400 before returning to the key 5500 level just as quickly, as if gravity had pulled it back. The index has done very well over the last couple of years moving from below 4000 to its present trading levels around 5500.
Australia's economy is likely to grow at an even slower pace in 2015, a major bank says. Westpac says it believes annual growth will be markedly below trend until the middle of 2015. It expects gross domestic product to grow by 2.7 per cent, which is slower than a previous forecast of 3.2 per cent. Westpac chief economist Bill Evans said economic growth in November marked the tenth consecutive month where it was below trend. "We can expect growth in the Australian economy to stay below trend in the final quarter of 2014 and well into 2015," he said in a statement on Wednesday. However, Westpac anticipates growth to rise to 3.2 per cent during the second half of 2015, with an expectation the Reserve Bank will cut interest rates in February and March and the Australian dollar will weaken further. It also expects an improvement in Australia's dire terms of trade, the ratio of export to import prices. The Westpac-Melbourne Institute leading index, which measures the likely pace of economic growth three to nine months into the future, fell from -0.15 per cent in October to -0.47 per cent in November.
(Daily chart below)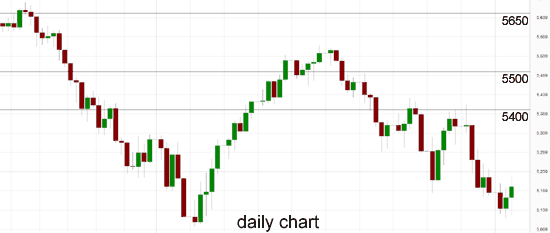 Australia 200 December 17 at 21:15 GMT 5200 H: 5229 L: 5128
Australia 200 Technical
| | | | | | |
| --- | --- | --- | --- | --- | --- |
| S3 | S2 | S1 | R1 | R2 | R3 |
| 5150 | 5100 | - | 5400 | 5650 | - |
During the hours of the Asian trading session on Thursday, the Australia 200 Index will be trying to reverse its recent down run and return to the recent resistance level at 5400. For most of this year the Australia 200 Index has moved well from the lower support level at 5000 up to the multi-year highs above 5600 in September.
Further levels in both directions:
• Below: 5150 and 5100.
• Above: 5400 and 5650.
Economic Releases
09:30 UK Retail Sales (Nov)
13:30 US Initial Claims (13/12/2014)
15:00 US Leading Indicator (Nov)
15:00 US Philadelphia Fed Survey (Dec)
EU EU Leaders Hold Summit in Brussels (to 19th)
EU General Council meeting of the ECB in Frankfurt
JP BoJ Monetary Policy meeting (to 19th)
* All release times are GMT