A variety of political reports and government data updates have been driving the markets for the past couple of days as investors have focused on Greece, the Federal Reserve, and more recently, the IEA. Thanks to these events, earnings reports have taken a backseat for the past few weeks as investor attention has been elsewhere. It also didn't hurt that the vast majority of reports were from mid or small caps, giving investors little information on the state of the country's more famous corporations. However, with an earnings release last night from Oracle (NYSE:ORCL) [see transcript], quarterly reports could once again step back into the spotlight and move markets to close out the week.
Oracle, the California-based enterprise software company, gave its fourth-quarter report after the bell last night, putting the $164 billion company and the broader tech sector into focus. In the report, ORCL saw earnings, excluding one time items, hit 75 cents a share on revenues of $10.8 billion, beating EPS expectations which called for 71 cents a share in earnings on revenues of $10.8 billion. While most investors would think that these solid numbers would be enough to allow the company to at least trade flat in the after-hours session last night– if not rise modestly– investors sold off the stock across the board thanks to weak hardware sales during the quarter. This was especially damaging to the company as Oracle had previously called for an increase in sales in this crucial segment by up to 12% only, to produce a decline of nearly 6% in the report.
Due to this gloom in the hardware segment, ORCL shares were off by as much as 6.5% after-hours although they rebounded from the lows at time of writing to be down 'just' 4.2%. After the sell-off from these weak hardware sales, investors focused in on a relatively solid outlook for the company in order to do some bargain buying. Oracle sees new software sales rising between 10-20% this quarter and total revenue increasing by double digits this quarter, helping to soften the blow of the disastrous hardware sales figures. Overall, the report represents a very mixed one to investors and could push stocks in either direction during today's trading session; bears can focus in on the hardware while bulls can look at the 10% predicted surge in revenues for this quarter. As a result, it could be a very interesting day for the sector to close out the week .
Thanks to investors' reaction to the tech giant's earnings report, as well as the mixed status of release, we look for the S&P North American Technology-Software Index Fund (NYSEARCA:IGV) to remain in focus throughout today's trading session. IGV tracks the S&P North American Technology-Software Index which measures the performance of U.S.-traded software-related equities. Oracle is given the second biggest weighting in the fund at 8.7% and only trails Microsoft (NASDAQ:MSFT) by ten basis points for the top overall spot. Other companies that find their way into the top ten include; Salesforce.com (NYSE:CRM), Adobe Systems (NASDAQ:ADBE), and Symantec (NASDAQ:SYMC), ensuring a diverse group of firms, that have operations in all corners of the market, is represented.
At this point, it is hard to tell how IGV will react to the Oracle report in Friday's trading. While the fund seems likely to open lower, many of the other top companies in the fund are heavily focused on internet products or software programs and less so on actual hardware like Oracle. Due to this distinction, IGV could start the day on a higher note than some suspect as the fund could rise thanks to Oracle's relatively sunny outlook for the software side of the business, potentially boosting this popular iShares fund to close out the week.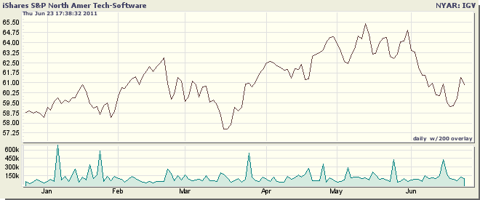 Disclosure: No positions at time of writing.
Disclaimer: ETF Database is not an investment advisor, and any content published by ETF Database does not constitute individual investment advice. The opinions offered herein are not personalized recommendations to buy, sell or hold securities. From time to time, issuers of exchange-traded products mentioned herein may place paid advertisements with ETF Database. All content on ETF Database is produced independently of any advertising relationships.