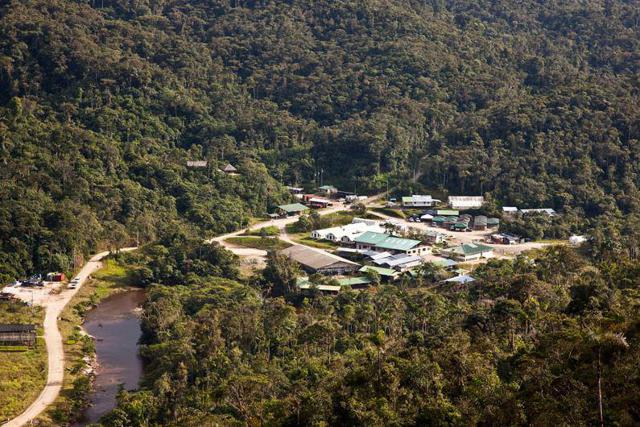 Fruta del Norte project camp (Photo: Lundin Gold Inc.)
The Lundin Group (OTCPK:LUNMF) is one of the most accomplished resource development groups on the planet. They have a long history of going into tough political jurisdictions, taking advantage of the discounts created by the perceived risks and turning a huge profit thereafter.
For Lundin Gold (LUG.TSX), which today announced the closing of the acquisition of the Fruta del Norte (FDN) project from Kinross, their toughest challenge may be yet ahead.
FDN is in Ecuador which is a 'no no' for most resource investors, but offers the types of opportunities contrarian investors, like the Lundins, look for.
FDN caused Kinross a boat load of pain after they acquired the project by buying Aurelian Resources for $1.2 billion in 2008. In 2013, after struggling to come to terms with the Ecuadorian authorities on a fair tax regime and taking a $720 million write-down on the asset, Kinross announced it would be walking away from developing the project.
Fast forward to a couple of months ago and the Lundins, who have remained relatively underweight gold, agreed to acquire FDN from Kinross for just $240 million in cash and stock ($150 million cash and approximately 26.2 million shares).
The company completed a $240 million financing which included a $100 million investment by the Lundin Family Trust and a $40.24 million convertible note to London's "commodities queen" Carmel Daniele (CD Capital).
After the acquisition, Lundin Gold has over $90 million in cash to advance the project toward a development decision which it says could come in Q2/2016, but I wouldn't be surprised to see that fast tracked to even sooner.
Although Lundin Gold says the political landscape in Ecuador is improving, the country still has a devastating 70% windfall tax and other problematic fiscal policy issues.
The Lundin Group are familiar with Kinross. In 2010 they sold their African gold producer Red Back Mining to Kinross for $9.2 billion which generated huge profits for the Lundin Group and its investors. (Since then Kinross has taken a series of write-downs totalling 80% of the acquisition price).
In the FDN project, Lundin Gold gets one of the largest and highest grade undeveloped gold projects in the world. The project holds 23.5 million tonnes at 9.59 g/t gold containing 7.26 million ounces of indicated resource and another 2.55 million ounces of inferred (14.5 million tonnes @ 5.46 g/t gold). This means they paid $33 per indicated ounce in the ground or $24.50 per total resource ounce in the ground. This puts the deal in line with precedent transactions, and it could prove to be a steal if they can advance the project and work with the authorities to figure out a fair way forward.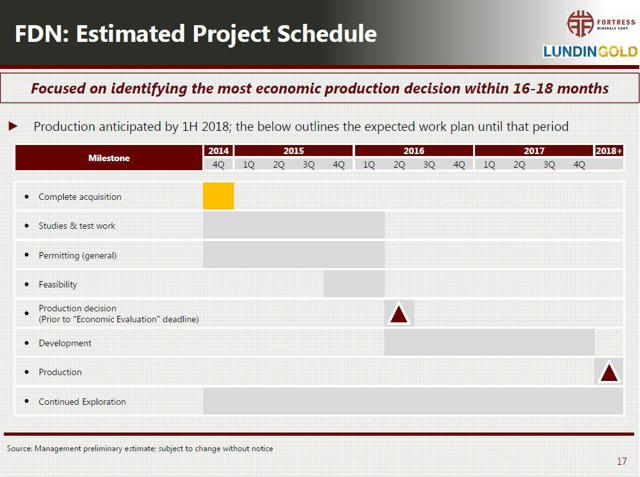 Lundin Gold plans to have an investment decision for FDN by Q2/2016 (Image: Lundin Gold Inc.)
Based on a 2012 study published by Kinross, FDN was envisioned as a two-phase underground operation with a 16 year mine-life. Phase 1 was to be a 2,500 tpd ramping up to phase 2 throughput of 5,000 tpd. The first phase was estimated to cost $707 million with phase 2 costing $413 million. FDN was expected to produce 379,000 ounces of gold equivalent annually at an average cash cost of $366 per ounce.
The Lundins hope to fast-track and tweak this study in order to maximize its viability. They expect to spend at least $50 million over the next 12-18 months on advanced engineering and underground exploration and development.
In the latest release, management and the board was shuffled around a bit. To nobody's surprise, Lukas Lundin replaced himself as President and CEO with Ron Hochtein, who is also the CEO of Lundin Group uranium play, Denison Mines, assuming the CEO position while Lukas Lundin moved to the Chairman role. Lundin Gold's board will be rounded out with Paul McRrae, Jim Cambon, Ian Gibbs, Pablo Mir and Adam Lundin.
Ron Hochstein, President and CEO of the Company, commented, "Fruta del Norte has the potential to be one of the largest and highest grade gold operations in the world delivering outstanding value to all stakeholders, including the Government and people of Ecuador, who are our most important partners in the project."
Although Lundin Gold undoubtedly faces some significant and daunting challenges in Ecuador, I would not bet against the Lundin Group's track record.
Should they successfully advance FDN forward through to production, the current market cap of $350 to $400 million will seem cheap.
Read: Lundin Gold Closes Acquisition of Fruta Del Norte Gold Project
*Note, Lundin Gold will trade under symbol FST.H on the TSX Venture tomorrow and then start trading under the new symbol, LUG, on the TSX on Friday December 19th.
May contain errors. Always do your own due diligence
Disclosure: No Positions.
Editor's Note: This article discusses one or more securities that do not trade on a major U.S. exchange. Please be aware of the risks associated with these stocks.