It was a wild ride that exposed all the emotions of the market in a single session. The fear and heightened anxiety, the confusion, the anger, and even the opportunistic side of the market is always part of the fabric but has been prone to being layered under. The thing is right now the first emotion/instinct is to sell and then ask questions later. In so many ways it was surprising the market would tumble so much on lower oil prices. But, that's where the issue of trust stands out; there is always an ulterior motive, what was it this time?
What was the motivation of buyers that emerged midday, first nibbling and then taking bigger chunks? There was a report of an agreement between Greece and the EU on austerity, but that seemed erroneous since the measure has to be passed by the Greek parliament. I think it will pass despite the posturing. Banks are getting an indirect bailout, but, so too are Greeks. For a split second the market held on yesterday morning after housing data was posted. The market has come a long way from that green shoots period so silver linings don't mean anything anymore. But, new home sales were actually better than expected.
Moreover, there were other positive trends that bode well for the future; although from a historic point of view the results were a disaster.
* Annual rate: 319,000 versus 305,000 consensus and 281,000 year over year
* Median home price: $222,600 from $217,000 prior month (was down four months straight)
Supply continues to plummet; 166,000 from 215,000 m/m, and down twelve consecutive months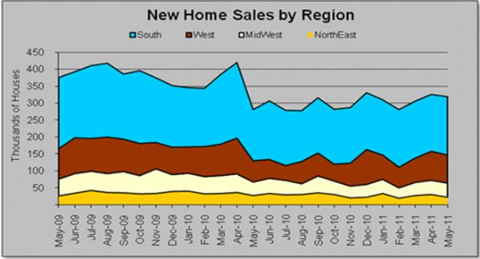 (Click charts to expand)
Curious Stock Action
F5 Networks, Inc. (NASDAQ:FFIV) got a downgrade yesterday morning but was strong throughout the session. We recently issued an alert to take profits, but I wanted to be a buyer under $100.00. Now I wonder if I'll get that chance.
Research In Motion (RIMM) has been written off, there is a cozy place for BlackBerry on the island of Misfit Toys but the stock was anything but yesterday. I think there were positive comments from a Canadian analyst, but the stock acted like maybe more was going on…like someone could be kicking the tires.
Urban Outfitters, Inc. (NASDAQ:URBN) rallied as did many other retailers on the assumption gasoline goes much lower. Volume was convincing for this stock that is still significantly below its 52-week high. Restaurant stocks benefit from the same macro drivers as retail, and have been acting better for a week.
Acme Packet, Inc. (NASDAQ:APKT) is one I'm so upset about. I have loved the action in the stock the last couple of days and was ready to put it on the Swing Strategies service as a trading idea, but I did too much reading. There were separate pieces dogging the company. One pointed to an avalanche of insider selling, and the other threw cold water on virtualization.
Baidu, Inc. (NASDAQ:BIDU) represents many Chinese names that continue to struggle from reverse merger scandals and a slowing economy. But, the last 48-hours have seen the real names in China fight back, and they act like they want to move higher. One thing to keep in mind is China's economy is being slowed down deliberately through tough rate hikes and other measures. Today, Chinese premier Wen Jiabao has said today that China's inflation is in a controllable range and expects it to fall steadily.
Overall there was a lot of compelling action in the market that covered the spectrum. We could go into a period of shifting bias to slightly higher from decidedly lower until we get the next jobs report.
Today's Session
Futures have been all over the place, but locked in narrow range as news from Europe is all over the place with the notion of some kind of Greek bond extension back into the conversation. There are also more rumors on downgrades of Italian debt, this time from S&P. Last Friday, the Street was lurching toward complete belief the Greek saga would be resolved over the weekend… there are no such illusions today.
The Durable Goods report was much better than last time, with private sector investments a tad above consensus. With weakness in much of the broader economic data, and companies continuing to be mindful on investments, the report was welcome news. Importantly, all categories improved relative to April.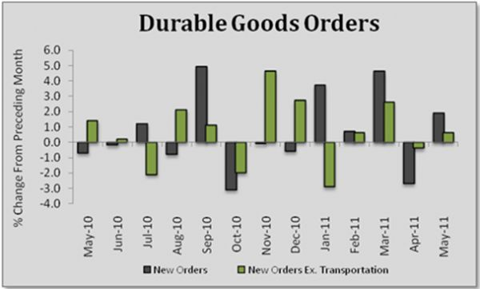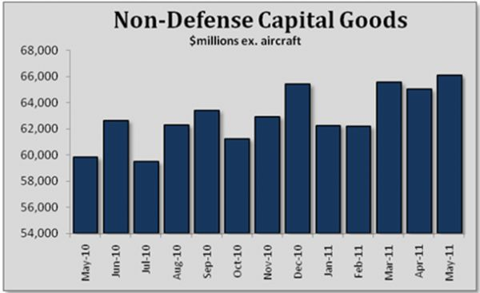 Yesterday, one of our analysts came to the conclusion that part of the oil America is releasing will be shipped to Europe. There is more evidence overnight this might be true. If so, it would make a bad decision even worse. Welcome to our new one-world government.