The scope of this article discusses the impact of FedEx (NYSE:FDX) independent contractors within the business model. This analysis is relevant because investors are scouring the market for beneficiaries of lower fuel prices.
Within the business model, the employees are working in the hub and terminal, while the contractors are working in the FedEx vehicles. The below picture illustrates the independent contractor model :

Source: Becoming a FedEx Contractor
It is key to understand that a FedEx Ground contractor is not an employee, but a small business. These small businesses serve various functions:
Pickup and Delivery contractors own or lease delivery vans and are responsible for business expenses including fuel, taxes, insurance and maintenance.
Linehaul contractors haul packages on "long-haul" routes between FedEx Ground hubs. These contractors provide their own tractors, while FedEx provides the trailers. Again, these small businesses pay their own business expenses.
Independent Service Providers (ISPs) are incorporated small businesses that contract with FedEx Ground to provide pickup and delivery services under an ISP Agreement.
Recent Legal Activity
Currently, FedEx is a defendant in numerous lawsuits alleging that the owner-operators should be treated as employees, rather than independent contractors. These include 26 class action lawsuits, individual lawsuits and state tax proceedings.
On August 27, 2014, the Ninth Circuit decided that plaintiffs in California and Oregon were employees as a matter of law. FedEx is currently asking the Ninth Circuit court to reconsider and is petitioning for an 'en banc' review by the Appeals court. FedEx established an accrual for loss which is a requirement of GAAP standards when a probable loss can be estimated.
The dollar amount of that accrual was not disclosed, but was regarded as immaterial to the consolidated financial statements.
However, this Ninth Circuit court decision has been the first disclosed adverse determination related to FedEx Ground's independent contractors. The ruling might entitle certain of owner-operators and their drivers to reimbursement of certain expenses and to the benefit of wages and work hours. In short, FedEx Ground may have to overhaul the independent contractor status of FedEx Ground's owner-operators in certain jurisdictions where the Ninth Circuit ruling applies.
Fuel Expenses and the Contractor Model
Below is a discussion of how the contractor model affects the income statement and the fuel prices faced by FedEx.
The following graph shows the average cost of jet and vehicle fuel per gallon for the five most recent quarters. Also, note that Q1 of 2015 is the period with the Three Months Ending 8/31/2014. The company has a year end of May 31.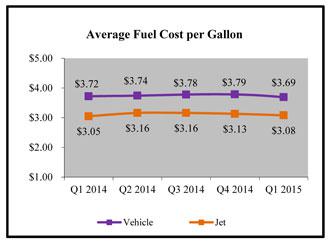 Table #1 compares operating expenses expressed as dollar amounts (in millions) and as a percent of revenue for the three-month periods ended August 31:
TABLE #1

Operating expenses:

3 months ending 8/31/13

3 months ending 8/31/14

(% of revenue)

3 months ending 8/31/13

(% of revenue)

Salaries and benefits

$4,189

$4,077

35.8%

37.0%

Purchased transportation

2,054

1,879

17.6

17.0

Rentals and landing fees

660

640

5.6

5.8

Depreciation and amortization

651

639

5.6

5.8

Fuel

1,120

1,104

9.6

10.1

Maintenance and supplies

556

480

4.8

4.3

Other

1,467

1,410

12.5

12.8

Total Operating Expenses

$10,697

$10,229

91.5

92.8

Operating Margin

8.5%

7.2%
In the above chart, the contractors are paid on the Purchased Transportation line of the income statement. The management and the employees of FedEx are expensed on the "Salaries and Benefits" line item. Because contractors are paying for the fuel, the depreciation of their tractor, and other business expenses tied to delivering a package, FedEx is not directly exposed to these expenses.
In fact, my estimates are roughly 75% of the fuel purchased by FedEx is jet fuel. Below is a discussion of how I come to this determination.
FedEx utilizes an indexed fuel surcharge for all deliveries, and the company does not have any jet fuel hedging contracts.
Table #2 sets forth FedEx Express's costs for jet fuel and its percentage of consolidated revenues for the last five fiscal years:
TABLE #2

Fiscal Year

Total Jet
Fuel Cost
(in millions)

Percentage of Consolidated
Revenues

$3,506

7.7%

2013

3,683

8.3

2012

3,867

9.1

2011

3,178

8.1

2010

2,342

6.7
By comparing Table #1 and #2, about 10% of the company's operating expenses are fuel. Now, by looking at Table#2, we see that Jet Fuel (as a percentage of revenue) is about 8% in the last two fiscal years. Also, this percentage has declined from FY 12 based on investments in fuel efficient jets.
Investment in Fuel Efficiency
In 2013, FedEx retired 10 aircraft and related engines and shortened the depreciable lives of an additional 76 aircraft. These were jets which were inefficient in terms of fuel consumption and apparently required substantial maintenance charges compared to more modern jets.
In 2014, FedEx began introducing more efficient, lower-emission Boeing 767-300 Freighter aircraft ("767F"). The 767F is approximately 30% more fuel efficient and has unit operating costs that are more than 20% lower than the MD10 aircraft it is replacing.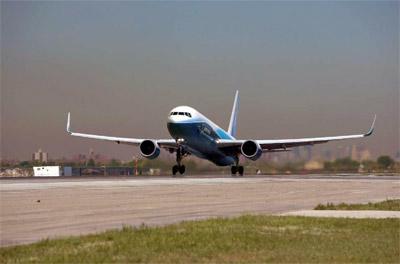 Its combination of light, durable aluminum alloy and composite structure helps make the 767-300F lighter than competing freighters.
The 767 Freighter is similar in external appearance to 767 passenger airplanes, except for the lack of passenger windows and doors.
Conclusion
I conclude that FDX is Attractive, but investors must continue to understand the evolution of the independent contractor model. The Ninth Circuit ruling could open up the company to further legal battles, and this could materially change the business model. Also, if certain drivers are reclassified as employees, then FedEx will be responsible for business expenses (most notably tractors and fuel) currently absorbed by the independent contractor. Given this risk, my feeling is that this company is built for the long term and can withstand minor adjustments to management and contractor relationships.
Also, given the major investments in fuel efficient jets, FedEx is building strong competitive advantages. Anyone wanting to compete with FedEx will have to outlay enormous amounts of capital, or will be burdened with older jets requiring large amounts of maintenance.
FDX trades at a large premium to the S&P 500. The trailing P/E ratio is about 24x compared to an S&P 500 index trading at almost 18x. Also, note that FDX has a below market dividend yield of 0.5% compared to an S&P 500 dividend yield of 1.8%.
Though not within the scope of this article, it is also important to understand the rivalry with United Parcel Service (NYSE:UPS), and their largely unionized employee base. I have written on this subject and the healthcare agreement with approximately 125,000 employees recently.
The above article is an opinion, and not investment counsel. Investors should consult with a Financial Advisor before investing capital.
Disclosure: The author has no positions in any stocks mentioned, and no plans to initiate any positions within the next 72 hours.
The author wrote this article themselves, and it expresses their own opinions. The author is not receiving compensation for it (other than from Seeking Alpha). The author has no business relationship with any company whose stock is mentioned in this article.