LEAF Financial is a division of Resource America, Inc. (NASDAQ:REXI) who raises funds through investors and reports to the Security Exchange Commission. Their difficulty has worried investors, who are now being asked to contribute income to new leases out of their original fund.
The move to LEAF Commercial Capital ("LCC is a joint venture among LEAF, Resource Capital Corporation and Guggenheim Securities. Resource Capital and Guggenheim committed to investing over $44 million of capital in the form of preferred stock and subordinated debt, respectively, into LCC" — LEAF Press Release) has been described as more a "broker operation."
A look at the financial statements and the Fund financial statements of LEAF Financial perhaps gives an indication for the reasons why the security deposit was not returned when asked by both the lessee and the discounter who sold the lease to LEAF. It may also contain the answer for the investor who asked for an opinion to the real message: "They want to be able to reinvest more of the distributable cash, which they are now prohibited from doing until they pay the unpaid cumulative returns, so they can lose more money."
The main 10Q for Fund I in 2009 almost 10% (9.47%) of the portfolio was non-performing. Charge-offs jumped to 15.37% in 2010 and still ended up with 7.4% of the remaining portfolio as non-performing. Obviously trying to hold off charge-offs in 2009 didn't work and they had to write them off in 2010. The 15.37% number looks like that before the economic downturn started Leaf Fund I was obviously buying junk.
There are two sets of investors, the equity investors in the Leaf Funds and the debt investors in the CDO securitizations. We hear how well the CDO securitizations are protected by loss structuring and asset over-collateralization, but what we don't hear is that this is at the direct expense of the equity investors.
Because of the fund losses are so massive, the distributions made to the equity investors is a return of capital, not interest. It is obvious to see the equity investors will lose a large hunk of principal and never make any income. This shows that the Leaf Fund model for raising equity may be fundamentally flawed. The reports blame the economy for the losses.
(in millions)
| | | | |
| --- | --- | --- | --- |
| | Fund IIII | Fund III | Fund III |
| 2008 | | -$17.7 | -$17.7 |
| 2009 | -$22.6 | -$22.6 | -$22.6 |
| 2010 | -$22.1 | -$22.1 | -$22.1 |
| 3/31 | -$7.2 | -$2.2 | -$1.5 |
Fund IIII went from $526.7 million September 30, 2009 to $293.0 million March 31, 2011
Fund III went from $499.7 million December 31, 2007 to $157.5 million March 31, 2011
Fund II went from $343.3 million December 31, 2007 to $72.2 million March 31, 2011.
Fund I raised $17.1 million August 15, 2005 by selling 171,746 investors and commenced operations March, 2003. "Substantially all of the Fund's leases and loans mature by the end of 2012. Contractually, the Fund will terminate on December 31, 2027, unless sooner dissolved or terminated in the Limited Partnership Agreement…
As of March 31, 2011 and 2010 in addition to its 1% general partnership interest, the General Partner also had invested $0.8 million for a 6% limited partnership in the Fund. [page 7, Fund 1, quarter (4)]
Lease Equity Appreciation Fund I shows a loss of $742,000 for the period ending March 31, 2011 compared to a net loss of $1.39 million March 31, 2010.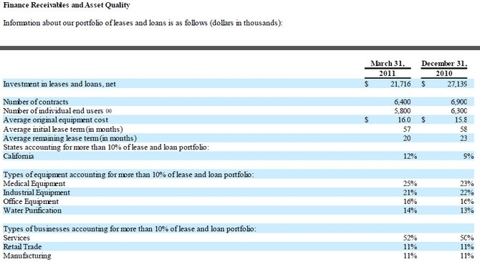 (Click to enlarge)
The year-end 10-K shows 1 general partner and 433 limited partners. (page 6, year-end 10k) showing year-end: (in millions) [page 7, year-end 10k (5)]
"We negotiated with our lender to prevent them from foreclosing on any collateral, or requiring a distressed sale of leases that would have badly impaired capital. Additionally, our General Partner has deferred payment of fees and reimbursement of expenses totaling approximately $7.7 million from inception through December 31, 2010 in order to preserve our cash. The General Partner has also waived future management fees. We entered our maturity phase in August 2009, and are prohibited under the Partnership Agreement from acquiring new leases.

"To date, limited partners have received total distributions ranging from approximately 46% to 60% of their original amount invested, depending upon when the investment was made. Our General Partner is working to maximize the amount that can be distributed to our limited partners in the future. The July 2010 distribution was made at the 4.0% rate that has been in effect since 2009. However, beginning in August 2010, distributions were lowered to 2.0% in order to pay down our bank loan faster in order to reduce cash payments for interest as we liquidate the lease and loan portfolio over the next few years."
- page 15, SEC filing (4)

"Management Fees. The General Partner is paid a subordinated annual asset management fee equal to 3% or 2% of gross rental payments for operating leases or full payout leases, respectively, or a competitive fee, whichever is less. During the reinvestment period, management fees are subordinated to the payment of distributions to the Funds limited partners of a cumulative annual return of 8% on their capital contributions, as adjusted by distributions deemed to be a return of capital. Effective January 1, 2011, the General Partner has waived all future management fees."
- page 13, SEC Filing (4)

"Beginning May 1, 2009, the General Partner waived its asset management fees and reversed certain management fee accruals recorded previously in 2009. Approximately $650,000 of management fees were waived for the three months ended March 31, 2011. The General Partner has also waived all future management fees."
- page 18, SEC Filing (4)

"In March of 2009, we faced such a renewal negotiation with our lender. Although we were able to convince our lender to leave the interest rate the same, it would not permit any more borrowings and required that all the excess cash above a 4% distribution to our limited partners be applied to principal - paying down the loan more rapidly and forgoing the last six months of reinvestment opportunity for us. The recession caused increased delinquencies and losses greater than we had projected requiring us to repay our lender the amounts borrowed against delinquent leases in addition to anticipated principal pay down."
- page 14, SEC Filing (4)
The most recent quarter showing 10.4% over 91 days and 7.7% 31 to 91 days. [page 10, SEC Filing (4)]
The net charge offs increased from 7.11% at March 31, 2010 to 10.4% at March 31, 2011. [page 16 & 17, SEC Filing (4)]

Notes:
(5) Fund 1 Filing 10-K 12-31-2010

Disclosure: I have no positions in any stocks mentioned, and no plans to initiate any positions within the next 72 hours.