Headquartered in Portland, Oregon in the United States of America, Blount International, Inc. (NYSE:BLT) is a leading designer and manufacturer of equipment, replacement parts and accessories used in forestry, farming, and ranching. The stock has been witnessing a strong growth rate since the beginning of the year and has increased by nearly 21% year to date. Blount International recently reported its third quarter performance that was quite impressive and the company expects to report strong top and bottom lines for fiscal year 2014. This has raised the market's confidence in the stock as its price soared by more than 8% since the announcement of the results.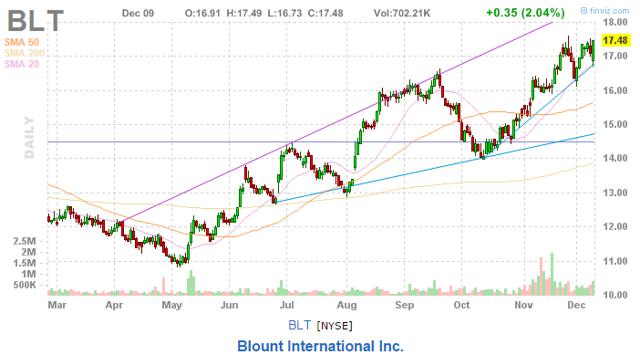 Source: Finviz
Now the question that arises is will Blount International be able to meet its full year guidance? I believe the company is well POSITIONED to please its investors in the near future as the INDUSTRY prospects look quite attractive. In this report, I will briefly discuss the company's tremendous third quarter performance along with management's full year guidance for 2014. I will also discuss the incredible INDUSTRY outlook that supports my opinion of the stock.
Recent Performance Highlights
Blount International last posted its quarterly results in early November and the company surpassed analysts' expectations. The total earnings doubled and reached $16 million in the recent quarter compared to $8 million in the corresponding quarter last year. The diluted earnings per share were $0.32 reflecting a year over year increase of more than 100%. EPS also surpassed the analysts' estimates of $0.25 giving an earnings surprise of 28%. The total sales revenue grew from $231 million in the third quarter of 2013 compared to $245 million in the recent quarter reflecting a growth rate of nearly 6.1%.
Furthermore, the company is quite optimistic about its fiscal year 2014 results and has raised its full year guidance. Blount International expects to generate revenues between $940-$950 million and the earnings before interest, tax, depreciation and amortization (EBITDA) is expected to fall within the range of $135-$140 million. Full year free cash flow (NYSE:FCF) is expected to reach nearly $45 million.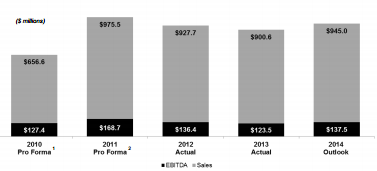 Source: Investor Presentation
Tremendous Industry Outlook
The company MAINLY OPERATES THROUGH two business segments: forestry, lawn and garden (FLAG); and farm, ranch and agriculture (FRAG). Blount International also operates in the concrete cutting and finishing equipment business. The demand for its products is expected to witness a huge increase in the coming years as a result of a few favorable INDUSTRY factors.
The Growing Forestry Market - Presently, forestry represent nearly 80% of the total sales revenue generated by the FLAG segment. Thus for analysis purposes, I will mainly focus on the future prospects of the global forestry market. Blount International serves the forestry market by manufacturing and distributing saw chains, guide bars, and drive sprockets for chain saw use. The forestry market is rapidly growing and boosting the demand for required equipment. With the reviving economic conditions and soaring construction activity, the global demand for wood and wood products continues to increase.
According to the U.S. Census Bureau, the total number of U.S. housing starts in August 2014 reached an annual rate 956,000 reflecting an increase of nearly 8% compared to August 2013's rate of 885,000. The authorized building permits have reached an annual rate of 998,000 in August 2014 compared to 948,000 in August 2013. Moreover, the total non-residential construction activity has increased by nearly 5.8% this year including office construction which rose 3.1% in April 2014 reflecting an increase of nearly 26% since April 2013. With rebounding economic conditions, the residential and commercial activity is expected to surge in the United States and drive a huge demand for wood and wood products. The total North American demand for lumber that was 40.6 billion bf in 2009 is expected to reach 61 billion bf in 2015. Moreover, the recovering real estate market in China is also creating a huge demand for wood products. China's demand for imported wood, which includes logs, woodchips, and other forest products, increased by an annual average rate of 16% from 1997 to 2012. The growing demand for wood has caused the global forestry market to witness huge growth.
Furthermore, the rapidly growing population across the globe has resulted in deforestation. The worldwide forest area continues to decline and according to UNECE, the forest area around the globe is anticipated to decline by 6% to 9% between 2006 and 2030. Increased deforestation around the globe has raised the demand for saw chains, guide bars, and other equipment.
The expanding forestry market is driving a huge demand for chain saws around the globe. In 2013, nearly 18.6 million power head units of chain saws were produced worldwide reflecting a compounded annual growth rate of 7.4% since 2000. This market continues to grow and provide tremendous growth prospects to its players. As Blount International is a leading producer of saw chains and other related equipment with a market share of nearly 52%, it is well positioned to increase both its top and bottom lines by accommodating the rising demand for its products.

Source: Investor Presentation
The Expanding Farm and Agriculture Market - The rising global population and increased food needs have led farmers to raise their crop yields. According to the U.S. Department of Agriculture there are currently approximately 3.2 million farmers operating about 2.1 million farms on 914.5 million acres of farmland in the United States. In 2012, U.S. farms sold nearly $395 billion of farm products which was $97 billion or 33% more than products sold in 2007. The grains based production is rapidly surging across the globe and is anticipated to reach about 28 billion liters per year by the end of this decade.

Source: USDA
Increased farming is boosting the demand for agricultural equipment and related accessories worldwide. The market is offering a perfect growth opportunity to Blount International and it can successfully meet its sales and earnings projections by catering to the rising demand for its products.
Improving Liquidity Position
The company has an attractive liquidity position with a growing working capital that grew from $150 in 2009 to $228 in 2013 reflecting a CAGR of about 9%. Presently, the company has a decent amount of cash and cash equivalents of nearly $32 million. Though the total debt has increased over the past five years, the asset base has grown much stronger. The total assets increased from $484 million in 2009 to about $816 million in 2013 reflecting an annual growth rate of nearly 11%. However, the total long-term debt has increased at a comparatively lower rate of 8.5% during the period under discussion. The debt position also has improved in the recent quarter with total debt decreasing from $462 million in the third quarter of 2013 to about $382 million in the same quarter this year depicting a year over year decline of 17%. This has resulted in the debt to EBITDA ratio declining from 3.5 to 2.9 during the same period under discussion.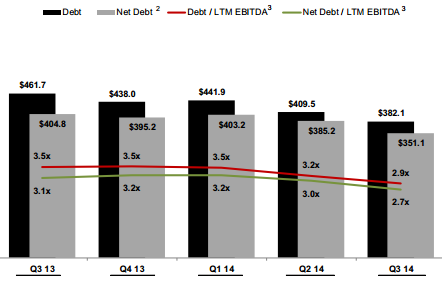 Source: Investor Presentation
Final Remarks
The industry is offering attractive growth prospects to Blount International and since it is a market leader, it can successfully accommodate the rising demand for its products. Moreover, the improving liquidity position also supports the company's ability to deliver on future growth. The stock's estimated P/E ratio of 16.9 is much lower than the current P/E of 23.1 suggesting that analysts are expecting higher earnings in the future. Based on my analysis, I give THE stock a buy rating.
Disclosure: The author has no positions in any stocks mentioned, and no plans to initiate any positions within the next 72 hours.
The author wrote this article themselves, and it expresses their own opinions. The author is not receiving compensation for it (other than from Seeking Alpha). The author has no business relationship with any company whose stock is mentioned in this article.