Boston Beer's (NYSE:SAM) share value has gone up by 25% in a year. The company has separated itself as the preeminent craft brewer in the US, and has been able to carve out a narrow economic moat through its brand. This can be confirmed through Boston's performance in the past three years, where revenue has grown at an average rate of 16.8%, much better than the industry's 6.1%. With the macro environment expected to remain positive for the company, this trend is expected to sustain ahead.
In this article, I will evaluate Boston's financial strength by reviewing its performance in the latest quarter. Later, I will highlight the future prospects of the company and the gains it has to offer.
Third Quarter
During the period, Boston achieved revenue growth of 25% as the top-line figure came to $270 million. The year-over-year increase was backed by core-shipment volume increase of 23%. Moreover, depletions improved by a solid 21% owing to growth in the Samuel Adams, Twisted Tea and Angry Orchard brands.
The above metrics reveal that Boston's top line was strong from every dimension. Even though these brands should continue to be a strong revenue generator in the future, it must be noted that the current depletion rates aren't going to sustain at this level because the previous rates include the benefits arising from the new product launches during the first half of this year, which aren't going to be replicated in the upcoming quarter.
The company's gross profit increased by 24% to $143 million. As a percentage of sales, gross profit remained flat at 53% due to a poor product mix and higher ingredient costs that offset the gains coming through price increase.
Advertising, promotional and selling expenses also rose by 15.9% to $65 million because of higher investments in media advertising. But since revenue grew by a much higher proportion, these expenditures were justified because they helped Boston attract more customers.
A better leverage from non-operating expenses allowed the company to deliver an earnings figure of $2.79 per share, which was 47% higher than the year-ago quarter and beat the analysts' estimate of $2.35 by a wide margin. The momentum of earnings growth should continue owing to the reasons discussed below.
Market Expansion
The US craft-beer industry is forecasted to grow at a CAGR of 17.5% over the next two years. One of the key factors contributing to this market growth is the changing consumer taste and preference for craft beer. Despite restricted distribution coverage and a high price range, craft beer has been increasing in popularity among US beer drinkers. A consumer shift to drinking at home during the recession as opposed to on commercial outlets is benefiting companies in the industry because it is easier to place products on retailer shelves than in restaurants or bars that offer a limited selection of alcoholic beverages.
During the next five years, the industry is expected to gain from brand recognition and increasing disposable income. Beer wholesalers will be weighing their product mix toward higher-end products in response to consumer demand and to boost profitability, which will be another plus point for the makers of craft beer.
A double-digit market growth rate is enough on its own to make any company in the industry appear attractive. However, Boston's strong brand positioning, loyal customer base, and effective marketing solutions will ensure that a relatively bigger chunk of this growth is extracted by the firm. This is why the analysts forecast the company's top-line to grow by 24% and 14% in 2014 and 2015, respectively. The slow growth rate in 2015 is expected because Boston plans to utilize its 2013 and 2014 investments rather than bring out new products to increase its market share next year. The company's sales focus in 2015 will be on second-year growth of some of the successful 2014 launches. The move is being made to slowly roll out new products and achieve long-term profitability rather than deliver gains in the near term only.
On the positive side, however, the supply-chain improvements the company has made this year are going to help it continue saving distribution and administrative expenses which should result in an earnings figure of $7.9 per share in 2015. The figure will provide investors a year-over-year increment of approximately 20.2% which is much higher than the top-line growth expected.
Valuation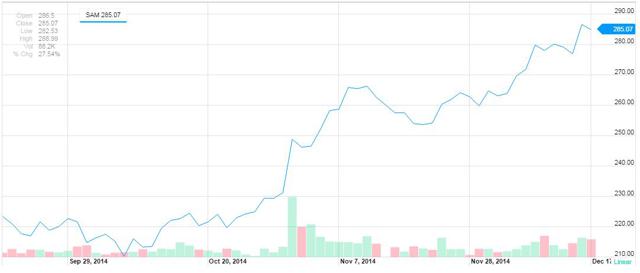 Source: Yahoo Finance
Despite having an overvalued status after looking at fundamentals such as price to book, price to cash flow and price to earnings, Boston's share value continues to trail upward (see graph above). Also, the short change ratio has been negative 4.95% since 14th of November. What this indicates is that the market is getting bullish on the stock and the expected growth in earnings is driving the stock-price trend. Therefore, focusing on the fundamentals alone isn't the right evaluation criteria in the case of Boston. This can further be confirmed through the 5 brokers that hold a high target price estimate of $345 for Boston. The estimate reveals that Boston is undervalued by 21%. Therefore, investors should consider buying the stock.
Disclosure: The author has no positions in any stocks mentioned, and no plans to initiate any positions within the next 72 hours.
The author wrote this article themselves, and it expresses their own opinions. The author is not receiving compensation for it (other than from Seeking Alpha). The author has no business relationship with any company whose stock is mentioned in this article.