Indian business leader Ravi Chaudhry has written the best handbook for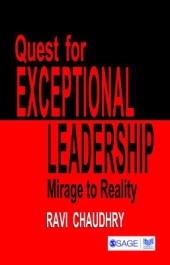 corporate executives in years, "Quest for Exceptional Leadership: Mirage to Reality," (Sage 2011.) Chaudhry, who heads CeNext Consulting and Investment in Delhi, takes a global, long-term look at our rapidly evolving societies and their economies. He sees the crises of Western finance in 2007-2008 as a turning point that can lead to positive change.
Chaudhry maps the contours of the new movements within finance to re-shape the architecture and rewrite the rules for business success: from new curricula in business schools to new metrics beyond failing models of asset valuation, risk analysis and conventional accounting to overhauling national accounts beyond GDP to more realistic measures of sustainability and progress. He focuses on seven key groups of change agents now leading the charge. Chaudhry sees all these changes as based on a new realism – included in earlier doctrines and longer-term models devised for an earlier time in our history. He terms as "mirages" the economics of short-termism adopted by many CEOs and corporate boards, as well as asset managers, trustees of institutional investments. He points out that many politicians are still operating under these mirages and control the debate and reporting in commercial mass media.
Chaudhry's call for exceptional leadership is that based in the new realities of our multi-polar world – beyond the trite formulas of the business and financial media and recipes of many consultants for short-term success. We in the West need to take off our cultural blinders and hear what the many brilliant new voices from India, China and Brazil are saying. Chaudhry comes out of an Indian tradition based on longer time horizons, suffused with religious traditions of Hinduism, Buddhism, Islam, Zoroastrianism – all rooted in values beyond the money coefficients measuring Western success. Such mind-stretching perspectives may require asset managers and day-traders to take a deep breath, slow down and exercise a different kind of self-discipline.
In laying out his criteria for exceptional leadership, Ravi Chaudhry is precise, with hundreds of examples illustrating his strategies and recommendations, many unfamiliar to traders in London or Wall Street. He cites leaders including Ratan Tata, CEO of India's Tata Group, founded in 1868; Erling Lorentzen of Aracruz Celulose, Brazil, founded in 1967; N. R. Narayana Murthy, CEO of Infosys (INFY), India, founded in 1981, and the shareholders of hugely successful cooperatives: Britain's £9 billion Cooperative Group, Ltd, with 4.5 million members, 87,000 employees and 26 corporate members covering food, travel, banking, insurance, pharmacy, legal services and investments, and the 50 year-old Gujarat Cooperative Milk Marketing Federation LTD, India's largest food marketer with annual sales of US $1.5 billion.
Why should traders and asset managers expand their awareness of these unfamiliar business models? So as not to be blind-sided by the next social networking success after LinkedIn (LNKD) and the Angie's List IPO or the "wikinomics" models described by Don Tapscott, now changing old multi-nationals like IBM from within; or the open-source models of Red Hat and the new "Wealth of Networks" we cover at Ethical Markets Media (USA and Brazil).
These unfamiliar business models presage the next evolution in economies and finance, summarized at our expert meeting in 2010 and our statement on Transforming Finance. Asset managers are constantly searching for new asset classes: for example, forests, agricultural land in Africa and other emerging economies. We are all seeking beyond ETFs in commodities now oversold; markets in carbon offsets that are rigged and as sovereign debts move into uncharted waters. Many business models based on externalizing costs to taxpayers and society are being unmasked. The Information Age is still morphing into the new Age of Truth as I have predicted. Ravi Chaundhry is one of the new voices showing new ways ahead.
Disclosure: I have no positions in any stocks mentioned, and no plans to initiate any positions within the next 72 hours.