CEO Brian Collins of One Horizon Group, Inc. (NASDAQ:OHGI), the bandwidth efficient VOIP platform developer, has responded to my lingering questions from Q3 earnings - questions that investors wanted answers to in an effort to fully analyze company progress.
Most of the responses were what was expected outside of two very large developments that I feel materially change the narrative for OHGI.
The first, is that OHGI partners - specifically its telecom operator partners - have begun to accelerate the promotion of OHGI software and have begun to ramp up customer awareness of the product. This is a significant development in that OHGI's model is largely dependent on its partners being able to monetize its technology. Said Collins in an interview from September:
Our business model is to collect the backlog of AR but in a majority of cases we collect on a revenue share basis i.e. when they monetize their customer base. In the end we are looking to assist our operator customers to drive their user base for the App which in-turn boosts our income with a high-margin per-subscriber license fee. (SOURCE: One Horizon Group: The WhatsApp Of China?)
With several partners already in the very early stages of monetization, OHGI has been able to slowly increase its realization of its Master License Revenue Backlog. With telecom operators now using their substantial balance sheets to drive monetization, this should be a turning point for OHGI's rate of download, rate of usage, and rate of revenue realization.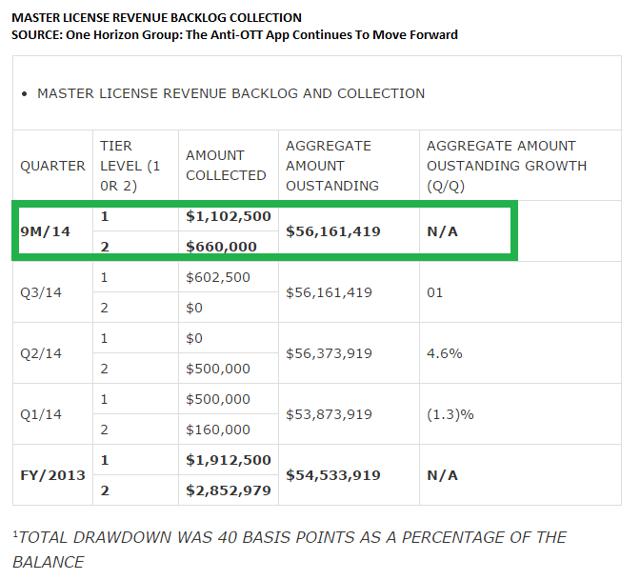 The second, and this is definitely news that I would categorize as game-changing, is that OHGI software will begin being integrated with handset operating systems that are developed and manufactured at the telecom (OEM) level. Each telecom operator is allowed to promote and brand OHGI software, in all its particular branded varieties, in their own distribution channels. The software will be delivered at point of sale and point of activation as a pre-existing application on the device's OS.
This removes a significant barrier to use for customers and removes the largest known source of friction in terms of moving the customer into the monetization funnel. I feel like this materially shrinks the top end of the monetization funnel and should begin significantly driving telecom operator cost per customer acquisition lower, increasing OHGI tethered telecom operator key metric growth, and will fuel a cycle of more use being driven by more spending by the telecom partners.
OHGI will be able to begin providing telecom customer customers with free Virtual SIM's, a service not provided by any other software in the world, with a simple registration of its application. Among its many other benefits this allows a user to make calls and receive calls to a particular number rather than simply being able to communicate on an app-to-app basis which is the case with current competition such as What'sApp, etc. I feel that this is a defined competitive advantage - again, being promoted by telecom operators to their existing customer base - which will differentiate OHGI's platform and may eventually force this into being the standard offered in the space.
All told, I think today's mid-quarter update for OHGI provides investors with even more reasons to be bullish this name across all durations. A big thank you to Brian Collins for his responses, his continued efforts to be candid and to provide as much detail as possible, and to the team working behind the scenes at OHGI.
Q&A Responses:
Q: Where did the net build to the master license revenue backlog come from? During Q3 One Horizon realized $602,000 in revenue from the backlog but the actual backlog only decreased $200,000, showing a net build. Can you provide any color as to the numbers behind this?
A: We billed $390 to Singtel in Q3 but collected $250 in Q4 and will collect the balance in 2015. Our accounting policy is to recognize when the installments are invoiced not when they are collected providing they are collectable within 12 months.
Q: Through the first nine months of 2014 One Horizon has been able to have zero R&D expense and zero S&M expense, is this something that you continue to see being a norm or something that investors should expect to change in 2015? I guess what I'm asking, and it's been remarkable so far, is can this unusual absence of these two line items continue or are these expenses that One Horizon will need to budget in going forward? If not, is this something unique to the One Horizon model that investors should consider a competitive advantage?
A: In accordance with US GAAP we capitalize R&D expenses (mainly employment costs) between the dates when (NYSE:I) the project is determined to be commercially viable and (ii) the actual commercial launch date. All costs outside those dates are under normal G&A salary costs.
Q: Have partners given any granularity as to the scope or the speed of the scale-up that they plan on utilizing when launching the software? It would be helpful for investors to have at least a broad-based idea of how much partners are willing to promote usage of the software and how long they are willing to try to drive widespread adoption. I know some have already launched and are already seeing some usage but any scheduling guidance as to how investors should view key metric growth would be extremely helpful.
A: Forecast subscriber numbers per operator are generally quite commercially sensitive but various web sites are popping up promoting not just the branded App but also instructing subscribers on where to top-up etc. More and more of these sites will be popping as the marketing and promotion engines of these operators cranks up!
Q: Does the company have any current plans or is it being talked about at all to have the One Horizon software prebuilt into operating systems that are placed on phones at the time of purchase? I know that may seem like something that a telecom operator may not even entertain because of the leverage that would provide One Horizon from a partner standpoint but certainly the telecom operators see what's happened in the US and have to be thinking of any way they can avoid having the same results longer term. I guess a broader question would be have the telecom operators that One Horizon is working with, is there any chance that they might be able to pressure phone manufacturers or phone manufacturer partners to help promote the software in an effort to ease the many burdens on the operators themselves?
A: Yes, the Indonesian App will be burned into the range of handsets in Q1 2015 and all users will have to do to avail of a free Virtual SIM is to register the App!
The thought process is to have the operators use their significant distribution of handsets to drive the adoption of this technology to given verticals such that they can benefit from lower mobile-spectrum consumption per calls and also benefit by delivering innovation on their network in their brand/image.
Disclosure: The author is long OHGI.
The author wrote this article themselves, and it expresses their own opinions. The author is not receiving compensation for it (other than from Seeking Alpha). The author has no business relationship with any company whose stock is mentioned in this article.
Editor's Note: This article covers one or more stocks trading at less than $1 per share and/or with less than a $100 million market cap. Please be aware of the risks associated with these stocks.