With other oil majors joining BP (NYSE:BP) in tightening the belt and cutting back on certain future exploration projects, we found this article very interesting. If it is accurate and there are in fact nearly $1 trillion in "zombie" projects out there then that could be a headwind for future economic growth in areas such as Canada, North Dakota and Texas. Of course, this is all fluid and prices could rebound making all projects economic again but right now this is something that investors need to take into consideration.
Looking at some of the price moves in the various oil companies, from "Big Oil" to small E&Ps, it does appear that we could have hit a bottom as far as equity prices are concerned. If oil prices stabilize at current levels we think that there could be another 10-20% upside for some of the oil names out there as the fear of many in the industry filing bankruptcy dissipates.
Chart of the Day:
As the oil price decline has halted, so too has the rise in the volatility index. The CBOE Volatility Index is back near what we will call "normalized" levels, which could be paving the way to a Santa Clause rally.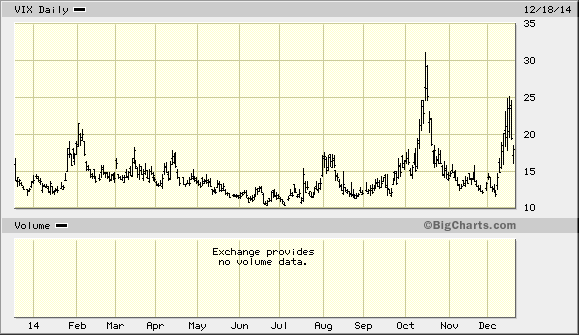 Source: BigCharts
Commodity prices are as follows (at time of submission):
Gold: $1,196.40/ounce, up by $1.90/ounce
Silver: $15.945/ounce, up by $0.017/ounce
Oil: $55.63/barrel, down by $0.84/barrel
RBOB Gas: $1.5457/gallon, down by $0.0205/gallon
Natural Gas: $3.722/MMbtu, up by $0.02/MMbtu
Copper: $2.85/pound, down by $0.0205/pound
Platinum: $1,199.20/ounce, down by $0.30/ounce
Steel Maker Surprises With Guidance
Shares in AK Steel (NYSE:AKS) are rising sharply after the company provided guidance that was quite bullish. AK Steel expects to see lower commodity costs provide a boost to margins as iron ore and energy prices have come down dramatically on a global scale. Not only is the company benefiting from lower input costs, but it also expects to see shipments rise some 37% quarter-over-quarter. Total shipments are expected to hit 2 million tons, driven by strong demand from the auto industry and recent acquisitions that the company has made.
Shares in AK Steel are up over 6%, but gains at the other major steel producers are small with US Steel (NYSE:X) and Nucor (NYSE:NUE) seeing shares move less than 2%.
Another Drilling Project Delayed
Chevron (NYSE:CVX) is delaying plans to drill in the Arctic due to falling oil prices and the uncertain economics of projects in the current environment. This adds to the growing list of exploration plans either put on hold or cancelled since OPEC's Thanksgiving Day production decision. We could very well be entering a period where it is cheaper for the oil majors to drill for oil on the stock exchanges than in the actual field.
More LNG To Europe
Cheniere Energy (NYSEMKT:LNG) is rising sharply after the company announced that it had entered into a 20-year contract to supply European utility EDP's Portuguese operations. The contract calls for EDP to purchase 770,000 tons of LNG once operations at Cheniere's third train start. Current projections have LNG production from the third train starting as early as 2019 assuming no hiccups in the permitting and construction processes. The contract has an option which could extend the life by 10 years.
Disclosure: The author has no positions in any stocks mentioned, and no plans to initiate any positions within the next 72 hours.
The author wrote this article themselves, and it expresses their own opinions. The author is not receiving compensation for it (other than from Seeking Alpha). The author has no business relationship with any company whose stock is mentioned in this article.