Founded in 1997, Anworth Mortgage Asset Corporation (NYSE:
ANH
) operates as a mortgage real estate investment trust (REIT) which primarily invests in agency mortgage-backed securities.
The three charts below, click on each to enlarge, (adjusted share price, dividend yield, and price-to-book value) for ANH will help investors analyze the company's performance over different interest rate environments.
While ANH's management team has delivered to shareholders decent returns over the past 14 years, it's been a bumby ride.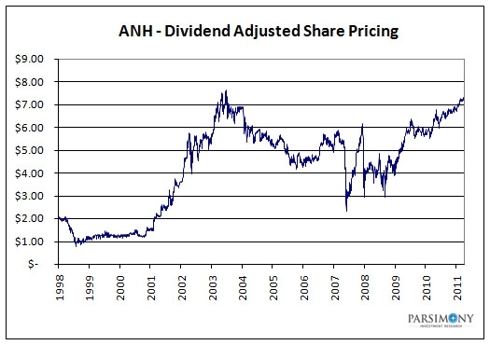 Despite troughing around 0.8% in 2006-2007, ANH has had an average dividend yield of 11.4% since 1999. Again, the range has been quite volatile.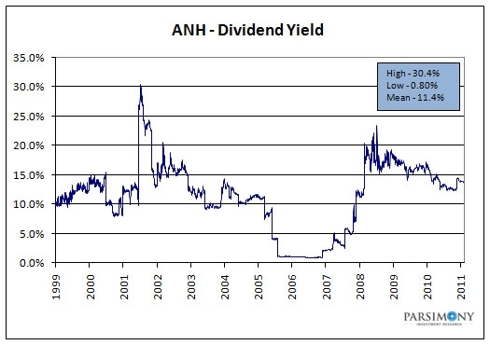 ANH appears to be slightly overvalued at current levels. It is currently trading 1.07x book value, which is 12% above its historical average P/BV of 0.95x.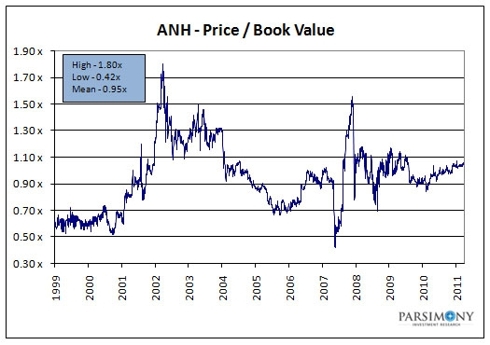 Last week we published a
comparison of the large mortgage REITs
which outlines the key metric which investors should contemplate before investing in a mortgage REIT. Key metric include: size (market cap), leverage profile, composition of investments (i.e., Agency vs. Non-Agency and Fixed vs. Floating Rates), and tenure of the management team.
While ANH deploys higher than comparable leverage (8.5x) the Company invests predominately in floating rate securities (>80% in floating rate).

Also, we recently completed a similar comparison for Annaly Capital (NYSE:NLY) (Analyzing Annaly Capital Through Different Interest Rate Cycles) and MFA Financial (NYSE:MFA) (Analyzing MFA Financial Through Different Interest Rate Cycles). By comparing our analysis of NLY and MFA to ANH, you can see that the volatility of REIT returns over different interest rate environments is largely dependent on the quality of the management team and its ability to manage its portfolio throughout the cycle.

That said, NLY and MFA remain our two main REIT holdings due to their strong management teams. However, we also have a small position in American Capital Agency Corp. (NASDAQ:AGNC).
We continue to believe that the best strategy for investing in this space is to own a portfolio of mortgage REITs to diversify your risk. That said, the following REITs (in addition to ANH) are currently on our watchlist and we are following them very closely: Chimera Investment Corp. (NYSE:
CIM
), Hatteras Financial Corp. (NYSE:
HTS
), and Capstead Mortgage Corp (NYSE:
CMO
).
Disclosure:
I am long
NLY
,
MFA
,
AGNC
.