According to NYSE, a blue-chip stock is stock in a company with a national reputation for quality, reliability and the ability to operate profitably in good times and bad. The most popular index which follows US blue chips is the Dow Jones Industrial Average (NYSEARCA:DIA). The Dow Jones Industrial Average is a price-weighted average of 30 blue-chip stocks that are generally the leaders in their industry. It has been a widely followed indicator of the stock market since October 1, 1928.
Here is a straightforward approach in choosing high-ividend-yield, winning stocks for your investment portfolio. Buy the Dogs of the Dow.The Dogs of the Dow is an investment strategy popularized by Michael B. O'Higgins in 1991 which proposes that an investor annually select for investment the ten Dow Jones Industrial Average stocks whose dividend is the highest fraction of their price.
Historic Performance Highlights

According to the DogsoftheDow.com, In the late 90s, at the height of the Y2K tech bubble, these high dividend stocks soared 28.6% in 1996, 22.2% in 1997, 10.7% in 1998, and rose 4.0% in 1999. Throughout the challenging bear market years of 2000 – 2002 the Dogs of the Dow climbed 6.4% in 2000, fell 4.9% in 2001, and dropped 8.9% in 2002.
Even so, this was sufficient to considerably outperform the Dow (DIA), S&P 500 (NYSEARCA:SPY), and Nasdaq (NASDAQ:QQQ) indexes during the identical respective timeframes. In 2003, the Dow Dogs increased 28.7% and soared to new, all-time highs notwithstanding the colossal bear market of 2000-2002.
The high dividend yield Dogs stayed in record terrain in 2004 with a 4.4% advance but gave it all back and more with a 5.1% drop in 2005. In 2006, the Dogs swelled to record highs improving 30.3%. In 2007 they were flat and declined in 2008 along with the rest of the market as the financial crisis progressed. Nevertheless, by 2009 they rebounded with a 16.9% gain. Finally, in 2010, the Dogs of the Dow meaningfully outstripped the Dow with a gain of 20.5%.
Current Status
Dividend yields in the Dow index are comparatively unaffected since the start of the year. As companies increased dividend payments, counteracting improvements in stock values have somewhat kept pace, leveling yields. Currently, the average yield among the Dow components stands at 2.62 percent compared to an average yield of 2.57 percent on December 31, 2010. Various Dow components continue to reward stockholders with superior returns. In fact, many of the companies have announced dividend increases this year.
The current yields of the ten present Dogs of the DOW are as follows:
AT&T Inc. (NYSE:T) 5.59%
Verizon Communications (NYSE:VZ) 5.49%
Merck & Co. Inc. (NYSE:MRK) 4.29%
Pfizer Inc. (NYSE:PFE) 3.95%
Johnson & Johnson (NYSE:JNJ) 3.44%
Intel Corp (NASDAQ:INTC) 3.40%
Kraft Foods Inc. (KFT) 3.36%

EL du Pont de Nemours & Co. Inc. (DD) 3.31%

Procter & Gamble (NYSE:PG) 3.25%
General Electric (NYSE:GE) 3.24%.
Dogs of the Dow Strategy
The Dogs of the Dow is an unpretentious investment strategy. Two advantages of the strategy are it is uncomplicated to execute and will save money on transaction costs being a long-term strategy with no turnover during the year.
The two guidelines to employ are as follows:
Buy the top 10 stocks in the Dow Jones industrial average with the highest dividend yield.

Repeat this process at the beginning of each year, selling the companies that no longer remain in the top ten of highest yielding DOW companies.
I believe the recent pullback in the market has put the Dogs on sale. Moreover, this strategy seems to have conquered the test of time by outstripping major indexes continually. If you don't already have a portion of your portfolio dedicated to these ten stocks, now may be an ideal time to start a position.
Please review the following company briefs regarding these stocks each is accompanied by a chart depicting the respective company's key statistics and recent performance.
Company Briefs
AT&T Inc. (T), together with its subsidiaries, provides telecommunication services to consumers, businesses, and other service providers worldwide.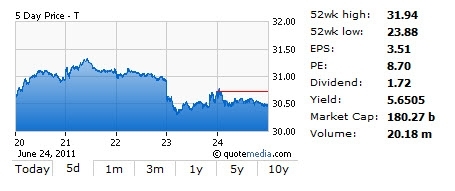 Verizon Communications Inc.(VZ) provides communication services. The company operates through two segments, Domestic Wireless and Wireline.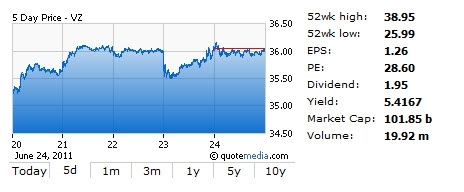 Merck & Co., Inc. (MRK) provides various health solutions through its prescription medicines, vaccines, biologic therapies, animal health, and consumer care products. The company's Pharmaceutical segment provides human health pharmaceutical products, such as therapeutic and preventive agents for the treatment of human disorders in the areas of bone, respiratory, immunology, dermatology, cardiovascular, diabetes and obesity, infectious diseases, neurosciences and ophthalmology, oncology, vaccines, and women's health and endocrine.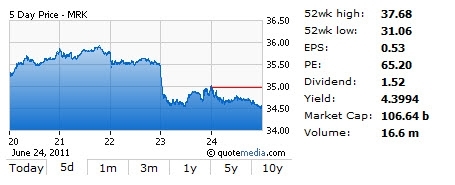 Pfizer Inc. (PFE) a biopharmaceutical company, offers prescription medicines for humans and animals worldwide. The company's Biopharmaceutical segment provides Lipitor for elevated LDL-cholesterol levels in the blood; Enbrel for rheumatoid arthritis, polyarticular juvenile rheumatoid arthritis, psoriatic arthritis, plaque psoriasis, and ankylosing spondylitis; Lyrica for post-herpetic neuralgia, diabetic peripheral neuropathy, fibromyalgia, neuropathic pain, adjunctive treatment of epilepsy, and general anxiety disorder, as well as for use as an adjunctive therapy for adult patients with partial onset seizures; Prevnar/Prevenar for invasive pneumococcal disease; Celebrex for osteoarthritis and rheumatoid arthritis, and acute pain; Viagra for erectile dysfunction; Xalabrands for reducing elevated eye pressure; Effexor XR for depressive, generalized anxiety, social anxiety, and panic disorders; and Norvasc for hypertension.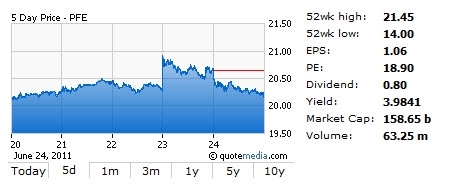 Johnson & Johnson (JNJ) engages in the research and development, manufacture, and sale of various products in the health care field worldwide. The company operates in three segments: Consumer, Pharmaceutical, and Medical Devices and Diagnostics.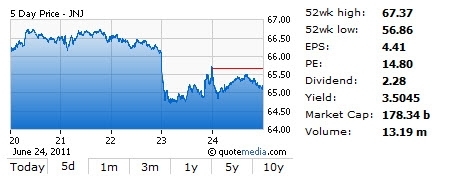 Intel Corporation (INTC) engages in the design, manufacture, and sale of integrated circuits for computing and communications industries worldwide. It offers microprocessor products used in notebooks, netbooks, desktops, servers, workstations, storage products, embedded applications, communications products, consumer electronics devices, and handhelds.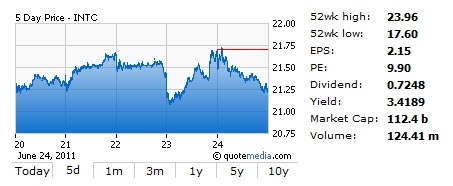 Kraft Foods Inc. (KFT), together with its subsidiaries, manufactures and markets snacks, confectionery, and quick meal products worldwide. The company offers snacks, including cookies, crackers, salted snacks, and chocolate confectionary; beverages, including coffee, packaged juice drinks, and powdered beverages; cheese, including natural, process, and cream cheeses; and grocery, including spoonable and pourable dressings, condiments, and desserts. It also offers convenient meals, including primarily frozen pizza, packaged dinners, lunch combinations, and processed meats.



E. I. du Pont de Nemours and Company (DD) operates as a science and technology company worldwide. It operates in seven segments: Agriculture & Nutrition, Electronics & Communications, Performance Chemicals, Performance Coatings, Performance Materials, Safety & Protection, and Pharmaceuticals.



The Procter & Gamble Company (PG) provides consumer packaged goods in the United States and internationally. The company operates in three global business units (GBUs): Beauty and Grooming, Health and Well-Being, and Household Care.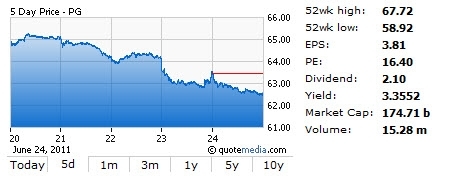 General Electric Company (GE) operates as a technology, media, and financial services company worldwide. Its Energy Infrastructure segment produces gas, steam, and aero derivative turbines; generators; combined cycle systems; and renewable energy solutions, as well as provides water treatment services and equipment. This segment also sells surface and subsea drilling and production systems, floating production platform equipment, compressors, turbines, turboexpanders, and high pressure reactors to oil and gas companies.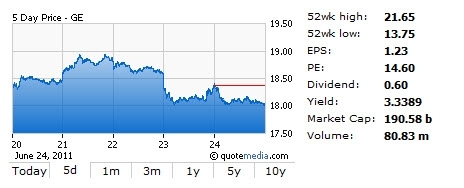 Disclosure: I have no positions in any stocks mentioned, but may initiate a long position in T, VZ, GE, INTC, MRK, PFE, DD, PG over the next 72 hours.
Disclaimer: Information was gathered from CNBC, Yahoo Finance and respective company websites. Based on the current market conditions I would suggest scaling in to any position to reduce risk. I believe these stocks currently undervalued and provides a significant opportunity for long term investors. Please use this as a starting point for your own due diligence.