There is always risk comparing the watch data to any individual business for a given month, but the trend over time and price point is relevant. On a YoY basis, all price points have slipped into negative territory (by value). Note the weakening in the mid price point, key for Swatch (OTCPK:SWGAY), ahead of an Apple (NASDAQ:AAPL) Watch launch and ahead of tough comps in Q1 15. HK/China data were weak for November, post a surprisingly strong October given the protests in Hong Kong.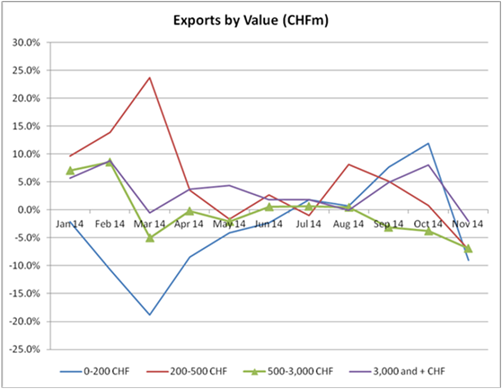 The mid range was an area of strength for Swatch in 2013, e.g. in Hong Kong China Swatch reported 9% organic growth in an industry reported close to 0% growth. Inventory at Swatch and in the channel is high as a consequence. A closer look at the accounts of HK retailers shows a jump in payables and commentary around the need to reduce inventory. This will likely make it difficult for Swatch to improve FCF generation and working capital in the 2014 accounts, an area of concern for us some time on Swatch.
Swatch consensus for 2015 and 2016 is 8% and 7.5% sales growth respectively, with 90bps then 50bps of EBIT margin expansion in these years, respectively. FX will reverse positively to some extent in 2015, especially at the sales line, but we are less convinced the FX transaction benefit will flow through to operating margins to the extent the street expects, given HK/China is high profitability and the uptick likely in A&P. The pricing power evident in 2009 to mid 2013 is no longer apparent according to some industry executives, another drag on margins. To meet consensus, there needs to be a big reversal in HK/China post the protests. Given we have been told by many industry participants (including Swatch) to expect a rebound in HK/China for over 12 months now, we remain skeptical.
The market has clearly slowed everywhere except the US which is a drain on A&P spending. There also is the yet unknown effect of the Apple Watch and other wearable tech brands on A&P spend, It will be a challenge to remain relevant against the sheer volumes and spend of much larger consumer brands. The impact Apple can have on the HK/China market is extremely important in the light of the needed rebound in sales there.
We think consensus is too high for Swatch 2014 EBIT at CHF 1.95bn, we see potential for high single digit downside risk here on FY numbers in February. On a lower starting margin level in 2014 and a complete lack of a rebound (still) we see earnings momentum remaining weak and further consensus downgrades to growth and margin necessary for 2015 and 2016 in February, especially if there is no rebound in Asia. Working capital is likely to get worse before it improves. On 15.9x 2014 PE and risks to the 2015 PE of 14.2x, we remain sellers.
Disclaimer: Aviate Global LLP is authorised and regulated by the Financial Conduct Authority (FCA reference 465131). Aviate Global LLP is not covered by the Financial Services Compensation Scheme (FSCS).
The material contained within this presentation is NOT INTENDED FOR RETAIL CLIENTS i.e. those who are not:
a)Per Se Professional Clients or an Eligible Counterparty as defined in the European Parliament and Council Directive on Markets in Financial Instruments (MIFID);
b)'Professional Investors' as defined in the Securities and Futures Ordinance (Chapter 571 of the Laws of Hong Kong) and its subsidiary rules;
c) Persons other than "major institutional investors" as defined in SEC Rule 15a-6 in the United States)
Aviate Global only trades on instruction from clients. Aviate Global does not hold proprietary positions and nor does it manage portfolios.
IMPORTANT INFORMATION FOR UNITED STATES PERSONS
This document / report / presentation has not been prepared, reviewed or approved by Aviate Global (US) LLP, Aviate Global LLP's affiliated U.S.-registered broker-dealer and a member of FINRA. This report is intended to be distributed by Aviate Global LLP in the United States solely to "major U.S. institutional investors" as defined by Rule 15a-6 of the Securities Exchange Act of 1934, as amended. For the avoidance of doubt, this report is not intended for individual or non-institutional investors and should not be distributed to any such individual or entity. Interested "major U.S. institutional investors" should contact Aviate Global, (US) LLP, our U.S. registered broker-dealer affiliate, or another U.S.-registered broker-dealer, to effect transactions in the securities that are the subject of this report. Aviate Global (US) LLP also is registered as an Introducing Broker with the National Futures Association (NFA ID 0439324). Aviate Global (US) LLP does not deal with or for U.S. persons that do not meet the definition of an Eligible Contract Participant (as defined in the U.S. Commodity Exchange Act).
Editor's Note: This article discusses one or more securities that do not trade on a major U.S. exchange. Please be aware of the risks associated with these stocks.