I recently stumbled upon a press release from Lane End Conference Centre, a UK-based conference facility located on a 26-acre property, saying that the conference center has been able to buck recession. The part that caught my attention is the part where the company talked about the strategy it employed to stay ahead. This ignited a bit of research.
To reduce the impact of the recession we have taken several steps to stay ahead. A key part of our strategy was, rather than cutting back, continuing to re-invest profits into the venue's facilities to ensure we offer a world-class experience for delegates.
As a matter of fact, when discussing companies that can cope in a recession, we tend to focus mostly on companies that are capital efficient and companies that do not operate in capital-intensive industries. Of course, these attributes are good for picking stocks that can weather a recession. However, perhaps in addition to capital efficiency, companies that can buck a recession are mostly able to spot an opportunity during the recession that will add long-lasting value to consumers.
In reality, a sole focus on cost reduction wouldn't improve the position of any company in its industry. As a result, if you are looking to add a company that can do well in recession to your portfolio, you might want to consider looking for a company with a strong track record of adding value. Let's briefly consider these three companies as testaments to the argument here.
Ford Motor Company (NYSE:F)
In 2008, just like most industries, the automotive industry was rocked by the financial crisis. The Big Three in Detroit - Ford, General Motors Company (NYSE: GM), and Chrysler LLC - were hit so hard by the crisis that they had to lobby for $25 billion from the government to help them stay in business.
However, Ford came out ahead by spotting an opportunity during the recession that would be of value even outside a recession. The company found that consumers are looking (and would always be looking) to save money. So it simply shifted focus towards fuel-efficient vehicles. One thing you should note here is that Ford operates in a capital-intensive industry. So it is quite commendable of Ford to have taken on a new challenge in such a difficult economic environment. And the impact of its venture has been obvious in the company's gross margin, which is better than that of GM's up until now.
F Gross Profit Margin (NYSE:TTM) data by YCharts
As the chart shows, even though Ford has seen its gross margin drop since the improvement it saw after the recession, it still boasts of a better gross margin than GM. With the way it was able to improve its gross margin, it wouldn't be out of place to say that Ford was able to spot an opportunity to save cost yet adding long lasting value to its customers - with long lasting value been the keyword.
A quick note about Ford: this wasn't the first time Ford would be adding value though. In fact, the company was started to add long-term value by making automobiles affordable to middle class Americans. Perhaps the commitment to delivering value is the reason Henry Ford ensured that the Ford family would always in control of the company, as his family is more likely to stay committed to his vision of adding value. For those used to the UK auto industry, what Henry Ford did here is similar to what Stanley R Harris did with Stanley R Harris Ltd to ensure the continuous delivery of quality commercial vehicle parts.
Some analysts argue that the family influence on Ford has kept it committed to delivering constant value.
Amazon.com, Inc. (NASDAQ:AMZN)
Amazon is another company that was able to profit during the recession. Contrary to the traditional belief that cost reduction is key to bucking a recession, Amazon apparently didn't focus on cost reductions, as its cost of goods sold soared all through the recession, while eBay (NASDAQ:EBAY) was able to keep its cost of goods flat relative to that of Amazon during the period.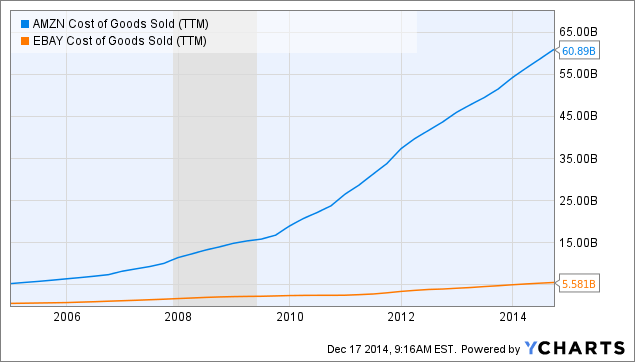 AMZN Cost of Goods Sold (TTM) data by YCharts
Instead, Amazon focused on the long-term by pushing out innovative products, increasing the breadth of the products it offers through independent merchants and offering low-priced shipping both in the US and abroad, all of which helped the company steal market share from eBay. One of the notable actions that Amazon took was to release Kindle 3, which adds long lasting value by improving the habit of reading books digitally, which is becoming the order of the day.
Amazon's focus on the long-term, instead of cost reductions, has helped it grow its revenues and gross profit. Amazon leveraged the recession to grow its gross profit, which was lower than that of eBay going into the recession. However, it now boasts of a profit margin that is about 85 percent higher than that of eBay.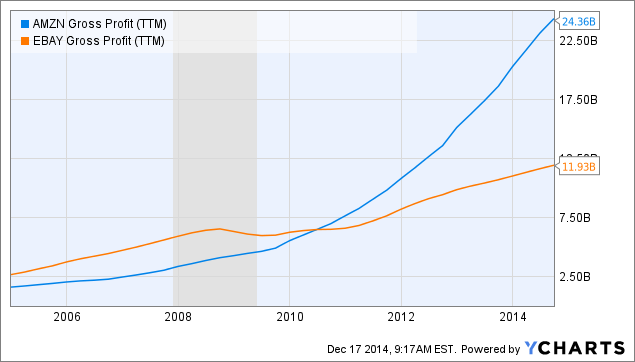 AMZN Gross Profit (TTM) data by YCharts
And with Amazon planning to improve its services through drone delivery, it's easy to see that Amazon is ever anticipating the next change. This shows again that cost reduction alone is not enough to weather a recession.
Bottom line
Ford and Amazon are not the only two companies that made innovative changes during the recession. Domino's Pizza, Inc. (NYSE:DPZ) also added long-term value by making new and improved pizza. Therefore, when looking to fortify your portfolio with a company that can buck a recession, it would be smart to go for a company that is always committed to adding long-lasting value - essentially those that were originally set up to deliver un avoidable value - as we've seen above.
Note: The point of this article is not to recommend any of the mentioned companies. The idea is to let you know that you should not base your judgment of a so-called recession-proof company solely on its ability to reduce costs.
Disclosure: The author has no positions in any stocks mentioned, and no plans to initiate any positions within the next 72 hours.
The author wrote this article themselves, and it expresses their own opinions. The author is not receiving compensation for it (other than from Seeking Alpha). The author has no business relationship with any company whose stock is mentioned in this article.