We are living in a time where the US shale oil production is growing rapidly leading to a 5-year low of oil prices. Logically speaking, oil companies should focus on reducing supply. Chevron Corporation (NYSE:CVX) made the logical move by canceling the $10 billion North Sea oil development project after considering it for 10 years and walked away from plans to drill for oil in Canada's Beaufort Sea after spending 103.3 million Canadian dollars for the privilege to explore the region. Indonesia even had to dangle incentives for CVX to stay committed on its $12 billion project to produce 30% of Indonesia's output.
While CVX is retreating from oil and gas production, we are seeing Exxon Mobil (NYSE:XOM) expanding in Ivory Coast and Belgium. XOM signed a production agreement with the government of Ivory Coast and restarted its long delayed downstream oil refinery construction in Antwerp, Belgium. By the actions of these two companies, it is clear that they hold different outlooks on global oil supply.
I am taking XOM view of the oil supply condition. XOM is taking into consideration the possibility that US oil production will be constrained by environmental concerns starting with New York's ban on fracking. This fracking ban faced the danger of expanding into California and Texas. If these movements gain momentum and the bans are implemented, they will drastically cut the supply of US shale oil even if the economics of low oil prices doesn't kill off the supply in the medium term of 2-5 years. By then, it will be very expensive for major oil producers to acquire the remaining lease of available land for production.
Context of Oil Price Decline
The decline in oil prices has been heavily covered in the media and by various articles online. Oil has declined sharply by 48% from $107 in June 2014 to around $55 per barrel today over a period of 7 months. The reasons behind the decline have been well covered. Basically, it is the familiar story that demand of oil is expected to decline slightly as Europe struggles with its recovery and China slows down.
On the supply side, according to the Energy Information Administration, the US is producing 5.23 million barrels of oil per day in December 2014. This is expected to increase to 5.3 million barrels per day in January 2015 despite the 48% drop in oil prices. US shale oil producers are largely shielded from the decline in oil prices by means of hedging and contracted oil prices. Sure there will be marginal players who would go bankrupt, but most of the players can still stay in the game if oil were to stay above $25 according to this Bloomberg article. The Middle East oil cartel, Organization of Petroleum Exporting Countries (OPEC), has decided to maintain its production of 30 million barrels of oil per day.
In other words, we can expect oil to remain oversupplied and oil prices to remain under pressure for the considerable future. This is the majority view of the market right now and we can see it being reflected clearly in the price action of oil. However, we think that such views are shortsighted and they ignore the environmental issues surrounding the supply of shale oil fracking in the United States. The environmental constraints have always surrounded the production of shale oil in the United States but they have been suppressed by industry interest groups such as the American Petroleum Institute. However, we are starting to see environmental resistance against fracking.
Overview of Environmental Impact of Fracking
The shale oil and gas industry in the United States has been subjected to environmental criticism as the production process involves issues such as land use, waste management, water and air pollution. While this is not an article discussing the environmental impacts of fracking, it is useful to have an overview of the environmental issues before we discuss the economic consequences of regulatory actions on the supply of oil.
This overview of the environmental impact on shale oil mining comes from the European Academies Science Advisory Council report based on Estonia's experience in 2007. You can read the 65-page report at your leisure, but I am going to give a simplified version of it for a basic understanding of the environmental issues surrounding shale oil mining.
The issue of shale oil mining in terms of land use is that it requires an extensive amount of land. Once the land has been mined, all the ecosystems on the ground such as natural habitats of plants and animals are destroyed. Although there are efforts to reclaim the land, it is highly unlikely that the land will return to its original state of natural beauty. That is assuming that the mining companies are willing to spend money on the reclamation efforts.
The disposal of mining waste is another major issue. It is estimated that every barrel of shale oil comes with 1.5 tons of spent shale. In order not to pollute underground water supplies, these wastes have to be disposed on open ground. These wastes are toxic and carcinogenic, not something that people want near their communities.
According to the United States Bureau of Land Management, it is estimated that for every short ton of oil shale, 2-10 US gallon of water is consumed for production. After the water has been consumed, it becomes toxic and appropriate measures are required to ensure that it does not mix with the drinking water supply. This is a sensitive issue on the arid region of Western United States.
Lastly, the impact on air pollution can be divided into two main areas of production and consumption of shale oil. The production of shale oil produces high emission of carbon dioxide which leads to global warming. Power plants that consume shale oil for their electricity generation produce high levels of pollutants such as nitrogen oxides and sulfur dioxide that are comparable to usage of coal. This might change as technology improves but it is objectionable at this stage.
New York Fracking Ban
As investors, environmental concerns are not at the top of the list of our investment decision making process. However, we should be concerned about how these environmental issues would weigh on the supply of shale oil and make necessary adjustments.
It would appear that environmentalists have scored a notable victory today. The state of New York has decided to continue its ban on fracking due to health concerns. New York is concerned over the effects of pollution on water, air and soil and has decided that the health concerns are greater than the economic benefits of shale oil mining.
New York sits on part of the vast Marcellus Shale formation and has an active ban since 2008. This move pits New York with its neighboring state of Pennsylvania where it has collected $2.1 billion of state and local taxes with $630 million distributed to communities since 2012.
This ban on fracking seems to be gathering momentum across the United States. California is now conducting an environmental review on the impact of fracking, which is the move that precedes a ban in New York. Two counties in California have banned fracking. In oil-rich Texas, we are also seeing movements against fracking. If fracking ban in these two states is passed, we will see a significant reduction of shale oil supply in the United States.
Hedging against Shale Oil Environmental Backlash
XOM signed an oil production agreement with Ivory Coast which will allow it to have 9 years of exploration rights and 25 years of production if oil is found. Regardless of whether oil is found, XOM's decision to go ahead with the signing, when it could have easily walked away like what CVX did, shows that it is determined to add to its oil reserve beyond the confines of the United States. Given that Ivory Coast came to Texas to lure XOM into its fold, this shows that Ivory Coast is more dependent on XOM. This would mean that they will be more friendly to XOM in terms of regulation, providing a potential source of stable oil production for 25 years.
In addition to the geographical diversification, XOM is also diversifying its oil production according to the production method away from shale oil mining. In a way, XOM is hedging against its oil production from the environmental backlash from shale oil mining. This diversification would give XOM an edge over its competitors as environmental concerns over shale oil mining gain momentum in the United States.
That said, we have to keep in mind that XOM has a considerable interest in the US shale oil mining like other major oil producers. Even if the environmental fallout is contained in the United States to New York in the medium term of 2-5 years, XOM can continue to have the best of both worlds as it continues to produce oil both domestically and internationally. By then, the period of low oil prices would have passed and along with it all the marginal players who do not have the balance sheet to survive this period of low oil prices.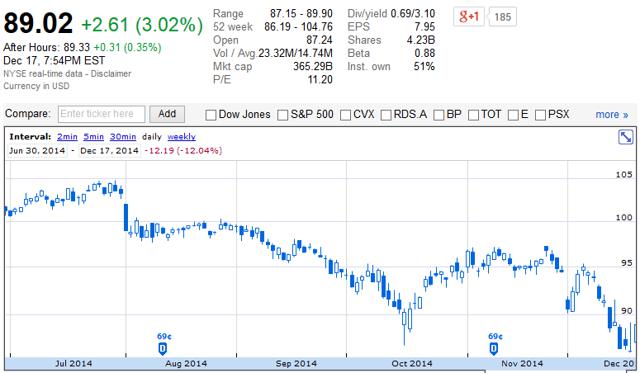 Source: Google Finance
The chart above gives an overview of the price action of XOM. XOM has a steady history of dividend increases, the most recent being the increase of its dividend from $0.63 to $0.69 in the 2nd quarter. Due to the pressure of falling oil prices, its earnings per share dropped from $2.04 to $1.89 but that is likely to be temporary. While investors wait for the rebound to happen, they are being paid a dividend yield of 3.10% and we see that the Ivory Coast deal has already pushed up its price. While we don't know when oil prices will normalize, it is clear that we are going to see greater price appreciation for XOM when the time comes compared to its peers. The market would show its appreciation for XOM's efforts to protect its oil production capability while its competitors walk away due to short-term considerations.
Disclosure: The author has no positions in any stocks mentioned, and no plans to initiate any positions within the next 72 hours.
The author wrote this article themselves, and it expresses their own opinions. The author is not receiving compensation for it (other than from Seeking Alpha). The author has no business relationship with any company whose stock is mentioned in this article.