In July 2012, Endeavour Silver (NYSE:EXK) acquired the El Cubo gold and silver mine, located in Mexico, from AuRico Gold (NYSE:AUQ) for $200 million in cash and stock. AuRico could also receive up to an additional $50 million in cash payments from Endeavour upon the occurrence of certain events during the three years following the acquisition.
At the time, El Cubo was significantly underperforming. Endeavour's business strategy had been to buy and rejuvenate struggling old mines in historic mining districts. They successfully applied that strategy to their Guanaceví and Bolañitos mines, also located in Mexico, so buying El Cubo seemed to make perfect sense.
However, Endeavour had an advantage with El Cubo as the mine already had a 1,100 ton-per-day output as well as a good reserve/resource base. Guanaceví and Bolañitos had low throughputs and no reserves when Endeavour bought them, and they still managed to turn them into successful operations. So turning around El Cubo seemed like a pretty easy task for Endeavour. It would become the company's third mine and would be considered a core asset.
After the acquisition was completed, Endeavour spent $67 million at El Cubo to explore and develop the mine and to rebuild and expand the plant, tailings facility, water supply, electrical supply, surface buildings, and surface infrastructure.
Endeavour started to make good progress at El Cubo, with cash costs declining from roughly $30 per ounce of silver in Q3 2012, to $6.50 per ounce in Q42013 and Q12014. However, costs have soared back above $23 per ounce in the last two quarters as the grade and recoveries have declined.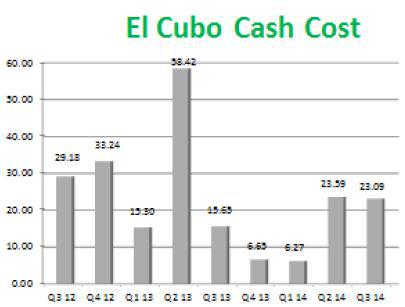 (Source: Endeavour Silver)
The all-in sustaining costs are a major problem, as the company is still developing the underground workings of the mine to reach higher grade ore. AISC in the third quarter was $47.46 per ounce. But this wasn't just a one-time event, the mine has been averaging over $40 AISC for a while now.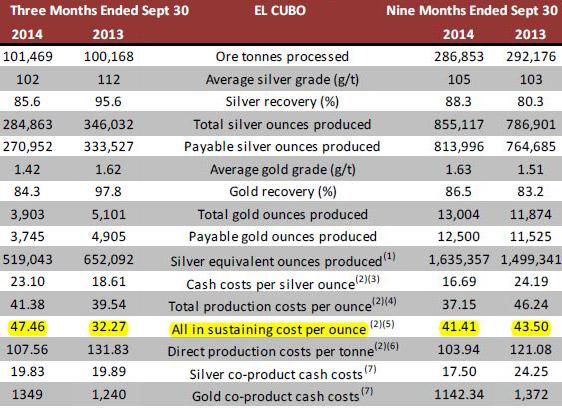 (Source: Endeavour Silver)
Endeavour can't continue to operate a mine like this, especially when Guanaceví and Bolañitos are performing much better. The company's AISC for 2014 is expected to be $19 per ounce on a by-product basis, if you take El Cubo out of the equation, then the AISC would be $11.70. Take a look below at how much lower in cost Guanaceví and Bolañitos are compared to El Cubo. Keeping El Cubo up and running doesn't make a lot of sense, unless the company can significantly reduce the AISC at the mine.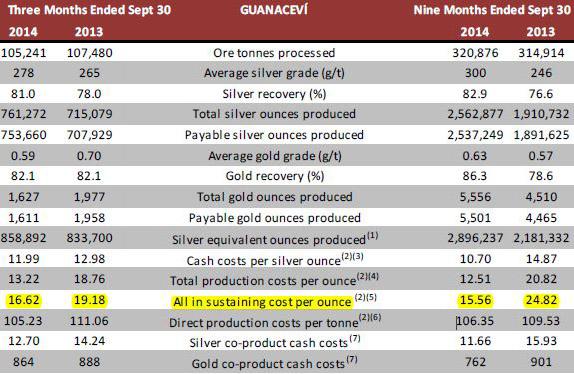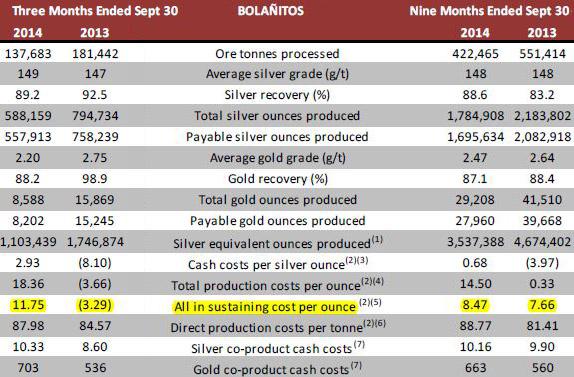 (Source: Endeavour Silver)
With the purchase price and the amount that Endeavour has poured into upgrading El Cubo, the company has about $300 million invested in this asset. That's a lot for a company with only a market cap of $211 million.
That's why the stock has been tanking more than other silver producers. Look at the three month chart of Endeavour, compared to Hecla, Coeur, and First Majestic. The market is re-pricing Endeavour without El Cubo.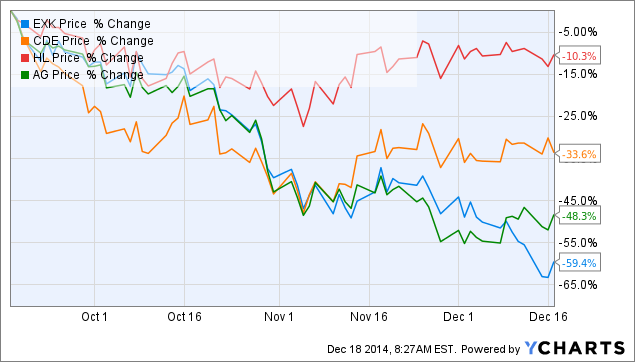 In the Q3 2014 conference call, the management of Endeavour said the following:
So we're pretty steady as she goes at Guanaceví and Bolañitos, and we're doing several different models, what-if scenarios, at El Cubo, and if we have to live with $15 or $16 silver at El Cubo, there are three approaches. One is care and maintenance, obviously. If we don't feel we can make any money at these prices, then we should just shut her down and preserve the resource for the future.

However there are two other bona fide opportunities here and we do need to understand them more before we can make a decision at year end. One of them is, obviously on the grade side, maybe run it at half the capacity and get the grades up. That is a function, however, partly of mine development, because most of the higher grades that we've discovered in Villalpando/Asuncion are not developed, and so we would need that development bullet to get to those grades.

Then, the third scenario is actually- we know the plant is quite capable of doing significantly more than 1,500 tonnes a day, because we've had individual days well above that, and so we are modelling significantly higher throughput and pedal-to-the-metal to get both the tonnes and, as best we can, the grades up, in order to knock the costs down.
All three scenarios are being examined, and the company will be going to the board this month with their recommendations and then they will announce their decision to shareholders in January. I would also like to point out that Brad Cooke, the company's CEO, said the following when pressed about these scenarios:
Basically, we wouldn't treat it as a bona fide option unless we thought it had a bona fide chance of getting us to free cash flow at these prices.
This is a tough decision that Endeavour is going to have to make. Shutting El Cubo down right now might be the best option, but it wouldn't surprise me if they instead try to either high-grade the mine or push as many tons of ore through the plant to drive down costs.
Those two options though have downsides. The problem with high-grading is it's only a short-term solution, and then when they decide to stop with that mine plan, they are going to be faced with similar AISC's that they have today. Plus, they still have some development work to do to reach a lot of that high grade ore, which might mean the AISC will still be too high. The other option of pushing more tons through the mill to lower costs just might not work. You could end up having too much dilution, costs might come down but not enough in the end to justify mining El Cubo this way. If they go with either of those two options, and they don't work or silver prices don't increase, then El Cubo might have to be put on care and maintenance.
While that would be a difficult decision, the company would be able to survive this (and thrive) as Guanaceví and Bolañitos are still quality assets that can produce roughly 8 million ounces of silver equivalent per year at a low combined AISC.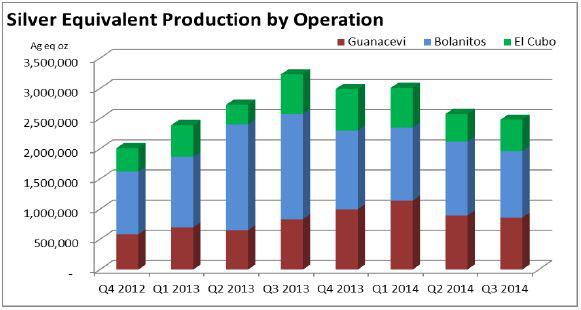 (Source: Endeavour Silver)
In fact the company would be generating free cash flow right now (at current silver prices) if they shut down El Cubo. As I showed above, Guanaceví's and Bolañitos' all-in sustaining cost is around $11.70 per ounce on a by-product basis. Using a $17 silver price these two mines would be producing a significant amount of operating cash flow.
I do believe that Endeavour can significantly reduce the costs at El Cubo in the short-term, but I'm not convinced that they will be able to bring down the AISC below $17. As I mentioned earlier, the company's CEO said they wouldn't consider it a bona-fide option unless it can get them to free cash flow at current silver prices. I just don't think El Cubo can consistently be a $15-$17 per ounce AISC mine. While El Cubo might have to be shut down, it would only be on a temporary basis until higher silver prices materialized.
It seems like the Endeavour still doesn't have a good handle on operations at El Cubo. By now they should have turned this mine around. There is still more development work that needs to be done as the company is trying to bring into production more of the V-Asuncion vein as grades and thicknesses are substantially better compared to several other producing areas. However, management said in the Q3 2014 conference call:
I think the tougher decision is whether to make a significant additional investment in capital next year in order to open up the larger higher grade areas, or to minimize capital and just try and get at the high grade as best we can.
Endeavour needs to make sure that before they go spending more money developing the higher-grade areas, that this higher-grade ore will actually lower the cost enough to make this a free cash flow mine at $15-$17 silver. Because if it can't then there is no need for El Cubo to be in production or developed further in this low silver price environment.
El Cubo could become a much stronger asset, but right now it's just too inconsistent. I do believe that management at Endeavour thought turning around El Cubo would be much easier than it has been. I'm sure many are asking "was this a mistake" in terms of acquiring the mine. It's still too early to tell.
Disclosure: The author has no positions in any stocks mentioned, and no plans to initiate any positions within the next 72 hours.
The author wrote this article themselves, and it expresses their own opinions. The author is not receiving compensation for it (other than from Seeking Alpha). The author has no business relationship with any company whose stock is mentioned in this article.