On October 1st of this year, I wrote an article on Chevron (NYSE:CVX) using the dividend discount model, forecasting a 10% year-on-year growth rate in dividends and earnings, ultimately yielding a price target of $150. However, to say that the landscape for the industry has changed since then would be a big understatement. With Brent Crude Oil trading just below $60, this has clearly spooked investors with Chevron trading at a price of $103.84 at the time of writing. What adds to the uncertainty is the fact that when oil prices rise again, no one knows when this will happen or how fast. It is fair to say that projects which would have initially been sustainable at a price of approximately $80-90 may not prove sustainable at current levels, and this will invariably have an impact on earnings and ultimately cash paid out to shareholders in the form of dividends. I still believe that lower oil prices are a temporary fluctuation, but to deny that they do not have an effect on performance would be inaccurate. In this article, I use a revised form of the dividend discount model to account for the potential impact of lower oil prices on my aforementioned price target.
Using a discount rate of 7% and a P/E ratio of 11.5x, a 10% year-on-year growth rate yielded a price target of $150:

Source: Business Insider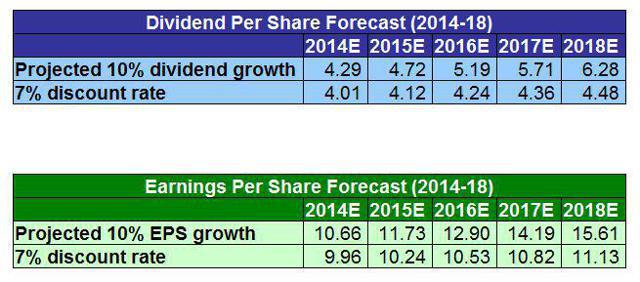 Source: Author's Calculations
However, I find it unrealistic that Chevron will now achieve this at current price levels. As an arbitrary figure, I set a minimum oil price threshold of $80 for Chevron to continue growing DPS and EPS at 10% per year. Should the oil price remain below this, I revise my model to assume that EPS will in fact decline by 10% per year, which is indeed what analysts are forecasting for 2014. It is assumed that there is no growth in dividends in this scenario. The below model is run using the latest P/E ratio of 9.6x, and assumes a 10% decline in DPS and EPS for oil prices below $80. Indeed, a big impact on these forecasts is how fast oil prices rise again. For example, it is one thing to say that oil prices will soon climb back to $100. However, there is a big difference between this happening one year from now versus five years from now. According to the website www.oil-price.net, the one year forecast for oil prices is $64, which yields an upside of 14% from current levels. In this regard, I assume that oil prices will grow at 14% per year from the current price of $59.86.


Source: Author's Calculations
We can see from the above that even if we assume oil prices will rise at 14% per year, they will not surpass the $80 mark until 2017. Therefore, at this rate of growth, the model yields a target price of $85.78, which is a nearly 20% downside from current prices. Additionally, while Chevron has been making progress on various LNG initiatives, lower oil prices remove any impetus for buyers to switch to an alternative fuel source. Of course, the oil price forecast is on the conservative side and may rise much quicker than estimated. However, the point of this model is to demonstrate that prices do have to rise quickly - a gradual rise will still have negative effects on dividend and earnings prospects.
In conclusion, the vast fall in oil prices since October means that my previously forecasted $150 price target for Chevron seems highly unlikely in the current environment. I personally believe that Chevron is still a great long-term investment from a dividend perspective, and indeed this could provide an opportunity for long-term buyers to initiate a position at lower prices. However, unless oil prices rebound sharply, it could be a long time before Chevron actually yields significant return and interested investors would likely have to be very patient in this regard.
Disclosure: The author is long CVX.
The author wrote this article themselves, and it expresses their own opinions. The author is not receiving compensation for it (other than from Seeking Alpha). The author has no business relationship with any company whose stock is mentioned in this article.