A consortium of ExxonMobil (NYSE:XOM), ConocoPhillips (NYSE:COP), and Suncor Energy (NYSE:SU) bid $559 million for the NL13-01 exploration block in offshore northeastern Canada, which was accepted. The block includes 657,300 acres in the Newfoundland-Labrador area, which covers the Flemish Pass. ExxonMobil has a 40% stake in the block, while ConocoPhillips and Suncor Energy each have a 30% interest in the acreage. Below is a map of the offshore acreage.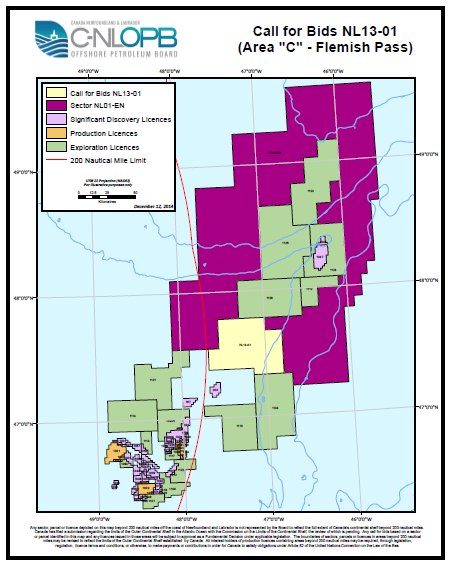 Source: C-NLOPB Website
Low prices aside, tons of resource potential
Even in the face of low oil prices, the consortium is betting that there are possibly billions of barrels of oil to be discovered in the Flemish Pass. This bid comes after Statoil (NYSE:STO) and Husky Energy (TSX:HSE) made several large discoveries in the Flemish Pass over the past few years.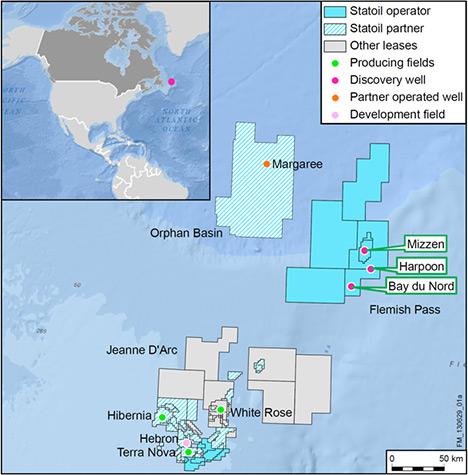 Source: Statoil Website
Back in 2009, the Mizzen discovery uncovered 100 million - 200 million barrels of recoverable oil. Statoil is the operator of the exploration program and owns 65% of the project, and Husky Energy owns the other 35%. Four years later, the Bay du Nord discovery located 300 million - 600 million barrels of recoverable oil. The Harpoon discovery was announced in June 2013 and is still under evaluation. Based on the results of the Mizzen and Bay du Nord discoveries, it wouldn't be unrealistic to assume that hundreds of millions of barrels of oil could be found in the Harpoon prospect.
Combined, Statoil and Husky Energy may have found ~1 billion barrels of recoverable oil. This is why Statoil and Husky Energy plan to keep drilling in the area, as more wells could lead to additional discoveries. Some see the Newfoundland-Labrador housing 6 billion barrels of oil and 60 trillion cubic feet of natural gas. ExxonMobil, ConocoPhillips, and Suncor Energy want to get in on the action, and this is a great way to do it.
Vaca Muerta upside
ExxonMobil is also seeking new resources to develop in the Vaca Muerta formation. Located down in Argentina, ExxonMobil is developing 900,000 gross acres in the play. Its first well in the Vaca Muerta (that it holds a 85% interest in), the Bajo del Choique X-2, had an initial production rate of 770 bo/d. ExxonMobil's second Vaca Muerta well (85% interest), the Invernada X-3, yielded an initial production rate of 448 bo/d and 1 MMcf/d. In both wells, regional player Gas y Petroleo del Neuquen holds a 15% stake.
In 2013, the EIA estimated that 16 billion barrels of crude and 308 trillion cubic feet of technically recoverable natural gas was located in the Vaca Muerta. This is supported by Ryder Scott's 2012 estimate of 21 billion BOE of resource potential in the play. Investors who want to read more about the Vaca Muerta should take a look at Next Big Shale Play, The Vaca Muerta Formation In Argentina.
Final thoughts
While ExxonMobil and its partners had to cast the largest bid for an exploration block in Newfoundland-Labrador's history, industry results point towards the $559 million cost being worth it. Statoil and Husky Energy uncovered massive amounts of resources close by, pointing towards ExxonMobil being able to do the same. Down in the Vaca Muerta formation, ExxonMobil has brought two productive wells online without any major hiccups. Many more wells will be needed to get an idea of its resource upside in the Vaca Muerta, but two for two is a good start.
Disclosure: The author has no positions in any stocks mentioned, and no plans to initiate any positions within the next 72 hours.
The author wrote this article themselves, and it expresses their own opinions. The author is not receiving compensation for it (other than from Seeking Alpha). The author has no business relationship with any company whose stock is mentioned in this article.