A signal China sent out on the weekend is that inflation has been well under control and monetary tightening will be eased after inflation peaks in June. Bears have been waiting for China's economy's hard landing, and the stocks are priced in for a hard landing as well.
But a new phase of growth is expected in the second half of 2011. New industries are focused on the country's 12th five-year plan, such as new energy, military industry, and the environmental remediation industry. As a result, commodities will unlikely become hot investments again this time, because the new industries need less steel, iron ore, and coal. Instead, new technologies will be the investment darling. The previously high-flying companies such as Cliff Natural Resource(NYSE:CLF), Alpha Natural Resource (ANR), and Teck Resources (TCK), are not likely to experience the same growth again.
Investors will definitely look to invest in renewable energy for the next few years, as China alone has invested over $100B to nurture the new industry. Many solar energy companies have received billions in credit lines from major Chinese banks to develop projects worldwide -- no doubt benefiting China and countries that wants to adopt renewable energy.
Currently, world class solar companies include First Solar (NASDAQ:FSLR), LDK Solar (NYSE:LDK), Hanwha Solarone (HSOL), Suntech (NYSE:STP), JA Solar (NASDAQ:JASO), Trina Solar (NYSE:TSL), Jinko Solar (NYSE:JKS), Sunpower (SPWRA), Q-cell (OTCPK:QCLSF) and Sharp(OTCPK:SHCAF). The low cost and high quality solar PV makers are mainly located in China or Asia. The following charts indicate why it's not difficult to find stocks priced in China's hard landing, while valuation is cheap in the solar space (data from Yahoo Finance and Google Finance):

1. LDK Solar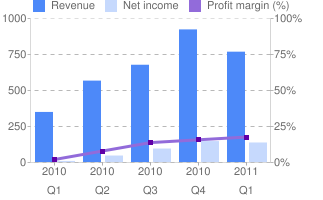 2. First Solar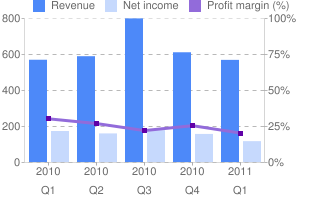 LDK Solar currently is trading at trailing P/E 2.2, while FSLR's trading at P/E 18; the low valuation of P/E 2.2 is priced in the hard landing of China's economy because high and new growth industries deserve higher P/E. While assuming FSLR is trading at fair value, LDK should definitely be valued at a much higher price.
Disclosure: I am long FSLR.