The outlook for aerospace and defense sector exchange traded funds is weak due to supply-side problems that will likely emerge in coming years, according to a recent report.
Both iShares Dow Jones U.S. Aerospace & Defense (NYSEArca: ITA) and the PowerShares Aerospace & Defense (NYSEArca: PPA) saw strength at the beginning of the year, but performance has tapered off somewhat.
After a recent study on the aerospace and defense industry, business-advisory firm Alix Partners cautions that the industry will face "severe supply-chain pressures" in the coming years, according to Procurement Leaders Network.
"The aerospace and defense industry globally will be facing tough and contradictory burdens in the next few years, as the need to meet an anticipated 25% jump in commercial-aircraft deliveries by 2014 contrasts with further belt-tightening of nations' defense budgets in the wake of widespread budget deficits – both of which could lead to severe supply-chain pressures," stated Alix Partners.
"The industry now faces the 'big squeeze'," remarked David Fitzpatrick, managing director at AlixPartners and co-leader of the firm's Global Aerospace and Defense Practice. "The contradictory challenge of quickly ramping up production for expected growth in the commercial sector coupled with the need to address expected cuts and therefore a sharpened focus on affordability in the defense sector. And those squeezed the most will be the supply chain."
The study also reveals that the commercial aircrafts in the short-term could grow 5.5% by 2012, due to increased global air-traffic and greater need for updated fuel-efficient aircrafts. However, the industry suffers from capacity constraints since "the aerospace supply chain was basically decimated by the economic downturn, as even sold orders were put on hold or otherwise put in a lumpy, stop-and-go mode," commented David Wireman, director in AlixPartners' Aerospace and Defense Practice, according to the report.
PowerShares Aerospace & Defense- (click chart to expand)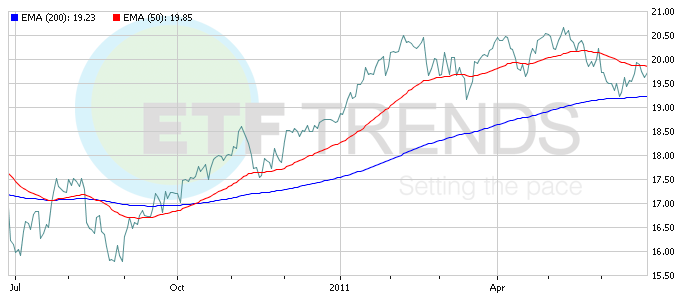 Max Chen contributed to this article.