Of the three publicly traded manufactured home communities, UMH Properties, Inc (NYSEMKT:UMH) stands out because of its regional focus. While Sun Communities Inc (NYSE:SUI) and Equity Lifestyle Properties, Inc. (NYSE:ELS) operate across the country with a focus on places people want to retire to, UMH owns largely landlocked communities in the northeast. In fact, the company has been playing up this focus, highlighting its exposure to the Marcellus and Utica shale gas regions. Only with oil prices falling, that exposure could turn into a negative.
Who lives where...
When it comes to manufactured homes, there are two images that quickly come to mind. The first is a retirement community filled with old people, the second is a trailer park filled with, well, scary people. The latter is an image cultivated by the media, but it does show a difference in another way. Mobile homes are a cheap and convenient way to retire, which is the focus of Sun and Equity Lifestyles. But, they can also be a cheap housing option for others, too. Which is what UMH offers. Roughly 70% of its 88 communities are located in Pennsylvania and Ohio, not exactly the ideal retirement locales.
However, the regions in which UMH operates have experienced an interesting trend that's been a huge news story in recent years-shale drilling. The combination of horizontal drilling and hydraulic fracturing made it possible to pull oil and, more specifically to UMH, natural gas out of geologic formations that were once too difficult and expensive to tap. This is the backbone of what some have called the U.S. energy Renaissance.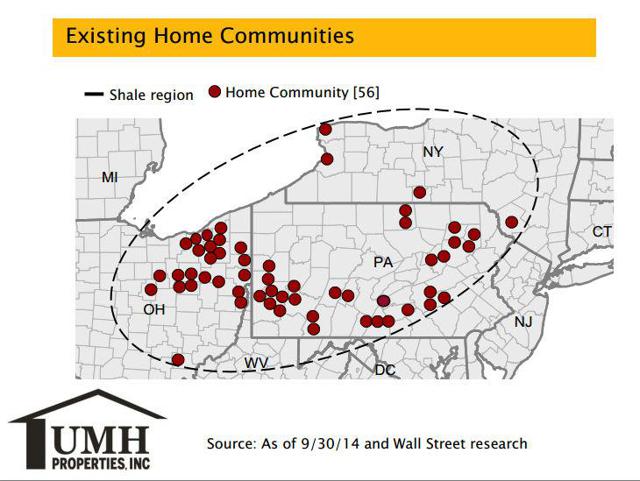 UMH reports that 56 of its communities (nearly two thirds of its total) are located within close proximity to the Marcellus and Utica shale regions. To get an idea of just how big a deal this is, the United States Energy Information Administration reports that gas production from the Marcellus has increased from roughly 2 billion cubic feet per day in 2010 to around 15 billion cubic feet today. That's just four years. The Marcellus alone accounts for around 40% of total U.S. shale gas production. So this is big and UMH is right in the middle of it, offering cheap housing options to the energy industry workers that have been drawn to the region.
UMH explains that it is, "...already seeing increased demand for residential units in the region as a result of Marcellus and Utica Shale related activity." The real estate investment trust's (REIT) occupancy has gone from around 78% in 2010 to nearly 83% at the end of the third quarter. So there does, indeed, appear to be a correlation. (Causation, of course, is harder to prove.) However, at 83% or so, that's well below the occupancy of competitors Sun and Equity Lifestyle which both have occupancy ratios in the low 90% area.
So, if shale gas is as big as everyone expects, there's reason to be excited about the future at UMH. Not only has it been expanding its portfolio, which fuels growth, but its core markets look to see improving employment, which should help drive internal growth via occupancy improvement. But what about the volatile energy market?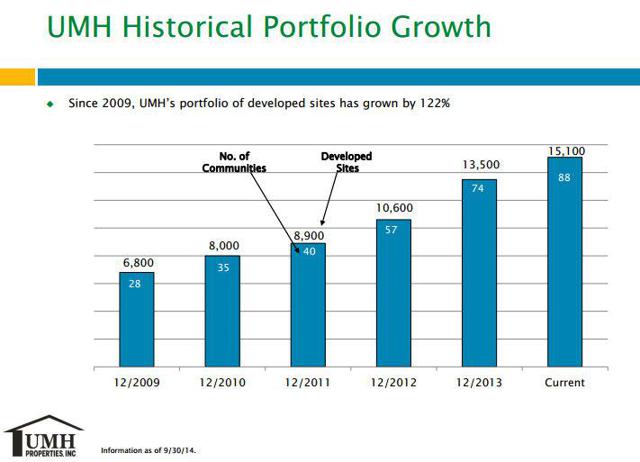 Oil in the news
If you pay any attention to the news, however, you know that oil prices have been plummeting. And since the oil and natural gas markets are closely tied, there's every reason to be concerned about the future here. On that score, natural gas isn't a fluke. For example, the Northeast is increasingly reliant on natural gas for electricity-it now accounts for more than 50% of the region's power generation during peak periods.
And since the production of oil and gas from shale wells tends to fall off quickly, constant drilling is required to increase overall production. That's great news for UMH, since it means there is a nearby demand center (utilities in the North East) and drilling isn't a one time thing.
However, that doesn't mean there's nothing to worry about. For example, companies that drill for natural gas also tend to drill for oil. When oil prices were over $100 a barrel, as little as six months ago, companies were able to take out loans to fund drilling expansion. Now that oil has fallen into the $60 range, profits at these drillers will be heading lower and covering interest expenses could become more difficult. Cutting back across the board may be the only option for some oil and gas exploration companies, assuming that they aren't forced into bankruptcy.
And then there's the dynamics of the oil and gas markets. Natural gas is cheap in the United States because there's really no export market. That's starting to change, with companies looking to take advantage of the higher overseas natural gas prices. But prices in liquified natural gas contracts are often tied to oil prices. Which means that it might not be economically feasible to export as much natural gas as expected when oil was more expensive. That could lead to natural gas drillers cutting back, too.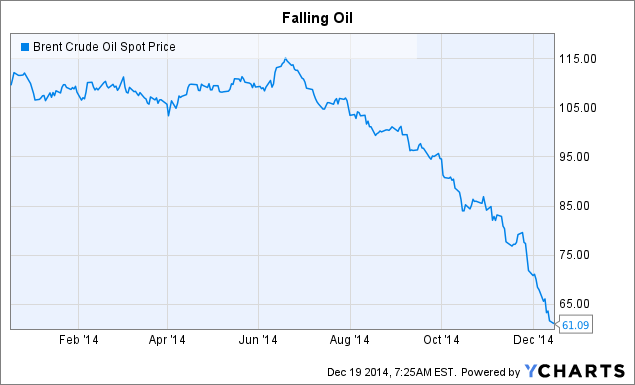 Brent Crude Oil Spot Price data by YCharts
Is natural gas doomed by low oil?
This isn't to suggest that the Marcellus or Utica shale gas plays are nearing their end. In fact, that's probably not likely at all. However, UMH's contention that exposure to these two shale gas regions is a pure positive isn't something to take for granted. And, yes, volatile oil prices could, indeed, cause indigestion in the shale gas industry. That, in turn, could be a problem for UMH. Simply put, this manufactured housing REIT doesn't have the same long-term demographic trend supporting its business model that its competitors have supporting them.
If you own or are considering owning UMH, you'll need to keep an eye on the Marcellus and Utica shale regions. If they continue to prosper, meaning drilling activity continues at current or higher levels, UMH is well positioned. If not, UMH could see this positive turn into a negative. And in the energy industry that can happen fairly quickly. Occupancy levels are likely to be the leading indicator for trouble at UMH. This manufactured home REIT is not like the others.
Disclosure: The author has no positions in any stocks mentioned, and no plans to initiate any positions within the next 72 hours.
The author wrote this article themselves, and it expresses their own opinions. The author is not receiving compensation for it (other than from Seeking Alpha). The author has no business relationship with any company whose stock is mentioned in this article.