Michaels Companies (NASDAQ:MIK) - Sell or Short Recommendation - PT $22.50
The 180-day lockup period for Michaels Companies will end on December 24.
The lockup period constitutes the six months following the launch of an IPO during which the pre-IPO shareholders, executives, directors and other insiders from selling their stock. When this lock-up period expires, these insiders will be able to sell their outstanding ~175 million shares on the open market. This infusion of available units could result in a significant decline in the price of Michaels shares.
Business Summary: The Largest Arts and Crafts Retailer in the United States
Michaels Companies owns, manages and operates the largest chain of arts and crafts retail stores in the United States. Currently, the company has 1,145 Michaels stores and 118 Aaron Brothers stores throughout the U.S and Canada. The company had $4.6 billion in sales in 2013, and it launched 19 new Michaels stores and 5 new Aaron Brothers stores last year.
Michaels arts and crafts stores focus on offering comprehensive assortments of arts, crafts, floral, framing and seasonal merchandise for the DIY home decorator and hobbyist. The company started as one small store located in Dallas in 1973. It grew to 12 stores by 1983, and to its current rank by 2013. Michaels went private in 2006 when The Blackstone Group and Bain Capital Partners acquired it for $6 billion, or $44 per unit. At the time, this represented a 30 percent premium on the company's stock. Originally, Blackstone and Bain planned an IPO around March 2012; however, the company postponed the initial public offering after its CEO, John Menzer, suffered a stroke.
Michaels Stores produces several successful private brands including Imagin8, Loops & Threads, Craft Smart, Artist's Loft, Celebrate It, Ashland, Creatology, Bead Landing, Studio Décor and Recollections.
See our prior article on MIK here.
Executive Management Faces Competition From Mass Retailers, Large Chains and Local Specialty Stores
CEO and Director Carl Rubin has served Michaels since March 2013. Prior to joining the company, Mr. Rubin held several executive positions with Ulta Salon, Cosmetics & Fragrance, Office Depot, Accenture Consulting and Federated Department Stores. He is joined by CFO and Chief Administrative Officer Charles Sonsteby joined Michaels in October 2010. Prior to joining the company, Mr. Sonsteby held positions at Brinker International and Zale Corporation
The DIY home décor and crafting market is a large industry in the United States. As such, Michaels faces considerable competition from multiple sources. These include mass merchandisers such as Target (NYSE:TGT) and Wal-Mart (NYSE:WMT). While these stores do not carry a comprehensive selection of arts and crafts, they do stock the latest trending items at competitive prices.
More direct competition comes from other chain retailers that specialize in arts and crafts including Jo-Ann Stores, Hobby Lobby and A.C. Moore Arts.
See chart below, highlighting MIK's outperformance of competitors in its early trading sessions.
Financial Results
The company released the following financial data at the end of the third quarter that ended November 1:
Net sales increased 1.1 percent.
Operating income grew 5.2 percent; diluted EPS grew 19.2 percent to $0.31.
Comparable store sales declined by 0.8 percent.
Adjusted net income grew 16.4 percent from $55 million to $64 million.
The company launched 19 new Michaels stores and 5 new Aaron Brothers stores.
Early Market Performance: Poor Start, Decent Recovery
MIK's IPO was priced at the low end of its expected price of $17 to $19. The stock opened at its initial price of $17 and then suffered a decline to reach a low of $14.77 on August 18. However, the stock's performance has recovered lately with shares reaching a high of $24.06 on November 28. Currently, MIK trades at $23.59 (12.17.2014 - close), outperforming competitors.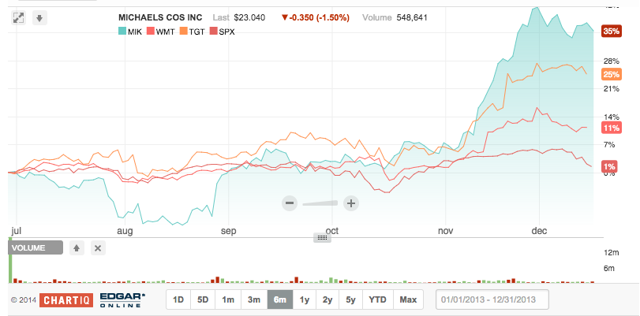 (Nasdaq.com)
Conclusion: A Well Crafted Short Sale
With an enormous amount of restricted shares about to become free for trading (~175 million)-the sale of even a small portion of these could overwhelm MIK's market and cause price declines. MIK's IPO comprised ~28 million shares.
MIK's major pre-IPO insiders, including Highfields Capital Management and 6 executives and directors, could be itching to take profits, given MIK's recent rise.
Further supporting the trend of price declines around the lockup expiration -- researchers from NYU, as well as Harvard and Duke Universities, have published findings, which also show correlations among these criteria. We conducted our own research on a sample of 242 firms with lockup expirations in 2013 and 2014 and similarly found decreases (-5.5%) within the Day (-11, +9) window, surrounding the event (Day 0).
Thus, we suggest investors sell MIK ahead of the expiration date to take full advantage of any impending declines.
We invite readers wishing to join the discussion on IPOs and their lockup expirations to click the +FOLLOW button above the title of this article and those looking for the latest updates to click +Get real time alerts.
Disclosure: The author has no positions in any stocks mentioned, and no plans to initiate any positions within the next 72 hours.
The author wrote this article themselves, and it expresses their own opinions. The author is not receiving compensation for it (other than from Seeking Alpha). The author has no business relationship with any company whose stock is mentioned in this article.