Between Tuesday, December 17, and Wednesday December 18, the Dow Jones Industrial Average rallied some 700 points, erasing most of the past week's losses that coincided with the drop in crude oil. Many credited the soothing words from the Federal Reserve for the rebound (I guess "patience" is akin to Aaron Rodgers saying "relax"), since the market is convinced the Fed will stand pat longer on interest rates.
During these two days, Amazon.com (NASDAQ:AMZN) received two buy recommendations from Wall Street, yet still vastly underperformed the market, gaining a mere 0.01% in that time. Indeed, Amazon has not stemmed the downtrend which began on Cyber Monday. The stock is down from $338.64 to $297.73 in that time frame, a 12% drop.
Let's take a closer look at these recent calls.
Morgan Stanley Says Buy, While Selling
The most recent Morgan Stanley call actually began to brew on Monday, December 16th (you have to keep close track of Morgan Stanley calls on Amazon, we seem to get one every two weeks now). On Monday there was a report by The Edge Consulting Group predicting that Amazon will look to spin off its AWS unit to allow shareholders to realize more of the company's intrinsic value. It's the type of analysis you tend to see on companies that are underperforming the market (Amazon is down a whopping 25% year to date).
Spinning off units was the kind of talk reserved for the "failures" of the e-commerce world, like eBay. The fact that Amazon is being lumped into this talk should be a serious concern for investors.
Not so for Katy Huberty. Ever the opportunist, the very next day the Morgan Stanley analyst felt the need to reiterate her buy rating on Amazon, pointing out that, according to her math, AWS alone is worth $70/share, or about $32 billion (Morgan Stanley was touting this same valuation last month). The current Morgan Stanley price target for Amazon as a whole is $420.
Now of course, I will take this moment to remind you that Morgan Stanley was one of the lead underwriters in Amazon's recent $6 billion bond offering. But I have another, juicier piece of information for you.
As of third quarter filings, Morgan Stanley owned 3.4 million shares of Amazon - and it was a net seller of shares during that three month period.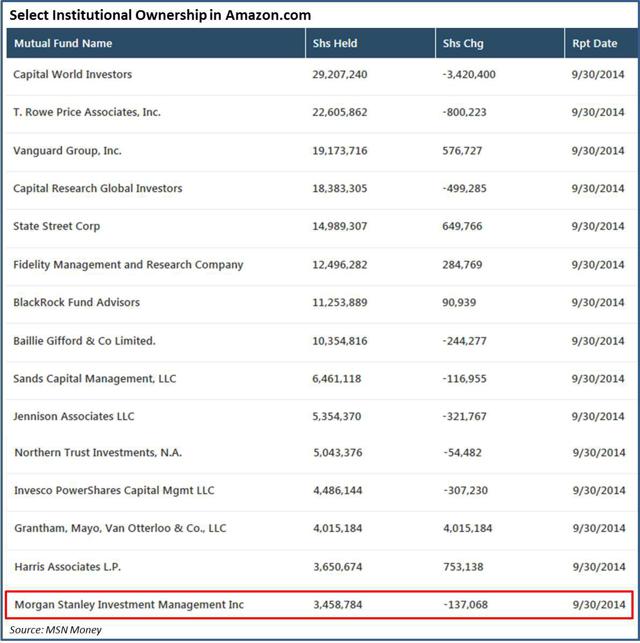 Now why would an institution reduce its exposure to a company that has 41% upside according to its own analyst?
It would be wholly unfair for me to accuse a fine organization such as Morgan Stanley of succumbing to any conflict of interest here. So we shall assume for this analysis that the three recent buy recommendations from Ms. Huberty in no way reflect any influence from Morgan Stanley's long position or Morgan Stanley's investment banking relationship with Amazon.
If that is the case, the question you can ask yourself is twofold: 1) will Morgan Stanley continue to sell its stake in Amazon in the coming quarters, completely ignoring Ms. Huberty's recommendation, and 2) who do you want to side with, Ms. Huberty, or the people in charge of the money?
In this case, I think following the money is your best course of action.
Stock of the Year in 2015
On Wednesday, Gene Munster from Piper Jaffray selected Amazon as its 2015 large cap stock of the year. There is one notable problem with Mr. Munster's recommendation: it appears to be largely based on crowd mentality and the belief of what will happen with Amazon beyond 2015. Munster stated:
"Our recommendation is based on our belief that while investors may not get a nirvana margin moment in 2015, they will become increasingly confident that the business will scale longer term. We believe this increased understanding in the defensibility of Amazon's marketplace, growth potential, and margin opportunity will move shares of AMZN higher in 2015."
Go ahead, feel free to rub your eyes and read that again.
Gene is telling you that confidence and increased understanding will move Amazon higher next year. Not actual margin increases. Not profits. But CONFIDENCE. While that worked wonderfully for Amazon from 2010 to 2013, I am confident that ship has long sailed.
Worst Trade of 2014?
I am currently long 2015 and 2016 Amazon puts, and for the most part have been very happy with the performance recently. But there was one recent Amazon trade that really worried me (and for good reason, it temporarily turned my 2016 puts negative and forced me roll back my 2015 puts from January to April). This trade made such little sense that it temporarily shook my belief in my position.
I am referring to the incredibly large options bet placed on Amazon on November 13th. On this date, a buyer came in and purchased 7,000 Jan 2017 $300 calls in Amazon, for a price of $71.90 each. The stock was trading at $316 at the time. That is a $50 million dollar bet that Amazon would rise to at least $371.90 by 2017. Over the next few days, (presumably) the same buyer came in and purchased 5000 more calls at higher prices, raising the open interest to over 12,000. The total money paid for these calls is over $100 million.
This trade was covered in the press at various outlets like Bottarelli Research, and on air at CNBC. But no one had a rational explanation for such a huge gamble. Consider that Amazon would have to rise to $443.80 (a 40% increase) in order for the calls to double in value, but a fall under $300 (a 5.1% drop) through 2017 would make the gamble worthless. In addition, there is virtually no liquidity in this trade. It either must work or the buyer will face significant losses. Taking the $100 million and buying shares of the company would have been the far more responsible play for a bull - much more liquidity and far less risk. As structured, this is the riskiest option trade I have ever seen.
I don't like seeing trades counter to mine that I don't understand. So naturally, this shook my confidence in my short position. The stock continued to rally to its Black Friday close of $338.64. What was I missing? Did I fully understand Amazon's business activity? Could they just turn on the profit spigot after all? Was something shady going on in the background?
Fortunately, Amazon did not disappoint: it took on $6 billion in new debt the day after Cyber Monday, confirming my thesis that it would need to raise cash to continue to fund its various bets. The stock has veered downward ever since, as more and more investors seem to sense that the profit promise seems much farther off (if it ever arrives).
As we end 2014, the events happening Amazon continue to get more bizarre. It is quite amazing that the stock still trades this high, given the extremely poor financial results. Yet Amazon still commands the unabated support of the analysts covering the stock, with theses that get more convoluted by the day. I remain in the bear camp.
Disclosure: The author is short AMZN.
The author wrote this article themselves, and it expresses their own opinions. The author is not receiving compensation for it. The author has no business relationship with any company whose stock is mentioned in this article.
Additional disclosure: The author is long 2015 and 2016 puts.