The Swiss franc continues to fall as low inflation pressures are leading to negative interest rates. CurrencyShares Swiss Franc Trust (NYSEARCA:FXF) is down over 11% since March, as is seen in the chart below.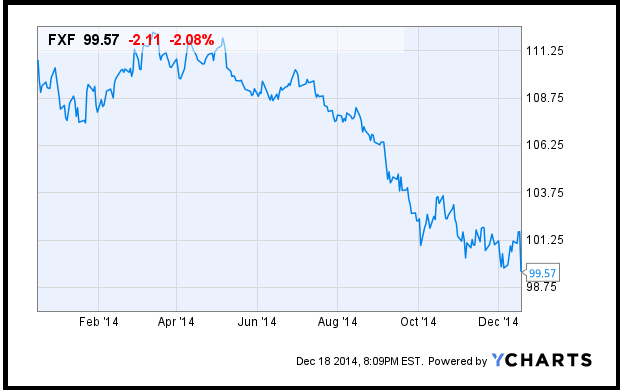 The Swiss National Bank cut its short term interest rate to -0.25%, effective January 22nd, on Thursday, as the central bank attempts to devalue its currency while also reflating prices in the economy. As of late, both the Russian financial crisis and weakness in the euro area have pushed global investor funds into the "safe-haven" franc currency. This has, in effect, hurt exporters as well as led to disinflationary pressures. Thursday's rate cute, however, is just one of many cuts to have taken place over the last few years. Since 2010, the Swiss National Bank has cut its interest rate from over 0.4%, to now -0.25%, as is seen in the chart below.
SNB policymakers cited that aiding the country's exporters was one of the main reasons behind the move.
"A strong franc, which has benefited from haven buying and weakness in eurozone economies, raises the risk of deflation, a damaging spiral of falling prices and slowing spending, and creates headwinds for the country's exporters, many of whom depend on the European Union as an important market. A stronger currency makes exporters' goods sold abroad more expensive," according to a report by the Wall Street Journal.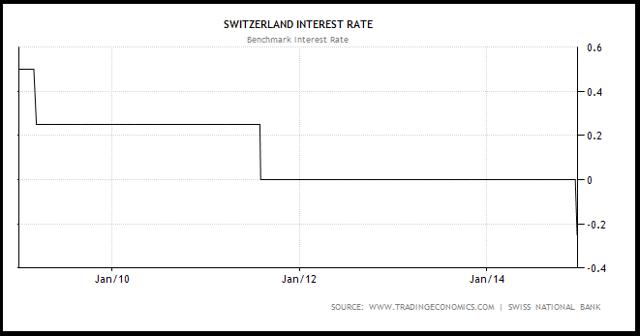 Data provided by Trading Economics
Meanwhile, as the franc has increased in relative value the last few years, inflation measures have drastically fallen lower. The producer price figure fell to -1.6% annual growth in November, below the previous month's reading of -1.1%, as well as missing forecasts for -1.37%. Producer prices have cycled between minimal growth, and contraction over the last five years, as is seen in the chart below.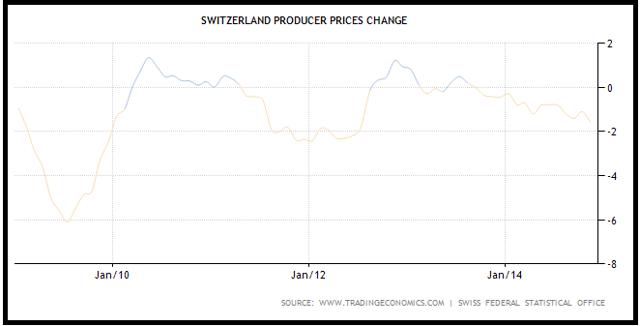 Data provided by Trading Economics
Similarly, with the strong currency adversely affecting exports, alongside price pressures declining, economic growth has receded in recent years. Third quarter growth for Switzerland came in at 1.9% annually, above the previous quarter's reading of a revised 1.6%, as well as exceeding estimates for 1.4%. Although outperforming estimates is a positive sign, the overall trend of economic growth has been downward the last few years. Since 2011, economic growth has fallen from near 4%, to below 2% now, as is seen in the chart below.
Switzerland's economy is having trouble growing while inflation measures are contracting. This forced policymakers to cut its benchmark rate into negative territory to reflate prices as well as to deter currency speculators from driving its currency higher. As the SNB continues on the path of devaluing the franc, the dollar will likely outperform against the Swiss currency.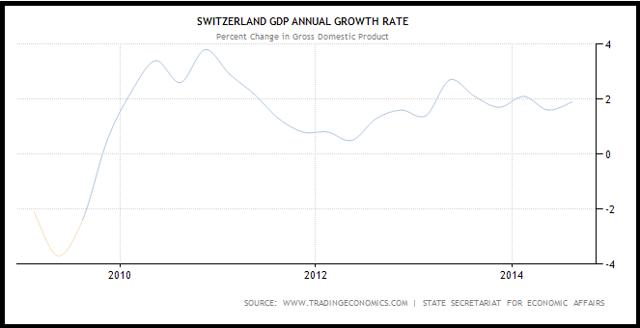 Data provided by Trading Economics
Disclosure: The author has no positions in any stocks mentioned, and no plans to initiate any positions within the next 72 hours.
The author wrote this article themselves, and it expresses their own opinions. The author is not receiving compensation for it (other than from Seeking Alpha). The author has no business relationship with any company whose stock is mentioned in this article.