With continuing economic and financial storms looming, as well as double dip housing headwinds, the self-storage sector is appealing to many investors because of its insulated business model and because of its diverse revenue platform.
Many of the other Equity REIT sectors that make up the FTSE NAREIT All Equity Index are more vulnerable to revenue decline and are less sustainable in turbulent economic chaos. There are eight (8) property sectors that make up the FTSE NAREIT All Equity Index with a combined 120 REITs and a combined market capitalization of $ 415.495 billion. Of the 120 REITs (in the All Equity Index), there are just four (4) self-storage REITs that make up a combined market capitalization of $ 24.276 billion – or 5.8% of the FTSE All Equity REIT market share.
However, this disproportional sector has provided for the highest year to date return averages compared with all of the other equity sectors. As illustrated in the table below (click to enlarge images), storage demand has not declined; the sector should continue to outperform the Equity REIT sectors and is well above the S&P 500 index (6% gain) over the same period.

Sector Forecast
With the uncertainty of the economy and the continued pressure on housing and unemployment, self-storage appears to be a good asset allocation strategy. As Chris Macke at CoStar Group explains,
Home foreclosures not only create increased demand for apartments but increased demand for self-storage space as homeowners downsize.
In addition, while many of the other real estate sectors (retail, office, lodging etc..) are susceptible to slow growth in leasing and costly maintenance (and cap ex costs), the self-storage sector is less vulnerable to reduced demand and the sector model does not require significant cash outlays as compared with the other sectors. As Chris Macke adds,
Self-storage has the advantage of minimal re-tenanting cost, especially when compared to the cost of building out an office suite for a replacement tenant in an office building.
Earlier this year I wrote an article on Extra Space Storage (NYSE:EXR) where I identified some characteristics relative to diversification strategies within the sector. In that article, I described the following self- storage investment attributes:
1. High demand for space driven by shrinking home sizes, growing displacement trends, and consumer demand for storage

2. Low lease up and low cap-ex costs

3. Just in time revenue management (ability to control rents in "real time")

4. Responsible leverage compared with other REITs owning assets leased for retail, office, hotel, Etc…

5. Highly fragmented industry with opportunities to achieve efficiency with economies of scale
A Solid Self Storage REIT
Founded in 1977, Extra Space Storage is the second largest publicly traded REIT in the United States. With around 829 facilities (managed and owned), Extra Space provides a geographically balanced portfolio with approximately 550,000 units and approximately 60 million square feet in 34 states and Washington, DC (as of March 31, 2011). The well-balanced REIT has grown its portfolio by acquiring, managing, and developing a strategic mix of high-quality facilities in or around the top 20 MSAs in the United States.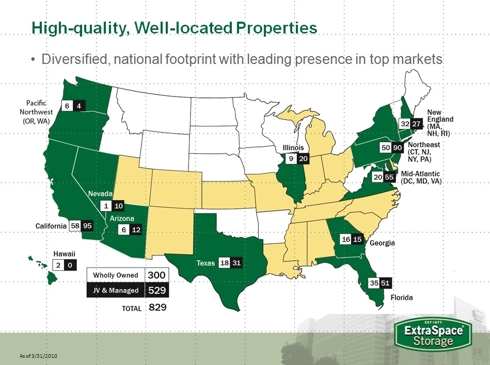 Because of its focus on core densely-populated growth markets, Extra Space has maintained a well-balanced and well respected revenue model. This well thought out acquisition platform has allowed Extra Space to achieve excellent market share and brand awareness while not cannibalizing (or compromising) its enviable revenue maximization strategies.
In addition, and compared with the company's sector peers, Extra Space has one the highest quality self-storage portfolios in the industry. With a portfolio average 3-mile population radius of 113,736 and a median household income (3-mile radius) of $65,659, Extra Space combines its strong operating efficiencies with its diversely scaled acquisition platform. Here is a comparison of the demographics for Extra Space and its peers: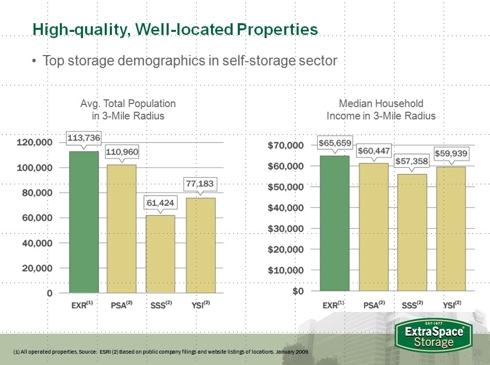 Quality Over Quantity
As noted above, Extra Space is the second largest self-storage REIT in the United States. As you can see, the total market capitalization for all four (4) publicly traded self-storage REITs are in excess of $24.2 billion with over 4,500 facilities:

With over 2,100 facilities in the U.S. and Europe, Public Storage (NYSE:PSA) is the largest publicly-traded self-storage REIT in the FTSE Equity REIT sector; however, performance should not always be measured by scale alone. Indeed size and critical mass are important to gaining economies of scale; however, there are more important metrics to consider. For example, in the first quarter of 2011, Extra Space clearly outperformed its peers in revenue and NOI growth.
Here is a chart illustrating first quarter data for the peer group: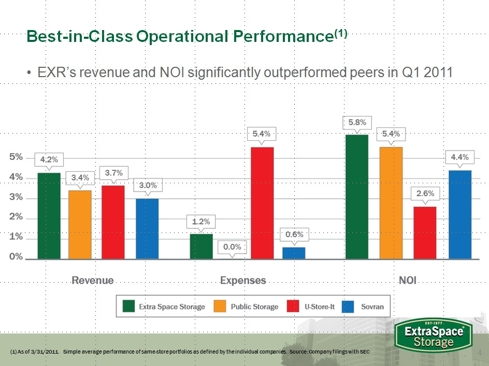 In addition, Extra Space has also led the same peer group in same store performance over the previous 21 quarters. This is a critical indicator since it demonstrates the durability of the company, which weathered the recession and also continues to outperform its peer group. In addition, the results are also indicative of the strong fundamentals and performance of the sector during and after the latest recession period. Here is a chart illustrating the company's leading operation performance over time: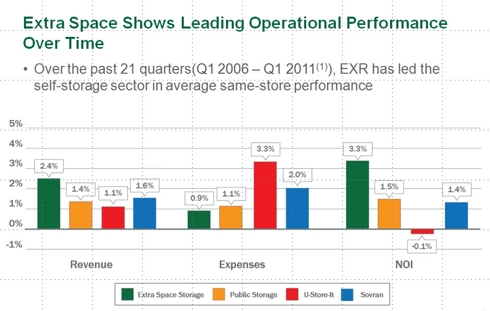 Other Strong Indicators
Clearly profitability is a function of demand and Extra Space has also been a leader in providing an innovative platform to its growing revenue pipeline. Rather than focusing solely on pricing, Extra Space has been focusing on revenue maximization. In that regard, the company has developed a highly efficient corporate operations platform where it provides cutting edge technology to enhance revenue management, marketing, and information technology initiatives.
As you can see by this illustration below, Extra Space has implemented its innovative technological platform to maintain occupancy levels and also increase its growing market share: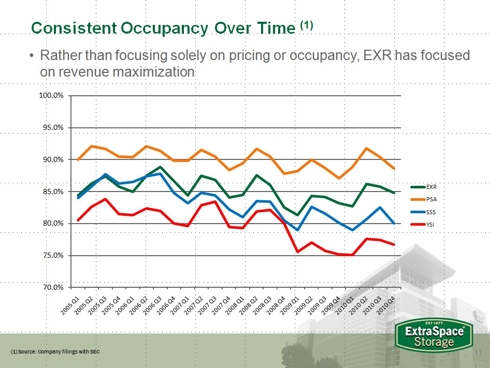 Furthermore, Extra Space has been a leader in building its technological revenue optimization strategies. By using very creative and innovative "real time" technology, Extra Space has been able to achieve occupancy levels that forecast maximum customer demand and provide valuable "real time" rate optimization levels. For example, Extra Space grew same-store occupancy by 290 basis points to 85.4% (as of Q1-2011), compared to 82.5%, during the same period in 2010.
Here is an illustration that provides optimization and occupancy comparisons for Extra Space and two (2) sector peers: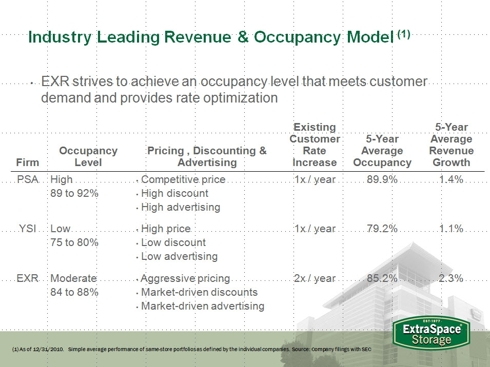 Latest Results
Spencer F. Kirk, Chairman and CEO of Extra Space Storage Inc., commented on the company's first quarter 2011 results:
We are encouraged by another solid quarter of performance as we exceeded our guidance estimates and forecast for same-store growth. Stable rental activity, combined with lower customer vacates, has given our same-store properties their highest seasonal occupancy level since 2008. Extra Space has a multifaceted growth platform for driving earnings growth through strong same-store performance, significant acquisition activities, a legacy development pipeline, an expanding third-party management business and a significant tenant insurance business. These components will combine to give us double-digit earnings growth in 2011.
In addition, here are some key highlights for the first quarter 2011 results: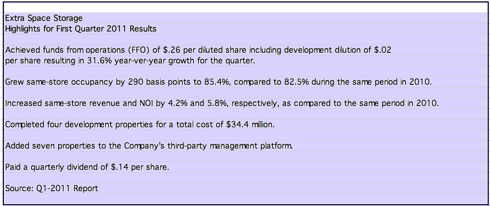 More Results
On May 24, 2011, Extra Space announced an over allotment of its common stock proceeds totaling 5,335,423 new shares (targeted to be 5,000,000 shares) for total net proceeds of $112.9 million. Citibank was the sole book runner and the company intends to utilize the new proceeds to fund potential acquisitions, to repay debt, and to fund general corporate expenses. Currently Extra Space has a robust acquisition pipeline with around $198.2 million of acquisitions pending or under contract.
Let Your Compass Be Your Guide
Although self-storage is a niche REIT sector (with a high degree of fragmentation), the revenue model is less sensitive to the volatile credit markets and declining property values that impact other sectors. The self-storage sector is relatively resilient with market downturns as many consumers tend to store keepsakes and valuables in good times and in bad. The older generation store things because they are frugal and they don't want to throw away anything that might still be of value. The younger generation stores things because they're wealthy and are able to buy more things than they can fit in their houses or apartments. Conversely, I don't see any significant tapering off in the demand for storage space.
When weathering economic storms, an anchor and a compass are important tools to have on your vessel. With over 34 years of operations experience, Extra Space Storage has proven to be a resilient anchor in the self-storage industry. With its growing pipeline of product, Extra Space should continue to provide its shareholders and investors with some impressive results. In addition, as the company gains scale and brand awareness, I expect that there will be continued efficiencies in marketing, management, and profitability. Combined, these initiatives should provide for hyper-growth opportunities with a multiplier effect on corporate earnings.
While charting your asset allocation strategies, I suggest you consider anchoring your real estate portfolio with a proven self-storage leader. Currently Extra Space common stock is trading at around $20.69 a share (at market close on June 27, 2011) with my one year target of around $24.00. The dividend is 2.7% and I expect the self-storage leader to continue to increase its revenues (and dividend) and to continue to outperform the sector and FTSE NAREIT Equity Index. Although dividends are modest at best, I expect the "best in class" REIT to deliver mid double-digit gains based upon an aggressive acquisition pipeline and an innovatively efficient management model.
Disclosure: I have no positions in any stocks mentioned, and no plans to initiate any positions within the next 72 hours.