Steel is generally not thought of as a sexy investment. Images of rivets, metal beams, and a pervasive gray color come to mind, but what it lacks in excitement, it more than makes up for in durability and efficiency. Ampco-Pittsburgh Co. (NYSE:AP), based in the heart of the eponymous "Steel City," is a company whose gritty determination exemplifies this idea by staying under the mainstream radar with minimal analyst coverage, yet has continued to dominate in its niche.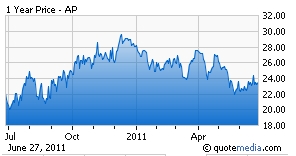 A market capitalization of 242 million makes AP seem like a small fish in a big tank until one takes a closer look. Its business of forged and cast rolls and liquid and air processing has a near corner on the market and is essential for steel producers. Being manufacturers of their own product allows them to ignore certain negative inventory affects such as obsolescence and solidifies their staying power.
AP has almost no direct competitors, the closest being the privately held Cardo AB and Connell Limited Partnership, and the publicly traded Roper Industries (NYSE:ROP). These companies only deal partially in forged rolls, offer little or no dividend, and do not have nearly the foreign market share that AP does.
The steel monger is forging its own path with absolutely no analyst coverage, and its small size and high beta of 2.18 makes it an apoplectic investment at times. Solid earnings reports and positive liquidity easily keep AP afloat during recessionary times, despite its volatility. Future growth is further backed with an increased demand for steel on an international level.
Arguably the best feature of AP is the high dividend, currently paying out over 3 percent. It has grown steadily over the years, never flinching in the face of economic hardship. In an environment of daily unknowns, income protection backed by a solid balance sheet is becoming a rare commodity.
Nearly half of Ampco-Pittsburgh's business is overseas so they're well hedged against foreign exchange risks. As the dollar sinks, AP will reap additional profits simply through the transfer of currency. As China and India, the fastest growing foreign markets, continue to expand their infrastructure, AP is well suited to provide the materials.
AP is a no-nonsense growth stock masquerading as a value play. AP's P/E ratio is well below the industry average and a conservative valuation based on dividend growth put the stock valued at about $30 a share today. A small company with high growth potential and the dividend payment to keep you interested for the long haul, assuming you're willing to ride out the harrowing ups and downs, will not keep them out of the analysts' sights for long. You can bet that once that happens, additional investors are going to be clamoring to buy into this top notch stock.
Disclosure: I have no positions in any stocks mentioned, and no plans to initiate any positions within the next 72 hours.