How 2014 performed with accordance to 2013 predictions
Dow Jones Industrial Average (DIA) almost reached an all-time high, 1800, on December 5th, 2014 before plunging back down. This raises questions in regards to where equity markets will go in 2015. Investment Strategist James Paulsen told CNBC he "now sees a flat or even a negative year in 2015." The U.S. has experienced immense market growth in recent years with 2014 continuing the trend. General consensus argues that the U.S. economy is improving, and new jobs are rapidly being created, thus the bullish market should continue. This raises a serious fundamental question; are equity markets already accounting for the positive economic reports or not?
I Know First is a financial services firm that utilizes an advanced algorithm based on artificial intelligence and machine learning to predict market performance for over 2,000 markets including stock forecasts, world indices, commodities, interest rates, ETFs, and currencies. The system follows the flow of money from one market into another.
This is the I Know First fundamental and algorithmic analysis of equity markets for fiscal year 2015.
Dow Jones Industrial Average is currently trailing behind; however, it is still up 4.5% since the beginning of the year; S&P 500 (SPY) is up 8.61% and NASDAQ (QQQ) is up 11.5%. This fits well with yearly forecasts from 2013, but how did the algorithm perform overall? Below are the algorithm's prediction published on November 27th, 2013 for the year 2014 in the article 2014 market forecast by I Know First.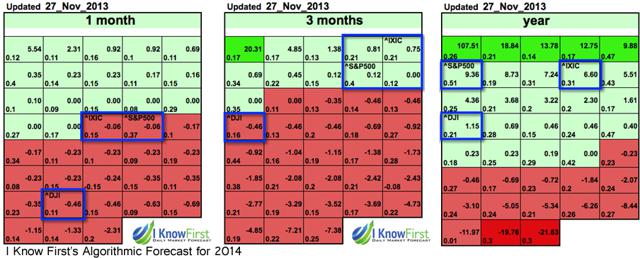 Figure 1: Original forecast table from the 2014 market forecast Seeking Alpha article I Know First released on Seeking Alpha back in 2013.
The charts above show the time horizons for the forecast, Index (top text), signal (middle number) and predictability (bottom number, this is a confidence level). A positive signal indicates a bullish market and a negative signal a bearish one.
1 Month Forecast Performance Review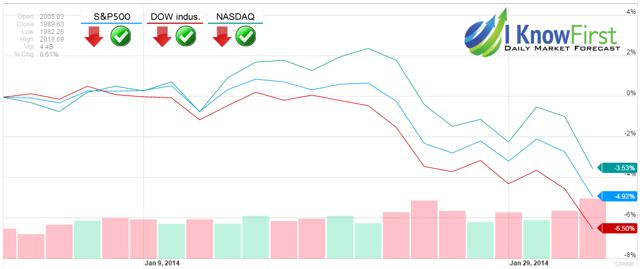 Figure 2: Performance review of the 1 month forecast from figure 1
As can be seen from figure 1, the algorithm forecast a bearish market for all three indexes for the 1 month time horizon. In accordance with the algorithm, the NASDAQ lost 3.53%, S&P 500 lost 4.92%, and Dow Jones lost 6.50%.
3 Months Forecast Performance Review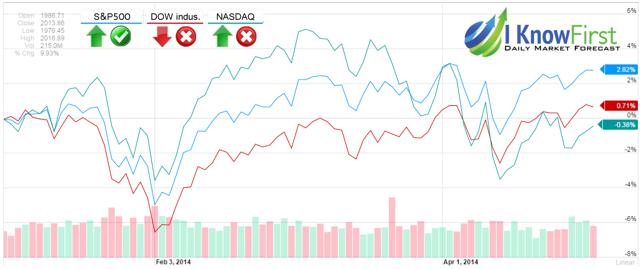 Figure 3: Performance review of the 3 months forecast from figure 1
As can be seen from figure 1, the algorithm forecast a bearish performance for the Dow Jones, and bullish performances for NASDAQ and S&P 500. Dow Jones gained 0.71% against the prediction, and NASDAQ lost 0.53% against the forecast direction; however, the S&P 500 performed well and in accordance with the algorithm increased by 2.82%.
1 Year Forecast Performance Review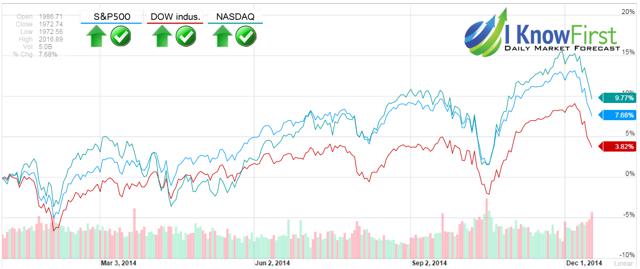 Figure 4: Performance review of the 1 year forecast from figure 1
As can be seen from figure 1, the algorithm forecast a bullish market for all three indexes. In accordance with the algorithm Dow Jones gained 3.82%, S&P 500 gained 7.68% and NASDAQ gained 9.77%.
Let us assume an investor divided his portfolio's risks according to time rather than variation of assets, if he were to use the 9 forecasts I Know First made for 2013 his return would be as follows.

Figure 5: Yields achieved by I Know First algorithm based on actual market returns and predictions from figure 1
This table is theoretical to demonstrate yields and not an actual recommended investment strategy. Most investors would however recognize that long term 1 year signals were much stronger, and thus focus their investments on the long term.
2015 Market Opportunities and Weaknesses
U.S. equities have significantly outperformed bonds for the last several years. However, declining growth rates in equity markets signal towards a shrinking return differential between the two markets. 10 Year Treasury Note interest rates have been declining since September, and are likely to go down farther as the economy strengthens.
Internet companies' "market debt to equity" ratio of 2.29% is currently the lowest of all sectors. Analysts recommend investing in technology and interned oriented services given the group's higher cash backbone; furthermore, they state that technology companies are best positioned to benefit from a pickup in global growth. The average beta (1.17) for internet companies positions them well to gain on any market growth in 2015, at a relatively low risk. Investors have many choices with software oriented companies such as cloud computing, social media, and communications companies. Supporting hardware technologies also presents many opportunities with phone manufacturing, semiconductors, and robotics, looking to make strong gains as well.
The crashing oil prices will change equity markets around. At the time of writing this article, Brent Crude reached $59.5, and according to OPEC they are "ready to let prices drop to $40 a barrel." Who are the big losers? 2015 will be a harsh year for oil companies (S&P 500 Energy is down 16.5% YTD) which are of course at the top of the losers list, followed by oil producing countries (Iran, Russia, Nigeria, Venezuela), and alternative energy companies which now face tougher competition. It is important to add that today, most of the U.S.'s electricity comes from burning natural gas and coal. Thus, renewable energy is not as strongly affected by declining oil prices as it once was. One notable loser is Tesla Motors (TSLA), which saw stock prices plummet along with oil prices.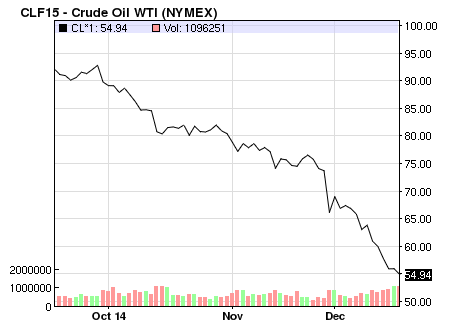 Figure 6: End of day Commodity Futures Price Quotes for Crude Oil. Source: NASDAQ
Who are the big winners? 2015 will see increased demand for gasoline vehicles, and the re-emergence of less fuel efficient vehicles such as trucks and SUV's. Transportation companies, especially airlines (lookout for a new airline ETF in 2015) are looking at a drastic reduction in costs. Japan, the U.S., and China are looking to benefit from the reduction of oil prices as their oil consumptions is the world's highest; however, the United States is at risk of losing many jobs created through fracking, which is currently struggling due to declining oil prices. Saudi Arabia is a winner as well; the huge oil reserves and savings the country holds will allow them to ride the oil crisis out through 2015 with a breeze, while they let high cost producers default, as they can't afford competing anymore.
What is particularly astonishing is the massive amounts of growth American banks have had, considering interest rates are at record lows. When interest rates go up Banks will further their gains; however, how far can they go? JPMorgan Chase & Co. (JPM) is up ~400%, Morgan Stanley (MS) is up ~400%, Bank of America Corporation's (BAC) is up ~450%, and Wells Fargo & Company (WFC) has seen its share price climb more than ~450% since early 2009. With the current trend and increasing interest rates banks could grow even farther.
What Analysts Expect in 2015
One of the major things to anticipate in 2015 is the Federal Reserve's first interest-rate hike since 2006. Analysts at Goldman Sachs (GS) expect the effective rate to reach 1% by 2016, with a more conservative outlook at 0.5%.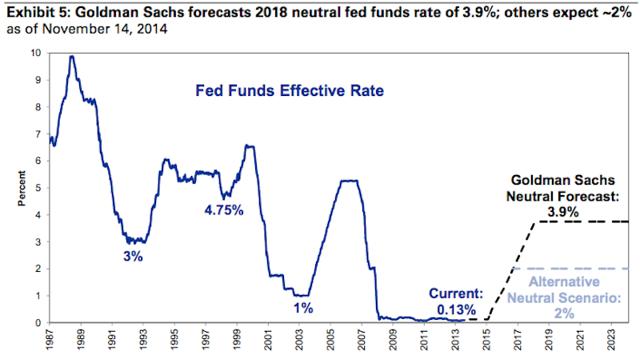 Figure 7: Goldman Sachs forecasts 2018 neutral fed funds rate of 3.9%; others expect 2% as of November 14, 2014. Source: Business Insider
Analysts also expect volatility to go up; investors should anticipate a bumpy road in the near months. After posting 49 record closes in 2014, the S&P 500 is no longer cheap. In fact one might argue it is a bit on the expensive side. The tech packed NASDAQ has been trying to reach back to its dot-com glory since 2000, and is now only 5% from doing so. About 40% of U.S. traded companies have a strong presence in Europe, which looks bad coming into 2015. Italy is back in recession, France is on the ropes, and Germany does not seem to be able to carry the burden anymore. Meanwhile unemployment and real estate seem to be heading in the right direction. While unemployment figures are still concerning, and real estate prices have stagnated, it seems the two will not make the situation worse in 2015.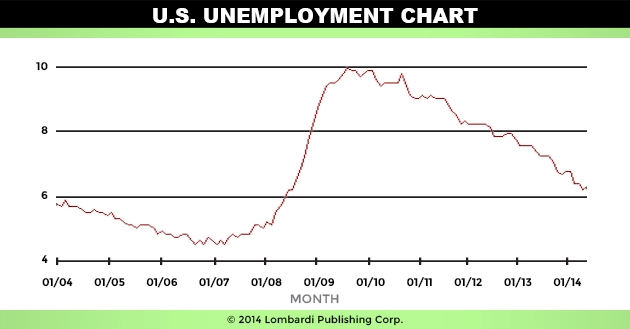 Figure 8: U.S. Unemployment
So what do other analysts say? The equity market is bullish, and is expected to grow between 4%-15%. Credit Suisse, Goldman Sachs, and Barclays seem to be in agreement at and expected S&P 500 growth of 4.3% from December 17th, 2014. Morgan Stanley and Oppenheimer are at the other end of the ball park with predicting an increase of 13% and 14.8% respectively. Below is the full chat. Deutsche Bank has set an S&P 500 target of 2150 anticipating a 6.8% growth, and Merrill Lynch is on the higher mid end with a target of 2200 (9.3%). Many other strategists and firms have made forecasts regarding 2015 equity markets.
What the I Know First Algorithm Predicts for 2015
I Know First is a financial services firm that utilizes an advanced self-learning algorithm to analyze, model and predict the stock market. The algorithm predicts the flow of money in almost 2000 markets across a range of time frames (e.g., 1-month, 3-months, 1-year). The algorithm's predictability becomes stronger in the 1-month, 3-months, and 1-year horizons, so it is particularly useful as a long investment tool, albeit that it can also be used for intraday trading. The top of the box is the asset, the middle number the signal, and lower number the predictability.
The signal represents the predicted movement direction or trend, and is not a percentage or specific target price. The signal strength indicates how much the current price deviates from what the system considers an equilibrium or "fair" price. The signal can have a positive (predicted increase) or negative (predicted decline) sign. The heat map is arranged according to the signal strength with strongest up signals at the top, while down signals are at the bottom. The table colors are indicative of the signal. Green corresponds to the positive signal and red indicates a negative signal. A deeper color means a stronger signal and a lighter color equals a weaker signal.
The predictability indicator measures the importance of the signal. The predictability is the historical correlation between the prediction and the actual market movement for that particular asset, which is recalculated daily. Theoretically the predictability ranges from minus one to plus one. The higher this number is the more predictable the particular asset is. If you compare predictability for different time ranges, you'll find that the longer time ranges have higher predictability. This means that longer-range signals are more important and tend to be more accurate.
The 2015 forecast for the 1 month, 3 months and 1 year horizons looks as follows: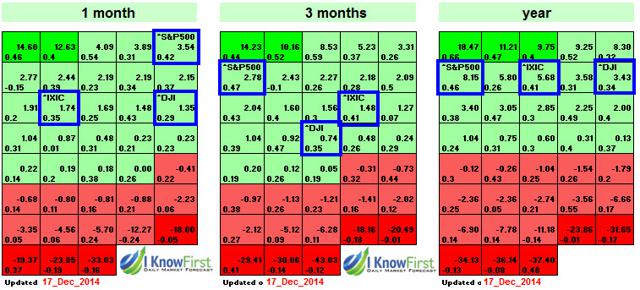 Figure 9: I Know First's U.S. stock market algorithmic forecast for 2015th 1, 3, and 12 months horizons released December 17th, 2014 before market opening.
Many changes are evident from last year's forecast. The first is the overall trend, which could be largely due to the recent correction in the indexes; however, for next year, the algorithm is bullish for all thee indexes on all three time horizons. Not only is the signal positive, but it is significantly higher than last years. As the time horizons increase the predictability and signal tend to become higher; however, last year's forecast had no signals above 1, and predictabilities around 0.14 for the 1 and 3 month time horizons. This year is easier to forecast (at least from an algorithmic perspective), with signals all exceeding 1 (except DJI 3 months) and predictabilities in the high 30's and low 40's, a very high confidence level. The S&P seems to be on track for the best performer of 2015 for all three time horizons according to the algorithm, analysts at Goldman Sachs seem to agree with this forecast. Goldman Sachs equity strategist David Kostin expects "U.S. stocks will deliver a modest total return of 5% in 2015, in line with profit growth…" with an S&P 500 price target of 2100. I Know First forecasts a positive year for U.S. equity markets in the short and long term.