President Vladimir Putin's confidence in the eventual rebound of the Russian economy did not do much for the ruble, as declining oil prices and business confidence continue to push the currency lower. The U.S. dollar has appreciated against the Russian ruble close to 85% since July, as is seen in the chart below.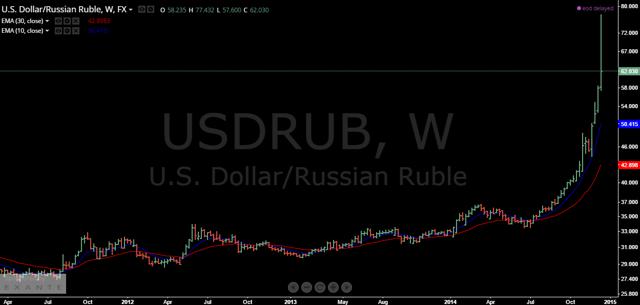 Data provided by Trading View
On Thursday, Putin attempted to calm the Russian people after a week of interest rate hikes and a large drop in the ruble. During a three-hour press conference, Putin reassured his viewers that economic issues were due to "external factors," as well as stating that Western powers were attempting to build a ""virtual Berlin Wall to contain Russia," according to reports by Reuters. Putin offered confidence, however, after assigning outside blame to his country's current problems.
"If the situation develops unfavorably, we will have to amend our plans. Beyond doubt, we will have to cut some [spending]. But a positive turn and emergence from the current situation are inevitable," Putin said in a Reuters report.
Meanwhile, the Kremlin leader also discussed plans on Russia diversifying its economy away from only oil production in the future.
"The former KGB spy said Russia must diversify its economy to reduce dependence on oil, its major export and a key source of state income, but he gave no details and has said many times during 15 years in power that he will do this," according to a report by Reuters.
Similarly, earlier in the week, the Central Bank of Russia increased its benchmark interest rate in order to defend the ruble against currency speculators driving down its value. The central bank hiked rate by 650 basis points to 17%, its largest rate increase since its 1998 default, "aimed at limiting ruble depreciation and inflation risks," according to Trading Economics. The rate increase in December also marks the sixth rate hike this year, as is seen in the chart below.
"The Central Bank of Russia has spent more than $80 billion from its reserves this year in an attempt to stop a selloff of the ruble," Reuters reports.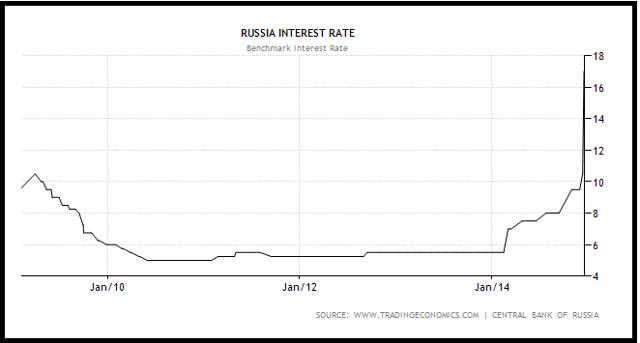 Data provided by Trading Economics
The sharp decline in the price of oil this year has weighed on export revenue for Russia. Brent Crude oil has fallen nearly 50% since July, as is seen in the chart below. With Russia producing over 10 million barrels of oil per day, comprising a large percentage of economic activity, the fall in energy prices has devastated state revenue.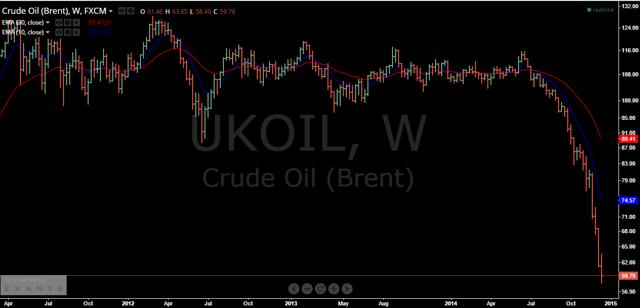 Data provided by Trading View
Alongside falling oil, and sanctions by the West, business confidence in the country has fallen. The business confidence figure declined to -8.00 in December, down from -6.00 the previous month. The composition of the business confidence index is based on "management reports of around 4000 companies representing major industries - subsurface resource extraction, processing and electricity, gas and water production and distribution," according to Trading Economics. Over the last three years, the indicator has fallen from positive readings, to now ones strongly in negative territory.
While Putin hopes to instill confidence in his people, there are a multitude of reasons why the Russian economy will continue to contract. Falling oil prices and sanctions from the West are weighing on foreign investment and business confidence in Russia. Similarly, a strong defense from Russia's central bank has done little to deter currency speculators. As economic activity in the region continues to decline, expect the ruble to fall against its foreign peers.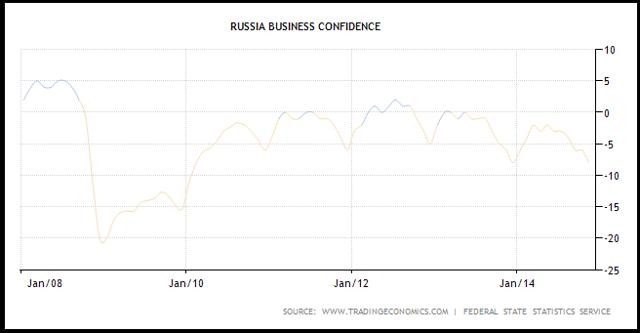 Data provided by Trading Economics
Disclosure: The author has no positions in any stocks mentioned, and no plans to initiate any positions within the next 72 hours.
The author wrote this article themselves, and it expresses their own opinions. The author is not receiving compensation for it (other than from Seeking Alpha). The author has no business relationship with any company whose stock is mentioned in this article.