I know you may be tired of hearing me say that there are some great stocks at bargain prices, but I really think there are. Recently Steve Forbes was interviewed and made the statement: "Now is the time to buy stocks and get into the market." I think he's right.
I used Barchart to screen for stocks with double digit earnings growth projections and came across an old and popular favorite: General Electric (NYSE:GE). The stock, like the rest of the market, has been beaten down lately, but when investors decide that the market has bottomed, this is a stock that should soar like an eagle.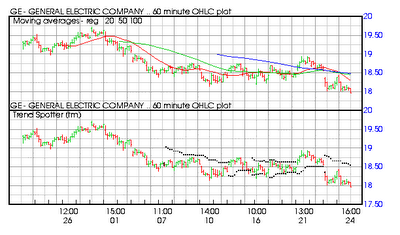 General Electric (GE) is one of the largest and most diversified industrial corporations in the world. GE is engaged in developing, manufacturing and marketing a wide variety of products for the generation, transmission, distribution, control and utilization of electricity. Some of GE's products include major appliances; lighting products; industrial automation products; medical diagnostic imaging equipment; motors; electrical distribution and control equipment; locomotives; power generation and delivery products. I'm looking for some real earnings growth not only from the GE Capital division but from new sales in the gas turbine and wind power units.
Factors to Consider
Barchart technical indicators:
Barcharts indicators are short term technical price momentum indicators. The stock is presently still going down.
96% Barchart technical sell signal.
Trend Spotter sell signal.
Below its 20, 50 and 100 day moving averages.
6 new lows and down 5.16% in the last month.
15.75% off its 6 month high.
Relative Strength Index is 34.66% and still falling.
Trades around 18.10 which is below its 50 day moving average of 19.29.
Fundamental factors:
The stock is a member of the Dow 30 and a Wall Street brokerage core growth stock.
Brokerage analysts have issued 4 strong buy, 8 buy and 5 hold recommendations on the stock.
The economy is down and so are the sales projections, with a decrease of 3.20% this year but a recovery of 2.90% next year.
Earnings are expected to improve as the company right sizes its operations to effect an earnings increase of 19.10% this year followed by another 21.20% next year. These earnings growths are supposed to continue at an annual rate of 14.52% for the next 5 years.
General investor sentiment:
It's hard to find a more popular holding. Motley Fool, with 19,208 readers expressing a 94% positive view on this stock.
CAPS members vote 14,946 to 1,033 that the stock will beat the market.
The more experienced All Stars agree with a 3,100 to 129 vote for the same result.
Summary: General Electric (GE) is so big and diversified that its almost like buying an industrial index fund. Short term sales projections almost mirror the GDP index projections but earnings growth projections imply that analysts consider the company the cream of the crop. With the 2.80% dividend and earning estimates, the total return on this stock could be between 20% - 22% annually for the next 5 years. I think that if you have it, you shouldn't sell; if you'd like to buy, place a buy stop at the trailing 20 day moving average and hope to buy a bargain.
Disclosure: I have no positions in any stocks mentioned, and no plans to initiate any positions within the next 72 hours.