As bad as the price has performed over the past 2 years, it's been even worse for gold's sidekick silver. Typically, as the price of gold rises, silver will outperform. But when gold falls in price as it has been doing, silver underperforms.
Currently, the price of silver sits just under $16 an ounce, and silver mining companies (NYSEARCA:SIL) are pulling silver out of the ground at an average all-in sustaining cost that's just around this figure, which means many mines are unprofitable at today's prices. This is one reason why the silver miners have slightly underperformed the physical metal this year, as you'll see in the chart below, with the SLV representing physical silver, and the SIL representing the mining companies.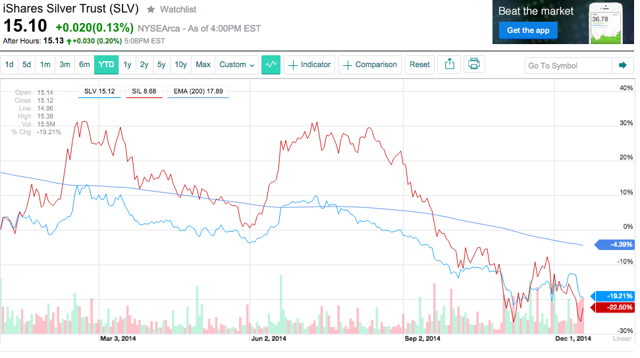 (Credit: Yahoo Finance)
However, it's quite possible that the worst days for gold and silver are behind us, or that we're at least very close to the final bottom. One possible sign is the fact that we've gone below the all-in sustaining cost of producing an ounce of silver, which stands at $18.11 for 2014, according to estimates by BMO Capital Markets.
Another sign is an increase in physical demand as the price has fallen - sales of silver eagle coins have actually set a record in 2014, with the U.S. mint temporarily selling out of silver eagles amid huge demand in November. The mint has sold 43.3 million silver eagle coins, higher than last year's previous record of 42.6 million, according to FXStreet.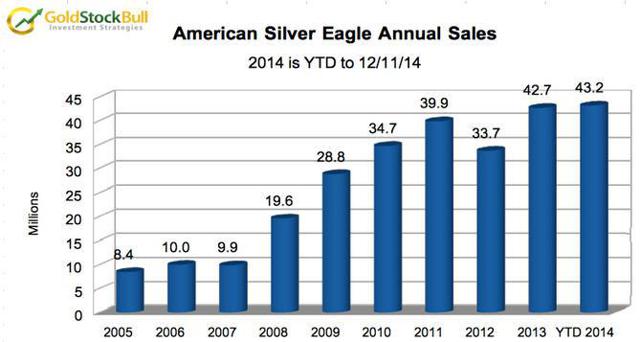 (Credit: GoldStockBull)
For silver miners, times have been tough, to say the least. But the worst could be over. With the price of oil down at $55 per barrel, a lot of these miners stand to benefit from cheaper diesel fuel prices, which could lead to lower all-in sustaining costs in 2015.
2015 could still very well be another painful year for silver, and my prediction of higher prices could be a bit early. For this reason, I recommend picking silver stocks that have solid balance sheets and lower than average cash costs - these companies are the ones that will survive, should silver stay at these prices or fall even lower. I also recommend dollar cost averaging your positions in silver stocks, instead of going all-in at once, trying to time a bottom.
Here are my top five silver picks for 2015.
#5 First Majestic Silver (NYSE:AG)
Recent Stock Price: $4.65
Shares Outstanding: 117.5 million
Market Cap: $546.27 million
Enterprise Value: $594.44 million
Cash Balance: $37.52 million
Total Debt: $97.4 million
EV/EBITDA: 8.66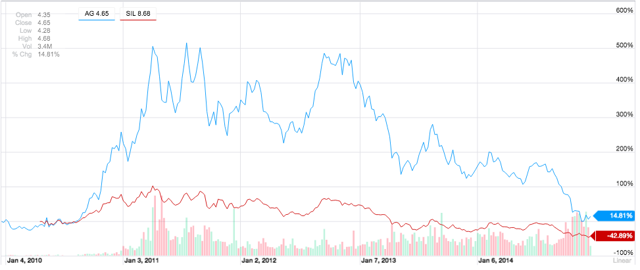 (Credit: Yahoo! Finance)
First Majestic has a five-year track record of outperforming the silver miners index. The company owns and operates five producing silver mines in Mexico: La Parrilla, San Martin, La Encantada, La Guitarra, and the Del Toro Silver mines. Production from these mines should equal between 14.6 to 14.9 million silver equivalent ounces in 2014. The company is a pure silver producer, with 79% of its production in 2014 coming from silver.
I like First Majestic primarily because of the company's track record and growth prospects. First Majestic was once a tiny company, with a stock price as low as $.70 in 2008 and a market cap under $50 million. Today, it produces 14+ million ounces of silver a year and holds the potential to reach 20+ million ounces of production annually from its development projects.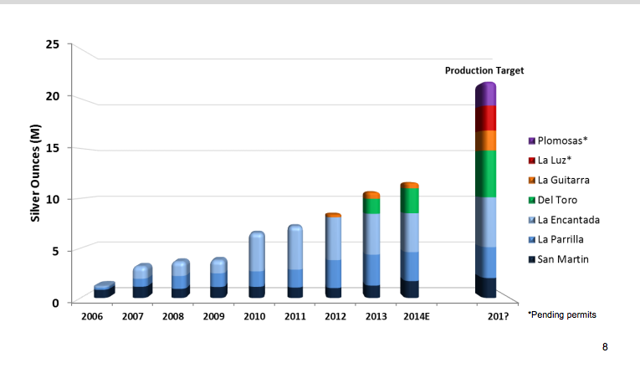 (Credit: First Majestic corporate presentation)
First Majestic's financial performance has been somewhat better than most other miners this year. For the third quarter, operating cash flow came in at $9 million, which was $10 million less than the previous quarter and a huge $28 million drop from Q3 2013.
However, the company withheld 934,000 ounces of silver from the market, so this would have brought in another $15+ million, and these gains should be realized once the silver is sold in the coming quarter. All-in sustaining costs came in a little higher than I expected, at $19.89 per ounce, but the company expects to reduce costs at its Del Toro mine by 15% to 20% following the connection of the new power line. Year-to-date, all-in costs have averaged $18.90, which isn't bad at all, but could come down further in 2015 with lower fuel costs, as I mentioned earlier.
First Majestic also looks attractively priced here based on its 2015 estimated P/CF and EV/EBITDA. According to the company, it expects a 5.2 P/CF and a 5.8 EV/EBITDA for 2015, which is lower than peers Pan American Silver (NASDAQ:PAAS), Hecla Mining (NYSE:HL), Couer (NYSE:CDE) and Tahoe Resource (NYSE:TAHO).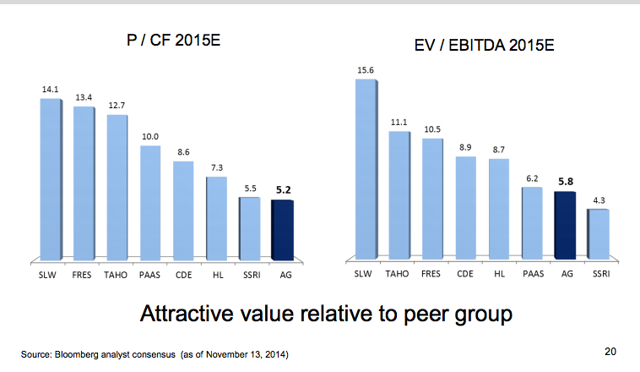 (Credit: First Majestic corporate presentation)
In addition, the CEO has a large stake in the company as he owns 3.3 million shares, according to the company presentation.
The bottom line is when silver eventually does recover, First Majestic will likely outperform its peers by a wide margin. I think the stock is a compelling pick for 2015 as a result.
#4 SilverCrest Mines (NYSEMKT:SVLC)
Recent Stock Price: $1.22
Shares Outstanding: 118.75 million
Market Cap: $144.87 million
Enterprise Value: $135.24 million
Cash Balance: $37.7 million
Total Debt: $15 million
EV/EBITDA: 9.05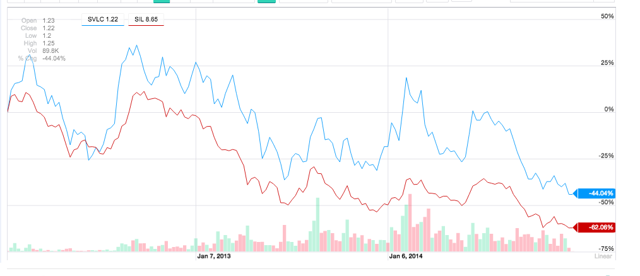 (Credit: Yahoo! Finance)
SilverCrest Mines takes the fourth spot on this list. The company owns a 100% interest in the Santa Elena gold-silver mine in Mexico. It's a high grade mine with an estimated life of mine of 8 years and average operating cash costs of $11 per silver ounce, with 3 million ounces of silver equivalent production per year.
There are a few reasons why I like SilverCrest heading into 2015. First and foremost, the company can withstand lower silver prices. Last quarter, SilverCrest reported all-in sustaining costs per silver ounce of $14.99 on production of 810,334 ounces, which I thought was a pretty decent quarter.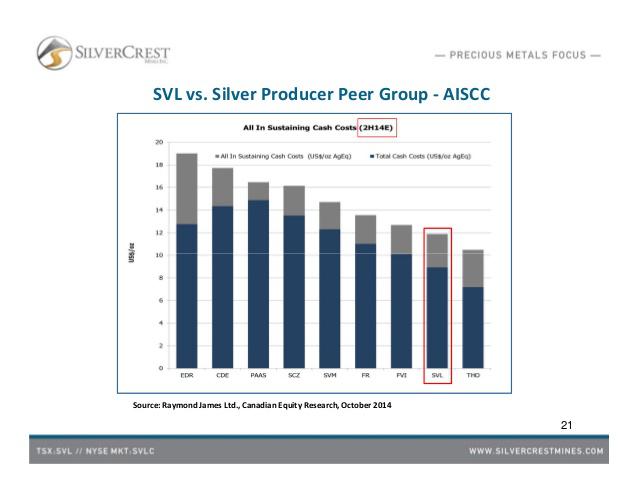 (Credit: SilverCrest corporate presentation)
Next, SilverCrest is growing its low-cost production with an expansion plan, and is expected to increase production from 3 million ounces of silver equivalent this year to approximately 3.5 million ounces next year.
SilverCrest has a solid balance sheet, especially for a junior miner. The company has $37.7 million in cash and working capital of $45.1 million as of Sept. 30, 2014. Its debt load is fairly low at $15 million, so I think solvency risk is quite low.
With low all-in sustaining costs, a solid balance sheet and production growth expected in 2015, SilverCrest looks like a fairly good outperform pick headed into next year.
#3 Avino Silver (NYSEMKT:ASM)
Recent Stock Price: $1.25
Shares Outstanding: 118.75 million
Market Cap: $44.09
Enterprise Value: $40.65 million
Cash Balance: $7.71 million
Total Debt: $2.51 million
EV/EBITDA: 8.79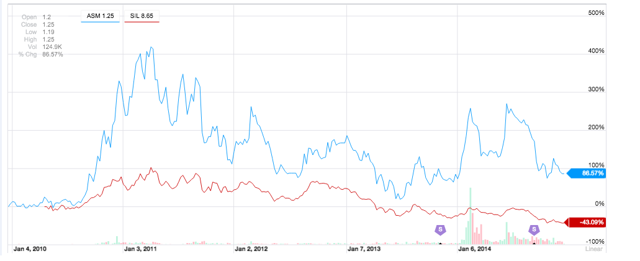 (Credit: Yahoo! Finance)
Avino Silver is a junior silver miner that holds two producing precious metals projects, including the Avino mine in the Durango region of North Central Mexico which is its core asset.
The company has reported impressive silver equivalent production growth since 2012, with quarterly production reaching 298,381 ounces this past quarter, a near 100% increase from Q4 2012. Production in 2013 came in at 895,240 ounces, a 253% increase from 2012's total of 253,450 ounces.
Avino is attractive because the company is one of the lowest-cost primary silver miners on the market, mainly due to its high-grade silver resource base. The company produced silver at an all-in sustaining cost per silver ounce of $13.01 in Q3 2014, which resulted in mine operating income of $1.7 million and EPS of $.02. So I think the company should remain profitable in 2015, even with silver at $16 per ounce.
Things should get even better, however, when the company re-starts production at the Avino mine, which produced 16 million ounces of silver, 96,000 ounces of gold and 24 million lbs. of copper between 1874 and 2001, before lower metals prices forced the mine to shut down. Once in full production, this mine could add at least 1.5 million silver equivalent ounces to Avino's yearly production, since the company says the mine output should be comparable with the years leading up to the shut down in 2001.
With $7.7 million in cash and $2.51 million in debt, Avino's balance sheet is pretty strong for a company its size. With low operating costs, solid working capital, and production growth coming in 2015, I think the stock should continue to outperform its peers.
#2 Silver Wheaton (SLW)
Recent Stock Price: $20.29
Shares Outstanding: 364 million
Market Cap: $7.39 billion
Enterprise Value: $8.35 billion
Cash Balance: $233 million
Total Debt: $998 million
EV/EBITDA: 18.1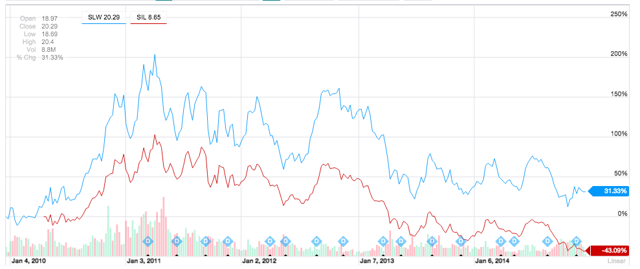 (Credit: Yahoo! Finance)
Silver Wheaton is the only non-silver mining company on this list. It is the world's largest precious metals streaming company, which means it doesn't actually mine silver. Instead, the company will purchase, in exchange for an upfront payment, a percent of the silver or gold production of a mine. Currently, the company gets 75% of its revenue from the sale of silver and 25% from gold.
The nature of the streaming business allows Silver Wheaton to enter into contracts where it typically will only pay between $4 to $6 per silver ounce and $400 per gold ounce. This results in outstanding operating margins and free cash flow generation.
For 2014, cash operating costs are expected to finish at just $4.15 per ounce, so at a $16 silver price, the company will still report margins of $12.15 per ounce. For the quarter ended Sept. 30, 2014, the company reported cash flow from operations of $120.3 million, despite the silver price averaging $18.98 during this time period. So even at $16 silver, I would expect at least $80-$90 million in quarterly cash flow from Silver Wheaton.
The business model also allows the company to purchase a number of attractive assets across the world, giving it a high quality, diverse asset base, instead of owning and operating just two or three different silver mines. This makes it a lower risk company, and one that is specifically designed to create value for shareholders.
With an investment in Silver Wheaton, you are getting exposure to a diverse asset base made up of 18 operating mines, located in Canada, the U.S., South America and Europe, plus five high-potential development projects. For 2014, production is expected to finish at 36 million silver equivalent ounces, growing to approximately 48 million ounces by 2018 - a forecasted production growth rate of 35%.
For 2015, investors can expect solid financial results from Silver Wheaton since its cash costs will likely remain $4.15 per silver ounce. In addition, the stock pays a dividend that currently yields 1.1% and is based on the previous four quarters' operating cash flow, so you can sit back and collect that dividend or re-invest it in shares while you wait for higher silver prices.
Silver Wheaton's balance sheet isn't the strongest, as it has close to $1 billion in debt compared to $230 million cash. However, the company also has a $1 billion non-revolving credit facility and projects strong operating cash flow, so it does have at least $1 billion in available capacity to complete more deals. And with $80-$90 million in quarterly cash flow, I don't think the debt load is a concern at all as it has more than enough money coming in to service the debt, pay its dividend, and complete acquisitions to grow the business.
I think Silver Wheaton will remain one of the best performing silver stocks because of its high quality asset base and strong business model, and the stock is well deserving of the second spot on this list.
#1 Fortuna Silver Mines (NYSE:FSM)
Recent Stock Price: $4.28
Shares Outstanding: 118.75 million
Market Cap: $545.63 million
Enterprise Value: $489.94 million
Cash Balance: $72.29 million
Total Debt: $0
EV/EBITDA: 7.7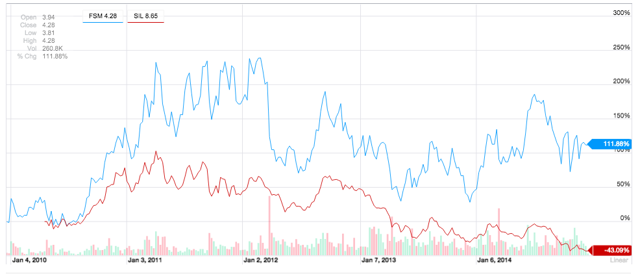 (Credit: Yahoo! Finance)
Fortuna Silver Mines earns the number one spot on this list for a few reasons.
First, the company's all-in sustaining cost has averaged $15.12 per silver ounce this year, which means it is a profitable company at current silver prices. We saw this in the last quarter, as Fortuna produced cash flow per share of $.14 or $51.4 million, and adjusted earnings per share of $.06.
Next, the company has arguably the strongest balance sheet in the entire silver sector, with $72.29 million in cash, zero debt, and a $40 million untapped credit facility.
Just as impressive has been Fortuna's growth in production over the past 7 years. Since 2007, production has grown at a compound annual growth rate of 58%, with production rising from 600,00 silver equivalent ounces in 2007 to 5.8 million this year.
The story gets even better, as the company's low-cost San Jose mine will expand to 3,000 tonnes per day, a decision that was just announced on Dec 17. Currently, the mine produced 4 million silver ounces and 30,000 gold ounces annually; this expansion is expected to increase its annual production rate to 6.7 - 8.3 million silver ounces and 52,000 to 56,700 ounces of gold.
The mill expansion and construction of a dry stack tailing deposit and filter facility will cost the company just $30 million, a very reasonable amount of money that will allow the company to basically double its production at the mine, while also potentially lowering all-in costs.
With a rock-solid balance sheet and growing low-cost silver production, Fortuna absolutely deserves the number one spot on this list in my view.
Disclosure: The author is long SLW.
The author wrote this article themselves, and it expresses their own opinions. The author is not receiving compensation for it (other than from Seeking Alpha). The author has no business relationship with any company whose stock is mentioned in this article.
Additional disclosure: I may purchase shares in Fortuna and Avino within the next 72 hours.
Editor's Note: This article covers one or more stocks trading at less than $1 per share and/or with less than a $100 million market cap. Please be aware of the risks associated with these stocks.