Friday morning, BlackBerry (BBRY) held its Fiscal 2015 Q3 conference call and earnings release. Although BlackBerry has not (as of this writing) posted their results either to their U.S. or Canadian sites, I was able to download an abbreviated copy of their financial results from the Canadian SEDAR site. BlackBerry's y/y revenue decline of 33% serves to confirm the ongoing collapse of the BlackBerry ecosystem.
Turnaround Fantasy
Listening to BlackBerry's conference calls has become increasingly painful. CEO John Chen gives me the impression of a drowning man, flailing in increasing desperation, yet unable or unwilling to cry for help. The story of BlackBerry's supposed turnaround is always the same, but becomes increasingly ludicrous over time: BlackBerry has new products and services in the pipeline that will turn the company's fortunes around. BlackBerry's enterprise customers will buy BlackBerry's hardware and services, even if consumers will not.
BlackBerry's results completely belie this fantasy of BlackBerry's resurrection. First, let's look at the trend in BlackBerry's total revenue. Even as Chen has done a good job of cost cutting, revenue continues to decline: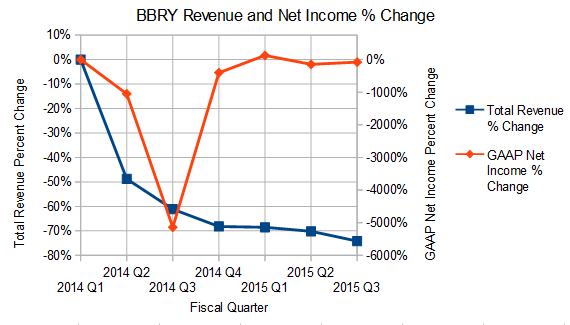 The continuing decline in revenue is now driven by a decline in Service revenue: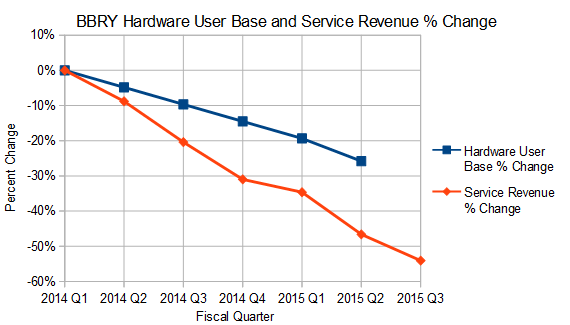 The Service revenue decline completely undermines a key tenet of the BlackBerry faithful - that enterprise customers will drive BlackBerry's turnaround. The decline in service revenue says that enterprise customers are turning away from BlackBerry. Chen's rationalization is that BlackBerry just needs to figure out how to better monetize its services. The decline in revenue is indicative of the value the enterprise market attaches to BlackBerry's services. Any attempt to improve monetization of BlackBerry services, such as the free BBM app, will only discourage their use.
Also telling is the fact that BlackBerry declined to update its subscriber base number, which has been progressively declining for more than a year. As of Fiscal 2015 Q2, BlackBerry's user base had declined to 46 million, according to page 3 of the Management's Discussion section of BlackBerry's fiscal Q2 Financial Information. This represents a steep decline from the 77 million user base BlackBerry reported in the fiscal 2012 Q4 Financial Information on page 4 of the Management's Discussion section.
Kantar Update
I recently wrote an article where I attempted to employ Kantar Worldpanel's market share data, as of October, to project revenue recognized hardware sales for BlackBerry for fiscal Q3. It didn't work very well. I had projected revenue recognized hardware sales of about 1 million units, whereas BlackBerry reported 2 million. Hardware revenue and total revenue projections were also way off.
But BlackBerry did suffer a y/y total revenue decline of 33% and a hardware revenue decline of 23%. After thinking about it, I realized that Kantar's data is better correlated to the hardware sell-through that BlackBerry also reports every quarter, along with revenue recognized hardware sales. BlackBerry's revenue recognition lags sell-through by some undisclosed period, whereas sell through is better phased with Kantar's data.
I decided to adjust my approach to the Kantar data to only project hardware sell-through, and this turned out to work fairly well, as the table below shows.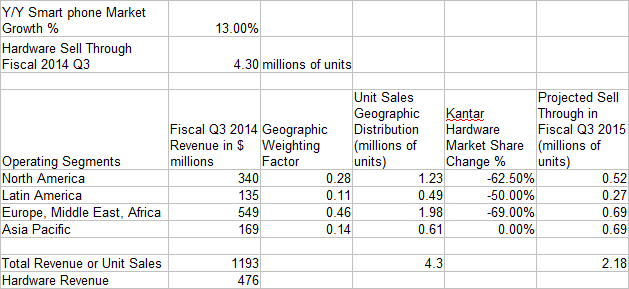 Here, I use last year's geographic breakdown of total revenue to provide a rough geographic weighting function of Kantar's data. Because sell-through leads revenue recognition by some period, the y/y decline in sell-through units of 32% (1.9 million units vs. 4.3 million last year) probably indicates that succeeding quarters will show a significant decline in Hardware revenue. The correlation between projected sell-through (2.18) and the actual sell-through (1.9) isn't perfect, but it is conservative.
Appealing Fantasy
Turnaround stories are always appealing to investors, since they represent an opportunity to realize very high returns if the turnaround comes to pass. Assessing the associated risk is difficult, since there's a lot of noise in the media, fueled by a combination of greed and wishful thinking.
My approach to such companies is very hardnosed and merciless. The reality is that there's barely room for three mobile device players, Apple (NASDAQ:AAPL), Google (NASDAQ:GOOG) (NASDAQ:GOOGL) and Microsoft (NASDAQ:MSFT), if that. There isn't room for a fourth. BlackBerry's results, when viewed objectively, confirm this.
I continue to view BlackBerry as a short opportunity because the market's view of the stock hasn't caught up with reality. Short interest has been trending down over the past year, but I doubt that trend will continue.
Disclosure: The author is long AAPL.
The author wrote this article themselves, and it expresses their own opinions. The author is not receiving compensation for it (other than from Seeking Alpha). The author has no business relationship with any company whose stock is mentioned in this article.