Our previous article profiled and analyzed the rewards and risks of the high yield bond closed-end fund sector as a whole in the wake of recent price volatility.
This article will dig deeper into specific recommendations of especially attractive high yield bond CEFs for income-seeking investors to consider.
Universe of Included Funds
The Convergence investing universe consists of more than 475 closed-end funds across all available equity and bond sectors, after filtering for funds that we consider not investable for a variety of reasons. The high yield bond fund segment consists of the following 27 closed-end funds:
Apollo Tactical Income Fund, Inc. (NYSE:AIF)
AllianceBernstein Global High Income Fund (NYSE:AWF)
Babson Capital Global Short Duration High Yield Fund (NYSE:BGH)
Credit Suisse Asset Management Income Fund (NYSEMKT:CIK)
Dreyfus High Yield Strategies Fund (NYSE:DHF)
DWS High Income Opportunities Fund (NYSE:DHG)
BlackRock Debt Strategy Fund (NYSE:DSU)
Wells Fargo Advantage Income Opportunities Fund (NYSEMKT:EAD)
First Trust Strategic High Income Fund II (NYSE:FHY)
First Trust High Income Long/Short Fund (NYSE:FSD)
Prudential Global Short Duration High Yield Fund, Inc. (NYSE:GHY)
Brookfield High Income Fund Inc (HHY)
Western Asset High Income Opportunity Fund (NYSE:HIO)
Western Asset High Income Fund II (NYSE:HIX)
Pioneer Diversified High Income Trust (NYSEMKT:HNW)
Managed High Yield Plus Fund (NYSE:HYF)
Western Asset High Yield Defined Opportunity Fund (NYSE:HYI)
BlackRock Corporate High Yield Fund, Inc (NYSE:HYT)
Prudential Short Duration High Yield Fund (NYSE:ISD)
Ivy High Income Opportunities Fund (NYSE:IVH)
DWS High Income Trust (NYSE:KHI)
KKR Income Opportunities Fund (NYSE:KIO)
Western Asset Managed High Income Portfolio (NYSE:MHY)
Neuberger Berman High Yield Strategies Fund (NYSEMKT:NHS)
Putnam High Income Securities Fund (NYSE:PCF)
Pioneer High Income Trust (NYSE:PHT)
Invesco High Income Trust II (NYSE:VLT)
Evaluating Investment in High Yield Bond Funds
There are many qualitative and quantitative factors that prospective investors can consider when evaluating a closed-end fund. Convergence Investments summarizes these many factors into six dimensions useful for comparing and choosing investments:
Distribution Yield - How much - and what type(s) - of distribution (aka "yield") does the fund offer? How likely is it that the fund can maintain or increase this distribution in future?
NAV Performance - How has a sector's or individual fund's NAV changed in the recent past? What is the outlook for future NAV trends?
Valuation - Where is the current market price relative to current NAV for a fund or sector? How does this premium (or discount) to NAV compare to the past and to other fund categories?
Risk - What level and type of risk is an investor bearing to earn distributions and potential capital gains?
Stewardship - Does a fund have strong management? Are its management fees reasonable? Does the board have shareholder-friendly policies in place?
Tradeability - How readily can we take a position (long or short) in a particular fund? What are the liquidity (market cap, average daily volume) and trading costs (average spreads, short borrow fees) involved?
Distribution Yield
Hefty distribution yields are among the top motivators for closed-end fund investors. While there are many nuances to fund distributions, including how they're generated and how sustainable they appear to be, the top-line yield number drives much of the sentiment and investor behavior.
Generally, funds within the segment offer an NAV yield of between 6.3 and 9.3%. However, investors seeking superior yield within this sector may give special consideration to PHT or HNW, both of which boast distribution yields of greater than 11% of NAV.
Note that numbers quoted here are calculated as a percentage of NAV rather than market price to provide a more accurate measure of the income generated from portfolio assets. Investors holding closed-end funds at a discount to NAV will earn yields greater than the NAV yields. For instance, a fund trading at a 10% discount will have a price yield of 10/9ths or 1.11x the NAV yield.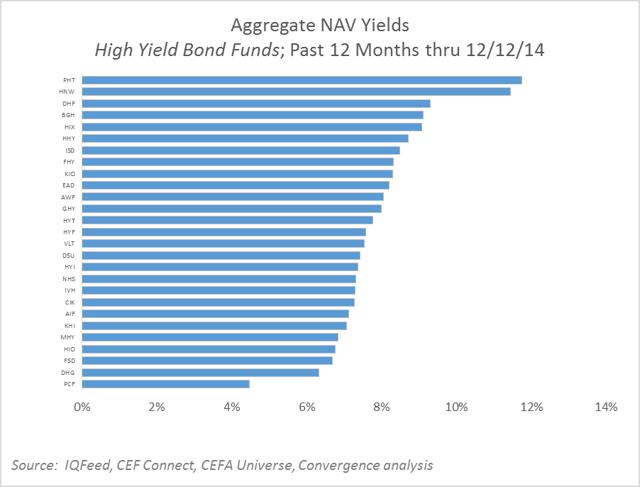 NAV Performance
Investors disagree about how to interpret recent increases in net asset value. Momentum-oriented investors may see this as a trend likely to continue while mean reversion investors may see exactly the opposite.
Convergence generally views recent increases in NAV as a positive factor at both the sector and fund level because we believe that sentiment-driven fund flows tend to play out over months & quarters, not days & weeks. We also view increasing NAV as an indicator of manager skill and of protection against cuts to a fund's distribution.
High yield bond funds have undoubtedly fallen out of favor in the past 12 months and especially in the past few weeks (see Part I for a clear illustration of this trend). Certain funds, including PHT, FHY, BGH, IVH and HHY, have fallen more than 10% in the past year and should be approached with caution due to risk of future cuts to the dividend.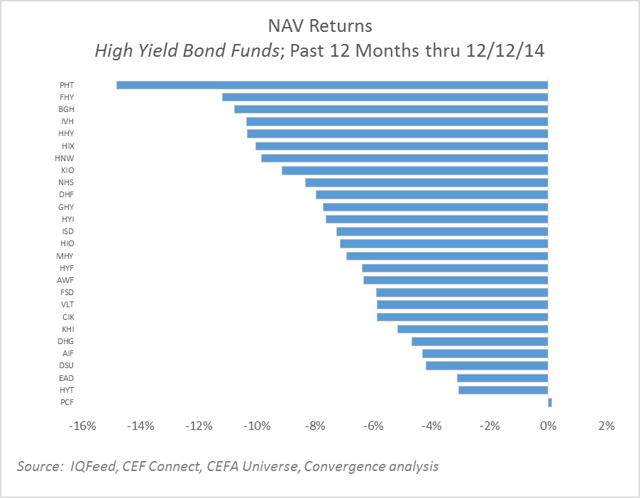 Valuation
A major reason to invest in closed-end funds rather than ETFs or traditional mutual funds is the possibility for informed investors to take advantage of the disconnect between fund price and fund NAV, often referred to as the fund's premium or discount. We seek to purchase funds at sizeable discounts, and ideally at discounts beyond that which is normal relative to history and/or relative to a fund's peers in category.
Purchasing at a discount offers two attractions. First, purchasing at a discount enhances yields since an investor can own the rights to the income generated from a hypothetical $10 of net assets with only $9 of investment. Second, for investors willing to actively manage their holdings, funds purchased at particularly wide discounts can be sold at narrower discounts - or even premiums - for capital gains that enhance the total returns from a fund.
Note: Convergence follows the convention of representing all premiums (price > NAV) as a positive number and all discounts (price < NAV) as a negative value.
Among the funds in this sector CIK, HYT and DSU currently have double digit discounts, while PHT is trading at a premium. The funds with a premium potentially are being rewarded for the trend in their NAV performance, low leverage or a high yield.
(Issue: this chart that covers 12 months certainly deviates from current market conditions. Seems to me, that the conditions as of the most recent market, are what the potential investor finds of interest. It could be confusing when compared to my comment above.
In trying to drill down on PHT, I can find no reason for the premium to be so high.)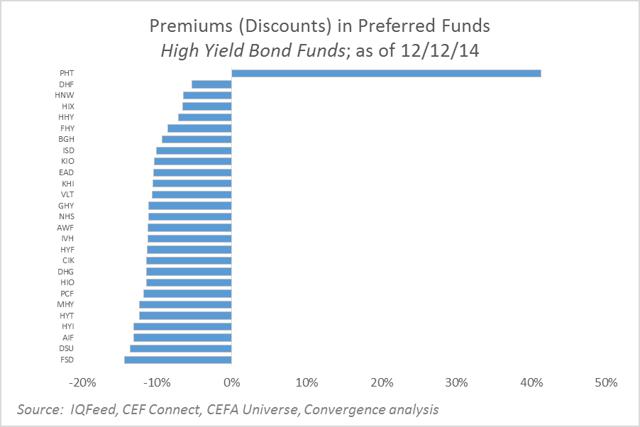 Risk
There are no free lunches. High yield bond CEFs offer high single digit or even double digit yields to investors as compensation for the various risks that investors are being asked to take.
While high yield bond funds tend not to face as much interest rate risk as government bond and municipal bond portfolios (i.e., shorter duration), they are exposed to much higher default risk (i.e., lower credit quality).
Investors prioritizing duration for more protection against future interest rate increases should consider GHY, CIK, BGH or HNW for their average durations of less than three years is at the low end of the range in this sector.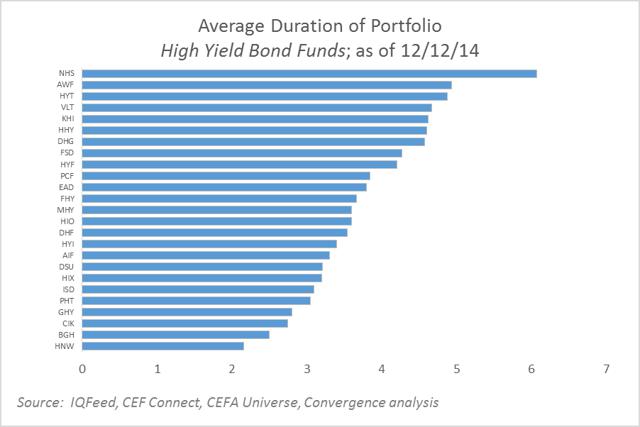 The below chart segments the assets of each of the 27 high yield bond CEF "investment grade" (BBB or better), non-investment grade (BB or lower), and unrated. Of the three lowest Credit Quality funds, IVH and KIO suffer from having 25% or more of their holdings in direct loans. VLT holds direct corporate debt having an average maturity of 5-1/2 years.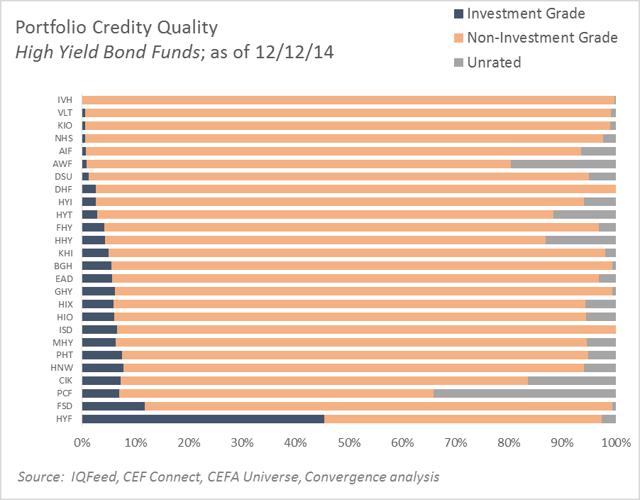 Investors concerned about correlation with an equity-biased portfolio should consider IVH, KIO, or AIF for their comparatively low beta risk factor, each of which have a beta of 0.30 or below.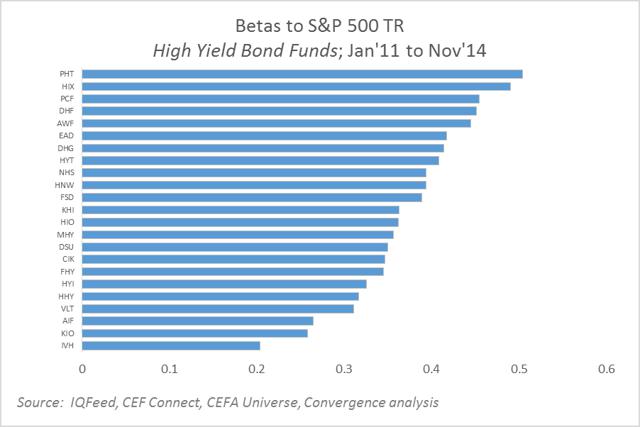 Expenses
Expense ratios are almost universally accepted as an important criteria in fund selection. However, the unique structure of closed-end funds makes the calculation of relevant expense ratios non-trivial. Convergence favors using a measure of management fees, excluding cost of leverage, as a percent of gross assets instead of the typically higher ratio that complies with "40 act" reporting requirements.
In our opinion, ability of CEFs to use leverage with borrowing costs far below what we would pay a broker is to our benefit and cost of capital borrowed for investors' benefit should not be a strike against fund managers. Further, we believe that measuring the expense ratio we pay to fund managers per dollar of portfolio assets they are managing is a more fair way of measuring value-for-money when comparing fees among CEFs or when comparing CEFs to unlevered structures like mutual funds and ETFs.
Exercise caution with funds such as AIF, FHY and BGH that charge more than 1.2% per annum for management of assets, which we feel is excessive.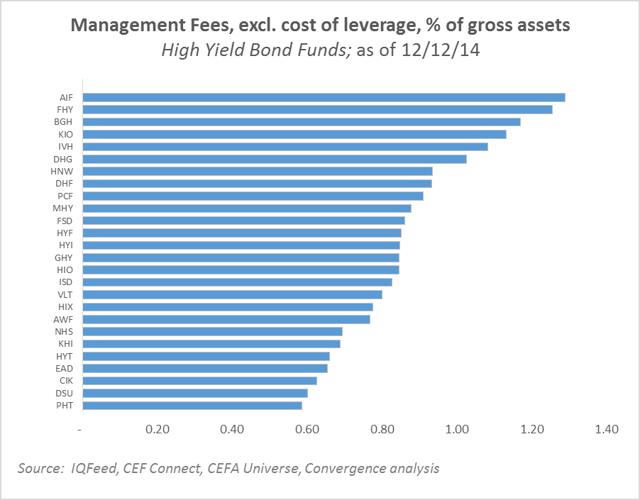 Liquidity
Liquidity, or how easily an investor is able to find a willing counter-party to a buy or sell transaction, is a metric whose importance varies greatly by individual investor. On one extreme, an investor purchasing only a few hundred shares of a fund with intentions of holding for months or years should care very little about liquidity. However, investors trading in moderate to large quantities, and with intentions of medium to short holding periods, should begin to consider fund liquidity as an important hidden cost to investment.
Investors should exercise caution with lower liquidity funds, potentially limiting total investment and scaling in/out of positions in small volumes.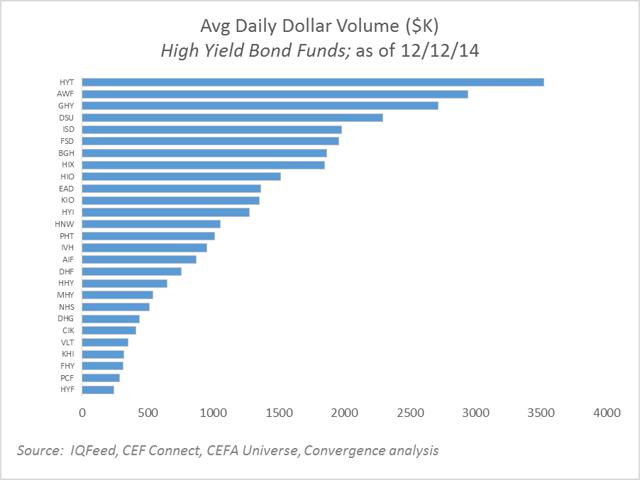 Conclusion
As this article has outlined, there are many dimensions on which you may compare funds. However, we highlight three funds of interest based on their across-the-board rankings.
BlackRock Debt Strategies Fund: - Founded in 1998, this fund focuses on investing in "lower rated corporate debt instruments." The fund is interesting because of its attractive current pricing (a whopping 14.2% discount to NAV as compared to a 52-week average of 9.3%), comparatively strong recent NAV performance, and very reasonable management fees. The fund's yield, at 7.4%, is average at best however and the fund lives up to its stated objective of targeting lower rated corporate debt instruments, with a predominantly junk-rated portfolio. More than 50% of its holdings are direct loans rather than bonds. Country allocation is 100% USA.
Credit Suisse Asset Mgmt In -This fund features a lower risk profile due to no reliance on structural leverage. Moreover the absence of interest expense by the fund because of the absence of borrowings, allows Credit Suisse to offer its annual expense at a sector low of 0.74%. The current discount of 11.3% makes this an attractive fund for consideration. Although its primary portfolio holdings are in general corporate bonds, it does hold 18% short-term debt and 9% asset backed bonds. Because this fund was launched in March, 1987 it has a lengthy performance record dealing with a variety of market conditions.
BlackRock Corp High Yield: - This fund has an excellent historical track record of outperforming others in the sector. The current 12.5% discount to NAV compared to a 52-week average of 5.3% makes this a compelling consideration. Although the credit quality is virtually all rated at BB or lower, the management of the fund is intent on selecting better debt instruments than the rating profile of their holdings would suggest. Although its asset base is primarily high-yield bonds, the fund does invest in carefully selected equities as well.
The complete list of funds and their rankings along each dimension are shown here for reference.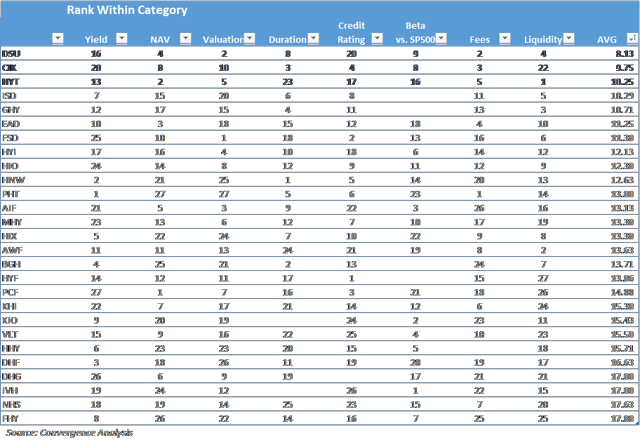 Disclosure: The author is long DHF, HIX, HNW.
The author wrote this article themselves, and it expresses their own opinions. The author is not receiving compensation for it (other than from Seeking Alpha). The author has no business relationship with any company whose stock is mentioned in this article.