The recent drop in oil has been sharp and has brought back memories of the 2008 plunge during the height of the financial crisis.
Naturally, some analysts see this drop as a precursor to something more meaningful in the economy and in the stock market.
With stocks near record highs, many believe that the collapse in oil could bring about a subsequent drop in stock prices.
However, most evidence suggests that the opposite is true and that a significant drop in oil should help stock market returns.
In fact, it could be argued that a 50% drop in oil points to a 25% return in the S&P 500 next year.
Janet Yellen and oil correlations
On Tuesday night I did some investigation to understand whether or not there was any relationship between oil prices and stock market returns.
Thankfully, I came across several studies which did indeed find a significant relationship.
This study, for example, by Driesprong et al, studied 30 years of monthly returns and found that lower oil prices helped predict higher stock market returns.
Similarly, higher prices often led to lower stock market returns.
Then, on Wednesday, Head of the Federal Reserve Janet Yellen seemed to come to a similar conclusion.
Yellen said that overall "lower oil prices were a net positive for the economy" and that lower prices "put a bit more cash in people's back pockets".
With this knowledge in mind I took some data and came to a similar conclusion.
Subsequent yearly returns
In the following table, the yearly return of WTI crude oil is shown against the subsequent yearly return of the S&P 500 Index going back to 1960.
For example, in 1961, WTI oil fell -3.21%. In the subsequent year, the S&P 500 rose 26.64%.
In 1973, WTI rose 78.44% and in the subsequent year, the S&P 500 fell -25.90%.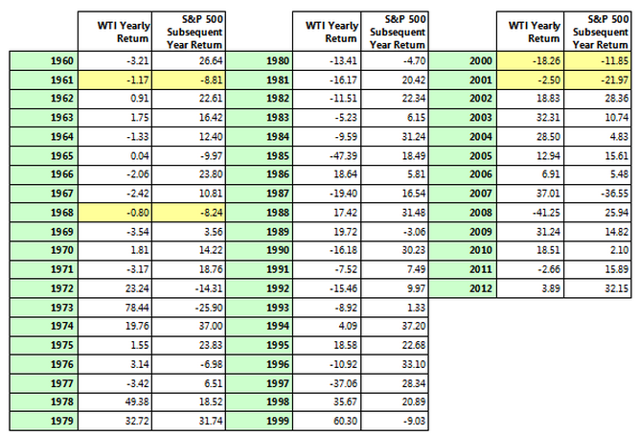 Source: jbmarwood.com
As you can see from the table, there were only five times when oil dropped and the S&P 500 Index subsequently, also dropped. They were 1961, 1968, 1980, 2000, and 2001.
As well, it's clear that there is a relationship between lower oil prices and higher market returns. As the results in the table indicate, years of big price drops in oil are usually followed by strong market performance in stocks.
This is better illustrated in the next chart, which shows WTI annual performance (x axis) plotted against S&P 500 annual performance (y axis):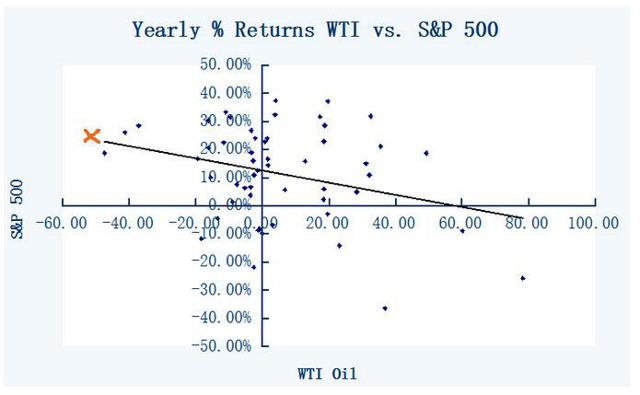 Source: jbmarwood.com
Indeed, if we extend the line of regression outwards, we see that a -50% drop in oil points to a gain of 25% in the S&P 500 in the following year. (x marks the spot).
Economic slowdown not on the cards
Another thing that Janet Yellen said on Wednesday was that oil prices were "transitory" and she repeated this phrase several times.
This suggests that Yellen believes oil prices will not stay down at these low prices for very long.
She may even believe like I do that the fall in oil is in part artificial; as much a market reaction to the strategies being played out by OPEC as to a reaction to economic slowdown.
While it's true there is some slowdown in China, the fact is stock markets are still near to all-time highs.
Both oil and the stock market are leading indicators into the economy, so if it were the case that we were headed for a slowdown, stocks would have dropped too. Just like they did in 2008.
Instead, oil has continued to fall but stocks have held strong.
That suggests that a significant economic slowdown is not yet on the cards.
In this light, the drop in oil may well be temporary and the bottom may be just around the corner.
Where to put your money
If lower oil points to strong returns in the stock market in the subsequent year and the bottom in oil is just around the corner, there are surely great opportunities to be had for investors at the current time.
With this in mind, I did some analysis as to what sectors usually perform best when oil has fallen in the previous year.
To do this, I loaded up some historical data from Norgate Premium Data and back-tested annual returns for 8 different sectors using the Amibroker platform.
-- ARTICLE UPDATED 12.22.14 --
The following table shows the annual returns for eight different sectors after a year of oil.
For example, WTI oil fell in 1997, and in 1998, the Dow Jones Airlines Index dropped -9.81%.

As the table shows, the best sector to be in after oil has fallen in the previous year is the automobile sector. This sector gained 175% in 2009. On average, the sector has returned a yearly return of 42.19% after a year of negative oil.
Basic materials, represented by the Dow Jones US Basic Materials Index, and the energy space, represented by the Dow Jones Oil & Gas Index, also performed strongly. As did the S&P 500.
The worse sectors from this analysis are shown to be real estate and also financial services, represented here by the Dow Jones Bank Index.
This is in line with several other articles, such as this one from ValueWalk that suggest banks are not the place to be after low oil.
Note: This section of the article was updated on 12.22.14 because of a calculation error in the first draft. Some sectors were left out, and I plan to write a more detailed sector analysis in due course.
Round-up
There are many more factors that could shape stock market returns next year and the price of oil is just one.
Nevertheless, the drop in oil should be regarded as a significant positive for stock returns next year. Investors can use this information to position their portfolios in the right sectors going forward and drill down into the stocks that will beat the market in 2015.
With this information in hand, I am strongly bullish on energy, automobiles, and basic materials in 2015.
My favorite plays are Helmerich & Payne Inc. (NYSE:HP), LyondellBasell Industries N.V. (NYSE:LYB), Toyota Motors (NYSE:TM) and American Railcar Industries, Inc. (NASDAQ:ARII) as these companies meet all of my criteria for value and growth.
Disclosure: The author is long HP, ARII, LYB, TM.
The author wrote this article themselves, and it expresses their own opinions. The author is not receiving compensation for it (other than from Seeking Alpha). The author has no business relationship with any company whose stock is mentioned in this article.