It looks like Yamana Gold (NYSE:AUY) is making a comeback. After being beaten down badly for most of the year, Yamana shares have gained 13% in the last two days as a couple of catalysts have emerged. First, the U.S. Federal Reserve announced that it might not hike interest rates till April 2015, which led to a rise in gold prices. In addition, Yamana has just discovered higher-grade ore resources at a couple of mines in South America, which are expected to improve its operational performance going forward.
Now, Yamana has already been focusing on lowering its cost of production, and as gold prices improve and the company mines higher grade ore, its financial performance might start picking up after a rapid decline in the past few quarters, as shown in the chart below: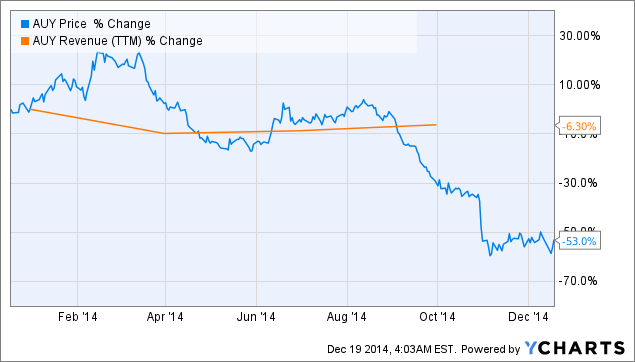 Lower costs and better quality production will be a catalyst
However, investors need to keep in mind that Yamana's margins are very weak. The company has a negative profit margin of 95%, along with a negative operating margin of 69%. But, at the same time, the company is aggressively cutting costs in order to improve its margin performance. For example, during the third quarter, Yamana's cash costs dropped 7% sequentially and 22% year over year to $593 per ounce.
This has been possible as a result of the company's focus on better assets, and the latest discovery at the El Peñón and Chapada mines will add to its prospects. According to a Yamana press release detailing the significance of the discoveries:
"El Peñón

High grade, large new discovery - higher than current reserve grade
Parallel to existing Bonanza vein structure which since discovery has hosted over 1.6 million gold equivalent ounces of mineral resources
Near existing mine infrastructure and facilities
Expected to be quickly and easily brought into production, and provides flexibility and optionality for further enhancements
Open in all directions

Chapada

Sucupira is the most recent of several new discoveries (Santa Cruz, Corpo Sul)
Supports the potential of a much larger district of mineralization around the current operation
Best hole in the history of Chapada - Hole NM-101 intersected 0.46 grams per tonne ("g/t") gold and 0.50% copper over 172 meters
Located in the hanging wall immediately west of main pit, close to existing mine infrastructure and facilities
Expected to be quickly and easily brought into production, and provides flexibility and optionality for further enhancements
Open in all directions
As a result, Yamana will be able to mine higher-grade ore at potentially lower costs since it has existing facilities in place at both the mines. Moreover, by deploying innovative mining equipment at its underground mines, Yamana has been able to achieve a 10% cut in underground mining costs. Thus, the company's focus on building an asset portfolio with a lower cost profile will bode well in the long run if gold prices rise.
Gold pricing forecast looks bright
As mentioned earlier, gold pricing is affected by the Federal Reserve's decisions. So, the Fed's decisions will affect gold pricing going forward. According to a report:
"Since 1999 the gold price has moved in concert with the growth in the US Federal Reserve Balance Sheet… including the recent correction in both during the past three years.

Based upon historical data, it is estimated the price of gold may reach either of the following values by 2016:

Projecting the gold price at a CAGR of 14.8% yields an estimated value of $3,022.
Projecting the gold price at a CAGR of 26.6% yields an estimated value of $4,470."
Hence, there is a likelihood that gold prices might improve in the future from the current levels, and this will act as a catalyst for Yamana Gold going forward.
Looking beyond the risks
Yamana has faced difficult times due to falling gold prices in recent times, but the company has adopted the right strategy of cutting costs to counter the weakness in the gold market. In addition, the company's asset pipeline has strengthened after the recent discoveries. However, there are a couple of negatives that need to be kept in mind while investing in Yamana Gold. First, the company has accumulated a lot of debt amounting to $2.07 billion. In addition, its current ratio of 1.23 signifies weak short-term liquidity.
However, Yamana is a cash-flow positive company, and its bottom line is expected to improve in the double digits during the next half decade. So, if we look beyond the challenges, it looks like Yamana's turnaround has begun. An expected improvement in gold prices and a strong asset portfolio will allow the company to improve its performance in the long run, which is why its weak performance looks like a buying opportunity.
Disclosure: The author has no positions in any stocks mentioned, and no plans to initiate any positions within the next 72 hours.
The author wrote this article themselves, and it expresses their own opinions. The author is not receiving compensation for it (other than from Seeking Alpha). The author has no business relationship with any company whose stock is mentioned in this article.